Interview with Skyla Spencer at CRS 39th, 2008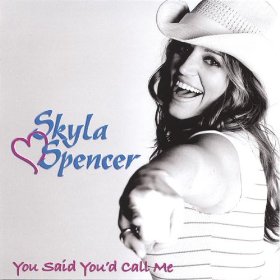 Ch.L.: I know you are working on a new CD, there are two songs on there, one titled ' One Shot Your Out' and another called 'Was I Not Enough'. Are these written from experience?
S: yeah, a lot of the songs I write are from experiences I've had or from somebody I know, these songs talk about relationships. 'Was I Not Enough' is about, later you are wondering if this guy has feelings for you still or if you were enough and 'I Shut You Out' is an upbeat brass song kinda like I'm not taking no more song.
Ch.L.: Skyla, some of the highlights last year were the CMA festival, you were a VIP guest…
S: Yeah, I was at the fashion show hosted by Dino Carter at the Country Music Hall Of Fame in Nashville and it was a benefit for eating disorders, the eating disorders coalition, Tennessee to raise money for that and awareness.
Ch.L.: Skyla, you have been in the music business for a couple of years now, what makes it so hard for an artist to get in the spotlight of the media and the fans?
S: You got to keep at it, you can't give up, you got to keep working at it everyday, your gonna be challenged with something new and you got to stay focused and not give up and be determined and you will persevere, and with the fans, you got to stay connected with your fans. I try to email them and stay in touch, I have a fan club, the fans are really important to help you get moving to the next level because they really support you. They are the ones that call in and request your songs on the radio.
Ch.L.: As a singer/songwriter, what do you find the hardest?
S: I would say, probably the song writing for me, sometimes I will start a song then kinda get stuck on a part of it and have to put away for a week or so and then come back to it. Performing has always been a natural thing for me, I started with a dance background and have always been in shows of some sort and performing on stage in front of audiences so it seemed to be real natural for me.
Ch.L.: A lot of your male fans would love to ask to marry you, what's your reaction to this?
S: Funny you should ask that cos I've had somebody, a couple propose to me during a show. They kind of catch you off guard when that happens if someone shouts that out to you and you just say I'm sorry I can't today but you look like a great guy. (laughs) It always catches me off guard.
Ch.L.: Most artists get teddy bears from their fans, what do your fans give to you?
S: Well I've had some guys just walk up and leave a napkin on stage with their phone number and say they want to take me to dinner and I've received box of chocolates
Well, that would save you money on the dinner that they would like to take you to..
S: Yeah, its great, I've received a lot of fan mail, from an overseas tour I did in 2006 for the armed forces tour for the troops, I've had some fans that stayed in touch that write to me, they are still in Japan and they send me little things, t-shirts, sweatshirts and hats, cos everyone knows I love hats , ive had a few army hats from going overseas
Ch.L.: So you don't collect shoes, you collect hats?
S: Yeah, I collect hats, I have probably have about 65 right now
Ch.L.: My goodness…
S: I need to get a new one though cos I haven't bought one in a while and I'm like, oh no…
Ch.L.: Ok, that's the call for a new one?
S: That's the call for a new one, yeah,
Ch.L.: Ok, friends and fans of Skyla, she's looking for some new hats so you are invited to send her some.. Ok, how can fans contact you if they miss one of your show or they are outside of the U.S?
S: You can go on my website skylaspencer.com and that has my complete tour schedule and my fan club information, along with email and how to reach me and myspace.com/skylaspencer and that has the same thing, tour information and you can join my fan club for $10 a year.
Ch.L.: $10 and a free phone of yours?
S: (Laughs) I don't know about the free phone number, but you get a nice packet to welcome you on board.
Ch.L.: Lets talk about your music again. What kind of music would you class yourself as?
S; Well, right now I've been writing and doing some co writing for this album, its going to be different from the last album. I've grown in the last year with ideas and as an artist you are continually growing every year, as a performer and as a songwriter. The song that's coming out in May, nationwide and overseas, on hot disc, its called 'This Girl' it's a positive, up beat kind of country pop song, its about over coming hard times in your life, not giving up which is perfect for anything in your life that you might be having trouble with, trying to overcome, if it's a career or a relationship that you just got to hang in there and stay headstrong
Ch.L.: Sounds like a song that you would write about yourself
S: Yeah, its for me, no matter what, still waiting for that perfect guy to come along
Ch.L.: You are still waiting for that perfect guy… did I hear that right?
S: Yeah… (laughs)
Ch.L.: Ok, readers of CountryHome Magazine it sounds like she is still single and she is looking for a husband. If you think you are the right guy for her, meet her at her website which is…
S: (laughing) www.skylaspencer.com
Ch.L.: And if you are smart, maybe you can invite her for dinner and see what happens, she's a sweetie, believe me..
S: Thank you
Thank you for the interview, it was nice to meet you, it was great to have you on the show and hope to see you again
S; Thank you so much Christian, god bless…
Christian Lamitschka: ( [email protected] )
I was born in 1970 and raised in Bad Vilbel, a small town close to Frankfurt am Main in Germany. My break as a country music journalist came in 1995 writing for Country Circle magazine in Germany. Since that time I have written for several national and international print magazines as well as for several internet magazines including Country Stars Online. And working together with two radio stations,I built my name and reputation step by step in America and Europe doing interviews with major country music stars like Hank Williams Jr., Gretchen Wilson, George Jones, Montgomery Gentry, The Oak Ridge Boys, Wynonna and more.
www.MySpace.com/ChristianLamitschka
2008 EMOL.org Country Music Entertainment Magazine. All rights reserved.