Entertainment Magazine / Azentertain
David Krell
Bonnaroo 2004: There goes the fear.
July 1, 2004
Story and photos by David Krell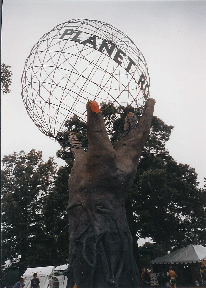 What frightens the general public excites the rebellious teenager in all of us. People ride roller coasters with only a seatbelt and a pat on the back from a college student because the fear of coming so close to death is exhilarating. Skydivers do so for the same reasons; as do scuba divers, parachuters, and soon to be added, the Bonnaroovians of the Bonnaroo Music Festival.
Take 100,000 people, put them on a huge patch of farmland, add the soundtrack for World Peace and enough drugs to feed the world's entire population and no one should ever want to leave. Fortunately, leaving is the only cure.
No matter how wonderful a relationship can be, the divorce rate tells us that it must end. The two or so years of listening to Nirvana's "Nevermind" becomes predictable, masturbating to the same great porno becomes monotonous and the same breathtaking sunset from your $1000 a day condo in Fiji is expected.
Despite the fact that the Bonnaroo Music Festival held in southern Tennessee is every music fan's dream, the four-day and three-night party is a bit too much for your average person to handle. Expect overloaded toilets, excessive heat, an invasion of privacy, a lack of water and absolutely no shade. Moreover, this festival is not for everyone. Just because a person loves every band performing does not attribute happiness to a compromising position. The bad smells are overwhelming and the heat is piercing, but so are the moments of Zen each band has while performing onstage.
My Morning Jacket brought the much-needed rain, Bob Dylan had the older folks on their feet for two straight hours and Dave Matthews was sweet and entertaining throughout his three-hour time slot. If a person can disregard everything that is thrown in their face during the three nights of nonstop partying then he or she will return year after year. But for the person who can't stand getting mud on their feet, better stay at home tanning by the pool with your closest friends, drinking beer and listening to your parent's surround-sound stereo.