The Moe Down Festival
September 21, 2003
By David Krell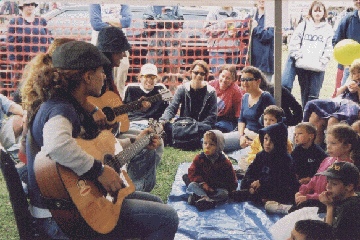 Envious kids and adults creating a microcosm of their own home on what is usually someone else's plot of land; just another summer jam-band festival.
The summer of 2003 has seen the jam-band circuit come so close to a monopoly that even the hippies are coming from Park Place.
"When you have Phish, The Dead, Widespread Panic, and The String Cheese Incident each having their own magnetic quality with fans, it's very hard to believe that they're enough people, let alone hippies, in the world to cause for more jam-bands to attract such a similar following," says Pietro Biondi, an avid fan of this new musical culture.
Cue "Moe, our lonesome doves, who in the past year have opened for Robert Plant, created a wonderful studio album called, "Wormwood," and managed to keep their own headlining festival going for the fourth year in a row.
The Moe Down Festival in Turin, NY (about 45 miles north of Syracuse) was not just another summer festival, for it was more intimate and its attention revolved around one band; namely Moe.
By no means does that orchestrate a predictable weekend.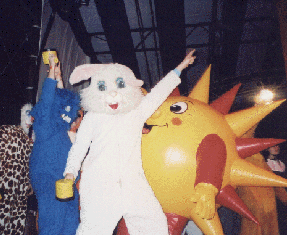 Moe dressed up in animal costumes during the Flaming Lips set and played two Pink Floyd covers with them as well.
The Jimmy Swift Band, who hails from Nova Scotia, attracted a rather large crowd with their particle-esque sound, techno-driven pride, and jam-band roots.
Umphrey's Magee, who could have easily been confused for Moe if it weren't for their frequent power chord riffs amidst an array of jazz-like soloing, and a backwards stage setup, received considerable recognition for their performance.
Then there's Rusted Root, They Might Be Giants, and the Yonder Mountain String Band, amongst others.
No TV, no chain restaurants, no Malls and ultimately, no unnecessary distractions for 3 days; just the music we love.
We go to festivals such as Moe Down to forget about why the United States is attacking multiple countries at the same time. It presses hold on our feelings towards the New York Times putting Saddam's dead sons on the cover of our nation's most popular newspaper.
Festivals have purpose, and that is unity, for it lets people know they're not alone in their feelings.
The Moe Down Festival is just another recreation of that unity, and Moe, along with all the other popular bands on top of the jam-band circuit, is the epitome of who should be fronting that conformation.
As Wayne Coyne of the Flaming Lips said during their brief, yet extravagantly chaotic set, "we have this moment, and that's all we can work with for right now."
---
David Krell's Home Page | Music Home Page
---