Featuring 80 performers from around the world, KA combines martial arts, acrobatics, puppetry, interactive video projections and pyrotechnics to tell the epic saga of Imperial Twins -- a boy and a girl -- who embark on an adventurous journey to fulfill their destinies.
KA is created and directed by acclaimed theatre and film director Robert Lepage. Lepage ("Bluebeard's Castle," "The Far Side of the Moon") describes the story as "the coming of age of a young man and a young woman through their encounters with love, conflict and the duality of KA, the fire that can unite or separate, destroy or illuminate." The Twins' journeys take them through a succession of challenging landscapes and ever-changing performance spaces that conjure an entire empire on stage.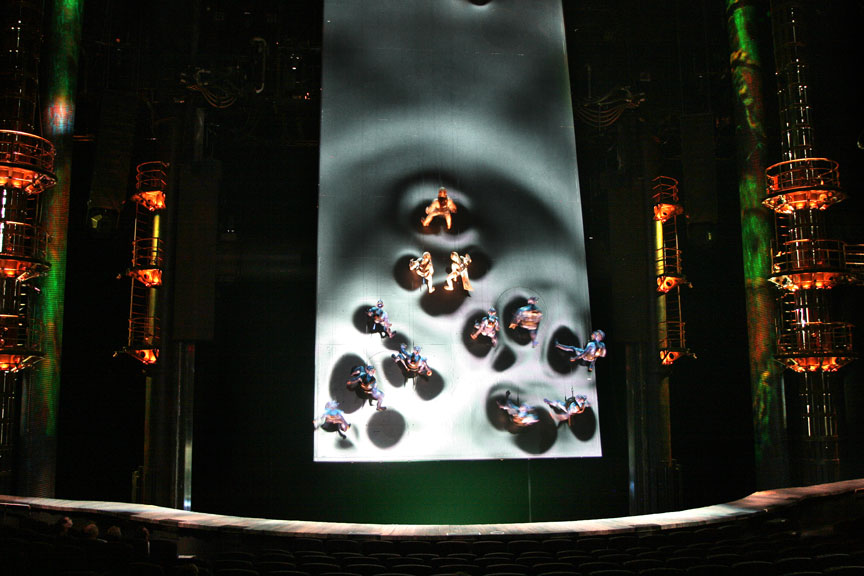 Photo: From the performance of "Ka," act "Battle." Picture credit: Tomas Muscionico. Costume credit: Marie-Chantale Vaillancourt.
As the plot of KA unfolds, danger lies in wait for the separated Twins at every turn. Archers and Spearmen hunt them relentlessly. As the villains give chase, the artists show off their climbing prowess with an incredible ascent to safety.

An encounter with mysterious giant sea creatures proves to be more mischievous than menacing... As a distraction from danger, the Twin Brother learns the art of shadow puppets in a tender, yet poignant moment. The action resumes during the Pillars scene, where artists perform daring acrobatic maneuvers while leaping on and over multiple pillars.

The show's title, KÀ, is inspired by the ancient Egyptian belief in the "ka," an invisible spiritual duplicate of the body that accompanies every human being throughout this life and into the next.

Cirque du Soleil is world-renowned for its distinct brand of theatrical entertainment. In Las Vegas, Cirque du Soleil has a privileged partnership with MGM MIRAGE to create and present unique and innovative productions, which include Mystere(R) at Treasure Island, "O(R)" at Bellagio, and ZUMANITY(TM), ANOTHER SIDE OF CIRQUE DU SOLEIL(TM) at New York-New York Hotel and Casino.

KA Creative Team
Guy Laliberte -- Guide / Robert Lepage -- Creator and Director / Guy Caron --

Director of Creation / Mark Fisher -- Set Designer / Marie-Chantale
Vaillancourt - Costume Designer / Rene Dupere -- Composer and Arranger / Jacques Heim -- Choreographer / Luc Lafortune -- Lighting Designer / Jonathan Deans -- Sound Designer / Holger Forterer -- Interactive Projections Designer/ Michael Curry -- Puppet Designer / Patricia Ruel -- Props Designer / Jaque

Paquin -- Acrobatic Equipment and Rigging Designer / Andre Simard -- Aerial
Acrobatics Designer / Nathalie Gagne -- Make-up Designer

KA Ticket Information and Show Schedule
Tickets are $150, $125 and $99 (including tax) and are available 120 days in advance of the performance date.

Show days and times:
* KA performs at 7:00 and 9:30pm Tuesdays through Saturdays.
* KA is dark (no shows) on Sundays and Mondays.

Source: Cirque du Soleil

Seating Chart for "KÀ" at the
MGM Grand, Las Vegas

Seating chart for KA performances Tuesday through Saturday at 7:00 and 9:30 p.m. at MGM Grand Hotel in Las Vegas.

Tickets to "KA" Cirque du Soleil Special Offer: Save Over $25! From BestofVegas.

KÀ Quick Facts
Premiered in: February 2005
Number of spectators since opening: More than 1 million
Number of artists: 80
Number of countries represented in cast: 16
---
---
© 2009-2012 EMOL.org Las Vegas Entertainment Magazine. Entertainment Magazine. All rights reserved.
MGM Resorts Las Vegas
The Las Vegas MGM resorts includes hotel-casinos that are part of the mLife partners. Link directly to these MGM Resorts in Las Vegas for the discount on today's rates at the MGM Grand.
This anniversary collection celebrates the achievements of the world renowned Cirque du Soleil. The collection includes 11 Cirque du Soleil productions plus a bonus DVD of Midnight Sun, a once-in-a-lifetime special event captured on DVD. The title within this colorful collection are: A Baroque Odyssey, Allegria, Cirque Reinvente, Dralion, Journey of Man, La Magie Continue, Nouvelle Experience, Quidam, Saltimbanco, Varekai, and La Nouba.
Cirque du Soleil's Anniversary Collection 1984-2005 is a 12-disc retrospective of the Canadian troupe's distinctive brand of performance, involving the fantastic feats of acrobatics and athleticism, balance and contortion; the single-ring techno circus; the multicolored lights and costumes; the abstract story lines of fantasy and self-discovery; the music that fuses rock, New Age, and various world influences; and the madcap clowns that prey on their live audiences. The programs included are La Magie Continue (1986); Cirque Reinvente (1989); Nouvelle Experience (1991); Saltimbanco (1994), the 1994 documentary retrospective A Baroque Odyssey; the Amsterdam-set Quidam (1999); Allegria (1999), the live Sydney show; the Chinese-influenced Dralion (2000), in its standard, non-Superbit release; the relatively short IMAX film Journey of Man (2002); Varekai (2002), from Toronto; La Nouba (2003), from Walt Disney World; and Midnight Sun, strikingly staged outdoors at the 2004 Montreal International Jazz Festival.
That's a lot of aerial feats, tricks, and tumbling, but the set is not designed to absorb in one sitting. Rather, viewers can sample both the simpler early shows and the stunning later performances that, with their 5.1 sound and widescreen pictures, are perfectly suited to home theaters. Compiling 12 previously released DVDs in space-saving Thinpaks at an economical price, the Anniversary Collection is nearly all the Cirque du Soleil you could ever want, but completists should note that the set does not include the feature film Allegria: An Enchanting Fable, the bonus disc of Varekai, the reality-TV show Fires Within, and the 13-part variety series Solstrom. --David Horiuchi, Amazon.com