Entertainment Magazine: Las Vegas: Entertainment: Stratosphere
A real Las Vegas Experience- the Stratosphere Casino and Resort Hotel
By
Lynn Marie
Since opening in 1996, the Stratosphere has already become one of the most identifiable icons of the Strip.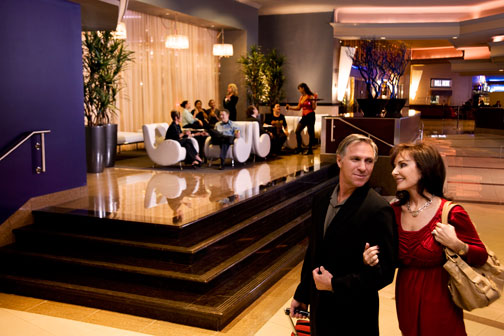 Although Las Vegas has seen its fair share of problems with the economic woos the last few years, the Stratosphere has remodeled 909 Guestrooms, located on floors featuring upgraded elevator lobbies with marble floors, new carpeting and wall treatments.
The rooms are marvelously redesigned with guest comfort in mind including king and queen beds dressed with 240-thread count sheets. Each room has a flat screen TV, and an elegantly updated bathroom with granite countertops, new tile and tub.
The rooms' bold colors textures and details are a perfect touch to the spectacular views of downtown Las Vegas, The Strip and the surrounding Las Vegas Valley.
The hotel entrance has been overhauled to include valet parking directly off Las Vegas Boulevard and a sweeping indoor marble tile ramp that leads guest to a hip new VIP lounge, the hotel lobby, and the newly carpeted casino floor.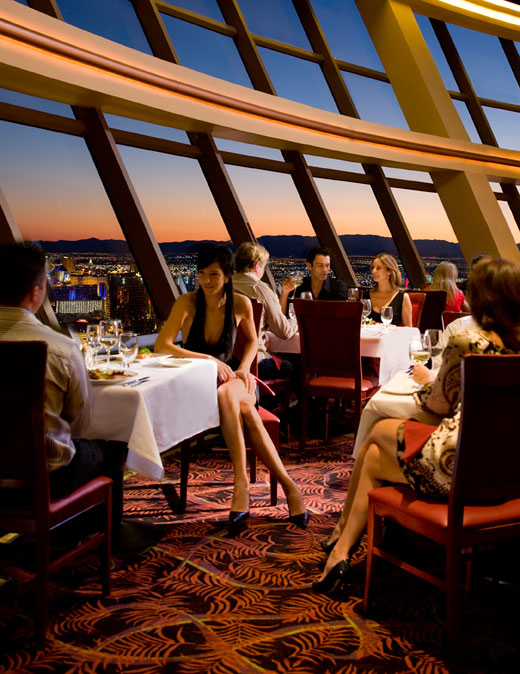 Other changes on the casino floor include new modern colors and updated directional signs.
Dining has been redefined as well.
The award-winning Top of the World restaurant features an extraordinary new menu.
Under the direction of Executive Chef Rick Giffen, the Buffet is out of this world.
There are several Grand Buffets being offered this year. Easter Sunday, Mother's Day and New Year's Day just to name a few. The Crab benedict au vent with sundried tomato hollandaise is magnificent. Stylish lounges like Level 107 Lounge and Air Bar, the highest bar in Vegas, offer happy hours with a view you can't get anywhere else.
While major renovations are complete, finishing touches on the property will continue throughout the year.
The Stratosphere's transformation began in April 2010 with SkyJump Las Vegas, an addition that captured international attention. SkyJump Las Vegas provides the ultimate free fall from the 108th floor of the Stratosphere Tower, 855 feet above the Las Vegas Strip – the highest in the world.
The Stratosphere Casino, Hotel & Tower is a Las Vegas Strip resort with an 80,000-square-foot casino.
The 1,149-foot building is the tallest freestanding observation tower in the United States, featuring the Top of the World restaurant and highest view of the Las Vegas Strip from the Observation Deck as well as SkyJump Las Vegas and thrill rides Big Shot, X-Scream and Insanity.
Known as a great value to gamblers, Stratosphere is located close to the Convention Center at the gateway to downtown Las Vegas.
It features 2,427 guest rooms, uniquely themed restaurants, the Tower shops and the topless rock and roll vampire revue BITE LAS VEGAS.
Additionally, Stratosphere's ACE PLAY program allows players to enjoy awards, comps and exclusives based on their loyalty to American Casino & Entertainment's four properties:
Stratosphere Casino, Hotel & Tower on the Las Vegas Strip, Aquarius Casino Resort in Laughlin, Nevada, and two Arizona Charlie's locations in Las Vegas.
For more information, visit www.stratospherehotel.com, call 702-380-7777 or 800-99-TOWER (998-6937)
---
© 2011 Las Vegas Entertainment Magazine. EMOL.org