Entertainment Magazine:
Travel
Entertainment guide for New Mexico
Take advantage of our special restaurant, travel and entertainment offers for visitors and residents throughout the New Mexico state. Our online offers and affiliates not only extend to residents of Albuquerque and Santa Fe, but also to residents of other NM communities who shop and dine in those cities, and to the many visitors to New Mexico every year.
Albuquerque, NM Weather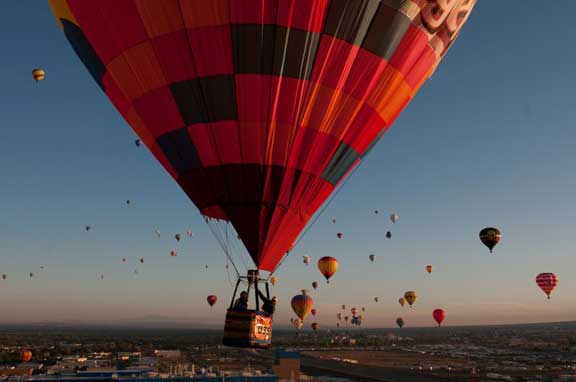 A stay at Los Poblanos Historic Inn and Organic Farm during the Albquerque International Balloon Fiesta at times could be seen over 75 miles deep. The crowd is welcome to stand on the exact field where nearly 1000 hot-air balloons lift off from.
The whole concept of tending to a tourist's needs is inauthentic by nature, as it's foundation is rooted in giving the tourist the best experience possible, rather than the tourist acclimating to a situation that exists whether he or she is there or not. At the Burnt Well Guest Ranch, they are able to overlap the two.
Finding Historic Taos Landmarks Easier
TAOS, NM—Taos Center for the Arts, Town of Taos, Taos Arts and Cultural District, Taos Museums, SOMOS, Taos Arts Council and the Taos County Lodgers Association have collaborated to pilot the Taos Blue Trail project, designed to help visitors easily locate 18 of Taos' historic landmarks on a self-guided walking tour distinguished by painted markers.

On Sept. 20 and 21, 2013 volunteers painted a temporary strip of blue on sidewalks, streets and alleys of the Town's historic district to guide visitors to some of the most popular sites in Taos such as churches, museums, and landmarks.

The blue line is approximately 1.8 miles in length and extends from the Fechin House (Paseo de Pueblo Norte) to Bent Street and the Plaza. From there the line connects both Ledoux Street (to the Harwood Museum) and Guadalupe Plaza before returning to the Plaza and extending along Kit Carson Road to the Couse/Sharp House/Studio. The walk, without stops, is estimated to take just under two hours. Arrows will help direct visitors at crosswalks.

"Taos is the most historic small-town in America and certainly the West. Every turn onto a street, alley or plaza in the historic district offers a window into Taos' past; its soul," said Paul Figueroa, Project Coordinator and Vice President of the Taos Arts Council. "By offering a pilot project, we will enhance our visitors' experience and expand our appeal for adventure travelers, history-lovers and, cultural connoisseurs. It was a pleasure to coordinate this project with so many partners and volunteers offering leadership, talent and resources. We are particularly grateful to the many businesses in the historic district for their generous support."

Once the blue paint has faded, Taos Arts Council will gather feedback from merchants to determine if a significant increase in traffic occurred, and from visitors, to ascertain if the trail was helpful in locating historic sites easily. The Taos Blue Trail could become permanent if deemed successful.

Supplemental self-guided maps of the Taos Blue Trail and noteworthy sites along the way are available at the Taos Visitor Center and at the many merchants, museums, and businesses on the trail.

The pilot project was established in conjunction with the Taos Grand Fall Arts – nine weekends of art, music, literary, culinary and related events in Taos including the upcoming 31st annual Taos Mountain Balloon Rally from Oct. 25–27, 2013.

For more information, contact Paul Figueroa at [email protected] or call 575-779-8579.
New Mexico Entertainment Book
Get your New Mexico Entertainment Book today! Discounts on dining, hotels, and fun in Albuquerque, Roswell!
Shuttle Service from ABQ Sunport to Taos
TAOS, NM — Taos Ski Valley (TSV) has launched daily shuttle service to/from the Albuquerque International Sunport (Sunport) to/from Taos, New Mexico and TSV. The shuttle also offers service to/from Taos and TSV to the Santa Fe Municipal Airport.

Shuttle service pick up from the Albuquerque Sunport is at 3:30 p.m. daily; drop off at the Sunport is at 11 a.m. Passengers can be dropped off at any lodging facility in Taos or TSV.

The cost for a round trip ticket to/from the Albuquerque Sunport to/from Taos and TSV is $85 per person; a one way ticket is $50. Roundtrip tickets to/from Santa Fe Municipal Airport to/from Taos or TSV are $65 per person; one way tickets are $40 per person.

Reservations are required for the shuttle service and must be made 48 hours in advance. A minimum of four persons is required for the shuttle to run, with a maximum capacity of 12 people. Guests are allowed only two bags per person including skis/snowboards. Pets are not allowed. To make reservations, call 800-776-1111.
Taos, NM Named as One of America's Top 'Small Town Art Places' by ArtPlace
Taos, New Mexico has been named by ArtPlaces – an initiative of national and regional foundations and major banks to accelerate creative placemaking across the U.S – as one of America's top 12 "Small Town ArtPlaces."

"Earlier this year, ArtPlace announced America's Top 12 ArtPlaces in major metropolitan areas – vibrant communities identified as being exceptionally successful in combining the arts, artists, and venues for creativity and expression with independent businesses, restaurants, and a walkable lifestyle," said ArtPlaces Director Carol Coletta. "It is equally important to recognize and celebrate dynamic small town ArtPlaces and the unique qualities that make them well worth the journey to explore and enjoy."

The top 12 "Small Town ArtPlaces" communities were chosen because they had the highest concentrations per capita of arts-related non-profits; arts-related businesses; and people working in creative occupations among smaller towns in America, according to data analyzed by Impresa, Inc., a Portland-based firm specializing in the study of regional economies. Communities were comprised of single-town zip codes in non-metropolitan areas and metropolitan areas with a population of 100,000 or less.

Taos made the list because, as described by ArtPlaces, the town is a well-liked destination for art-lovers with 80 galleries and several art museums. Along with the fact that it is one of the original art colonies formed by the Taos Society of Artists, the town has an active calendar of festivals, fiestas, ceremonies, art shows, tours, concerts, workshops and demonstrations. The Taos Center for the Arts was also mentioned, which hosts exhibitions, performances, film series, and various special events.

The remaining 11 towns that made the "Small Town ArtPlaces" list for 2013 are: Eureka Springs, Ark.; Crested Butte, Colo.; Ketchum, Idaho; Vineyard Haven, Mass.; Boothbay Harbor, Maine; Lanesboro, Minn.; Highlands, N.C.; Marfa, Texas; Stowe, Vt.; Eastsound, Wash.; and Saratoga, Wyo.

ArtPlace provides grants and loans, supports research, and conducts outreach and advocacy. To date, ArtPlace has awarded 80 grants totaling $26.9 million to 76 organizations in 46 U.S. communities.

ArtPlace also seeks advice and counsel from close working relationships with various federal agencies, including the National Endowment for the Arts, the departments of Housing and Urban Development, Health and Human Services, Agriculture, Education, and Transportation, along with leadership from the White House Office of Management and Budget and the Domestic Policy Council.

For more information about ArtPlace, visit http://www.artplaceamerica.org. For a complete list of "who is saying what" about Taos visit http://taos.org/visit/taos-in-the-media. For general information about the Town of Taos, visit http://taos.org.
New Mexico Restaurant Coupons
50% OFF Dining Certificates from Restaurant.com. Print Now. Buy New Mexico Restaurant.com coupons
---
---
© 2006-2013 EMOL.org New Mexico Entertainment Magazine. All rights reserved.