Osso Buco: Franco's Way
By Christopher C. Happ
Phoenix Entertainment Magazine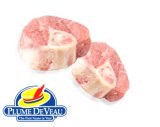 In my search for the best Osso Buco in Phoenix, I stumbled across Franco's Italian Caffe at the Esplanade at 24th street and Camelback. I arrived at about 9:00 p.m. on Friday night. I had heard that former governor Fife Symington III was not only an investor but the resident pastry chef after his graduation from Culinary School.
We were seated quickly and it was not very busy for a Friday but to the left of the entrance there was a large banquet room coveted behind glass. There seemed to be a private Christmas party going on. There were about 40 people seated around a standard banquet set up rectangle.
The interior is well-done and comfortable. The exhibition kitchen was much less noisy than one would expect. Upon being seated we were brought a plate of assorted crusty bread slices neatly tucked in a napkin. The bread was room temperature and there was no butter offered. We both reached for the bottle of extra virgin olive oil set next to a bottle of balsamic vinegar. I made a small mixture of the two and topped it with black pepper from the mill on the table. This served as a dipping sauce for the crusty bread. If I was the proprietor I might be inclined to serve an herbed garlic- oil or butter at the very least.
The tables were covered with white table cloths covered yet again with white paper.
We sampled two appetizers, ($7.25) Roasted asparagus wrapped in Prosciutto and the Sun-dried beef tenderloin topped with melted Parmigiano cheese atop a bed of baby spinach and arugula, simply dressed with olive oil and lemon. The thick asparagus spears were perfectly roasted with a slight crunch still in them. The sun-dried beef was mediocre. I would have preferred a simple Carpaccio of beef. The server told us that they imported the sun-dried beef from Italy.
I ordered the Osso Buco ($24.50) the server told us that it was served with a saffron risotto. We ordered a bottle of Barolo and worked on it until the entrées appeared. My friend had a seafood pasta dish that she said was enjoyable. The Osso Buco arrived and there was a single and rather lonely shank atop a pool of Demi-glace unadorned by mushroom or the traditional gremolata. (Minced parsley, garlic and grated lemon rind)
The meat was fall- off- the bone tender but the portion was so small that in this diner's opinion they need to increase the portion to two shanks or purchase larger shanks. The marrow had long since disappeared; possibly in the braising pot but definitely not on my plate; although a cocktail fork was proffered for its removal. The risotto was a real disappointment. It was gluey, lukewarm and I could not detect a hint of saffron color or taste. It had an odd flavor and if there was cheese or butter in the mix, I could not detect it.
Desserts were listed at the bottom of the menu. The server gave a brief description of a few of the more popular desserts but no dessert tray was brought round as one might expect— being that they boast a high profile pastry chef. All in all, service is friendly and well-paced. The restaurant has wheelchair access which was appreciated by more than a few diners. I may try the restaurant again as prices are reasonable and the staff friendly.
The Osso Buco was a disappointment but this is the very reason for my quest. Actually the meat and sauce were palatable but the portion lacked in relation to the price and any Italian establishment must produce a high-quality risotto.