Entertainment Magazine: Pool Maintenance
Deep cleaning pool tiles and plaster
This pool tiles are calcified and must be scraped clean.
The usual method to scrap offstains and algae deposits is with a pumice stone. This is a slow process and will often miss portions of the tiles unless every inch is scraped.
But, more efficient technologies with "blasters" will thoroughly eliminate hard to clean deposits.
In the Tucson desert, oils from palo verde and mesquite leaves add to the swimmer body oils to form a hardened surface on the tile.
Before proper cleaning can be started, the water must be drained out or to a level where deep cleaning of the tile and grout will not get wet.
The above photo shows on the right side the tile stains before cleaning. The two tiles on the left are the result after sand blast cleaning.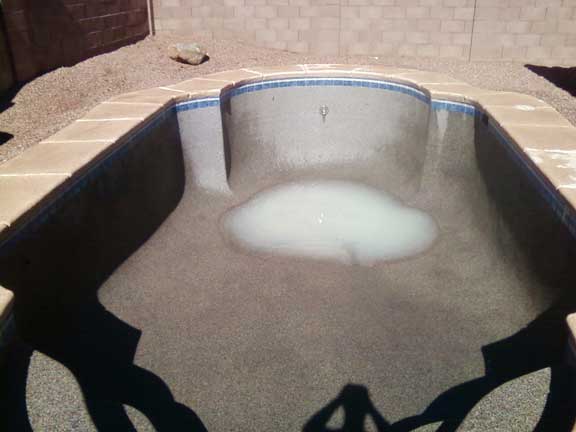 Sandblasting the pool tile provides a steady pulse of energy needed to clean the tiles completely.
---
---