Entertainment Magazine: Tombstone
Tombstone's Helldorado Days
The annual Helldorado Days is Tombstone's major event. Helldorado Days is a weekend in Octoberis filled with over 30 different entertainment groups. Throughout the weekend, watch gunfighters, belly dancers and listen to cowboy stories as part of continuous entertainment and live music.
Helldorado is always held on the 3rd Friday, Saturday and Sunday in October.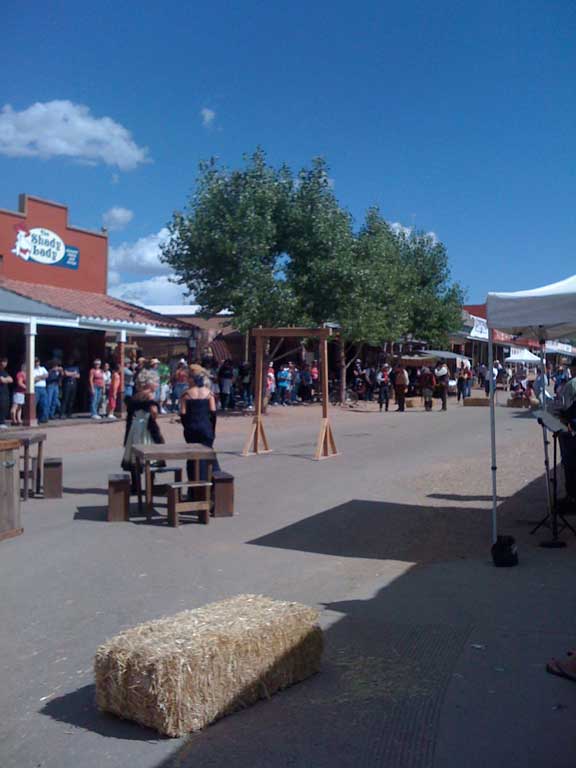 The Helldorado is Tombstone, AZ's oldest festival that celebrates its wild days of the 1880's
Started in 1929, Helldorado is sponsored by Helldorado, Inc. residents in Cochise County.
The story of Helldorado started in July 1881. A disgruntled miner writes in the Tombstone Nugget newspaper that instead of finding their "Eldorado" of riches, many men ended up washing dishes or other menial jobs, finding instead, their "Helldorado." The term stuck.
The Helldorado Days celebration features the Tombstone Vigilantes. This cast of dedicated volunteer presents one of the most authentic Old West recreations through historical street reenactments.
The Tombstone Vigilantes is a non-profit organization that support charities such as the Senior's Meals on Wheels program, the Small Animal Shelter, the Food Bank of Tombstone and youth activities. The Tombstone Vigilantes also do "moch hangin's" on request, birthday and group fundraisers. Contact [email protected]