Entertainment Magazine: Tucson: Events
Celebrate Labors Day in Tucson with special events
Labor Day weekend in Tucson is usually spent participating in a special community activity or sporting event. This year, there are numerous happenings and things to do throughout Tucson and Southern Arizona this Labor Day on Monday, September 3, 2018.
TUCSON EVENTS CALENDARS:
---
Tucson Labor Day Events
Events coming soon. Submit your Tucson event listings for free. Please include the dates, times of your activity, a short description and contact information (include a phone number, web site link or email address for public contact). No attachments, please.

August 31-September 3, 2018
Fall 2018 JOGS Gem and Jewelry Show at the Tucson Expo Center, 3750 E. Irvington Road. Fall Gem Show. Register for trade space
---
Through September 2, 2018
HOCO FEST 2018 is held at Hotel Congress, 311 E Congress St., Tucson, AZ.
---
Saturday, September 1, 2018
"COUNTRY CLASSICS" Kevin Sterner and The Strait Country Band, best known for their "Tribute to George Strait" are bringing theirshow to The Gaslight Music Hall
---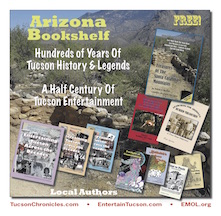 Download a free PDF copy of the current edition of Arizona Bookshelf.
Features Tucson local authors.
---
---
Search Tucson Event Listings
This Week's Official Entertainment Book Offer:
This calendar has been produced to assist you in making travel arrangements. It is for information only and does not constitute a recommendation. Dates for events were correct at time of publication. Since dates are occasionally changed, please confirm them in advance.
---
---
Tucson Local Books
Treasures of the Santa Catalina Mountains
Discover the legends and rich history of the Santa Catalina Mountains– the Iron Door Mine, Spanish Jesuit treasures, Buffalo Bill's mines, gold mining in Oracle when pioneers arrived to prospect the Catalina Mountains. Get a Free PDF download sample with pages selected from the book and visit the "Treasures of the Santa Catalinas" to read stories forgotten in time. Available at a discount on Amazon.
"Entertaining Tucson
Across the Decades"
Read about the local Tucson entertainment scene from the 1950s through the 1990s. Over 700 pages of pages of musician interviews, original photographs and stories. If you played in a band or went to a nightclub during those years, you'll be familiar with many of these people and places. Published by Entertainment Magazine. Get a free PDF download sample with pages selected from the book! and read sample pages Entertaining Tucson Across the Decades.
---
---
© 1995-20187 EMOL.org.Entertainment Magazine. All rights reserved. Robert E. Zucker, publisher.