Entertainment Magazine: VirtualMall: Party Ideas for New Year's Eve
New Year's Eve Party Ideas
Hosting a New Year's Eve party is a great way to ring in the New Year with good friends, family and perhaps some coworkers.
Between shopping for presents, deciding on your contribution to this year's Christmas meal at your sister's and helping your son practice his lines for the school play, you may feel this might not be doable.
Believe it or not, all you need is a couple hours planning and creativity after Christmas to pull off a great New Year's Party. And to your delight, you will be able to do so without breaking your bank account.
There are a few facets to keep in mind:
Theme (if any)
Food and drink
Activities
Decorations
And how late you want it to run till (midnight or later is traditional of course!)
Theme and Decorations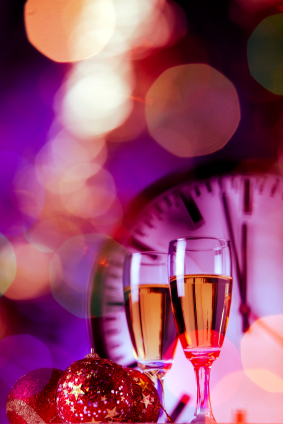 Having a party theme makes planning significantly easier because everything can be centered around this, thus narrowing down your choices for purchasing everything.
One fun and common theme is the New Year's Times Square Style Think New Year's Rockin' Eve with Dick Clark and the dropping ball. Another fun idea is a casino theme party.
Let's go into more detail on themes:
Casino Night
This is a great opportunity for everyone to dress up in their best threads. If men own one, request they wear a tuxedo and if not, a suit is perfectly acceptable as well. Encourage women to wear an evening gown.
Now you've got the makings of a classy and stylish casino "? la Monaco.
You can rent a few round tables or maybe borrow from family and friends and you've got the set up for card games ??Ì?S Black Jack, Poker, 21 and Rummoli are commonly played games.
A great touch would be to have servers (which could be you and family members) passing trays of hors d'oeuvres and taking drink orders. The dimmer the light, the better for this one. Remember, you're creating ambiance and sophistication. Perhaps a little background music of Jazz or Classical might complete the scene.
New York Style
For this one, the gaudier the better! Put up decorations like a mock New Year's ball that drops at midnight. For this one, you want plenty of lighting, hot drinks and things like popcorn and chips for snacks. If you are holding your Times Square Party outdoors, faux snow makes for lots of fun unless of course Mother Nature is happy to produce this for you on her own.
To really recreate the New York experience, you can purchase giant wall displays called "scene setters" of the New York City skyline. Simply pin these sheets to your walls with sticky tack, and viola, you're in the middle of Madison Square! When celebrating, you will definitely want to have the loudest noisemakers, cheesiest hats and tackiest decorations for this theme.
New Year's Resolutions
Resolutions don't have to be boring. You can create games that have your guests making mini resolutions that have to be agreed to for a small amount of time.
They of course can be silly, such as not speaking for one hour or resisting alcohol for one hour, etc. You can offer prizes for anyone who makes it and by all means, the more ridiculous the resolutions, the better.
Food and Drinks
Most New Year's parties are going to be saturated with alcohol; champagne for the toast at midnight, with beer and wine leading up to it. If your budget allows, hard liquor will certainly be appreciated. Not to be the party pooper, just be mindful of anyone who gets too intoxicated and ensure you have a bed for him or her to sleep it off before going home.
Food needn't be elaborate. Given that people tend to associate New Year's with drinking, finger foods such as veggie, cheese and fruit platters, chicken wings, chicken satay or fondue are perfect.
Fondue is surprisingly fun and easy and can be part of any theme you choose. There are plenty of kinds of fondue to make - chocolate, cheese, chicken and veggies are just a few of the many things that can be dipped. Other foods to consider will fall more in line with your theme.
Champagne is of course the traditional New Year's toast drink. It is better to offer half a glass of good bubbly than large quantities of the cheap stuff. Nothing spells headache faster than mediocre carbonated white wine.
The main idea with New Year's is to bring loved ones together for a good time and to ring in the New Year together. To that end, enthusiasm, good food, good conversation and good drink will carry you farther than a large budget.
---
---
Top Online New Year's Deals
These links to major retailers on the internet with special deals for after Christmas through the new year.
---
Best Buy After Christmas Sales. Best Buy Weekly Specials This year, Best Buy After Christmas Sale will have the latest laptops, HDTVs, TVs, LCDs, games, electronics, videos and computers. Deals and links to Best Buy's web site.
Walmart After Christmas Sale is expanded to over 1 million products that can be shipped to your home or picked up free at any Walmart store. Find incredible deals online for HDTVs, laptops, toys and electronics. See our online day after Christmas links to Walmart.com.
Coupon discounts
---
Entertainment Book year end deal is a special discount. No limit to the amount of entertainment books you can purchase or cities to select. Sale ends December 31 midnight! See links to special deals for the Entertainment Book for your city.
Restaurant.com 80% OFF! Discount dining coupons for thousands of restaurants throughout hundreds of cities in the U.S. Every week, restaurant.com has promotional codes to further discount their dining gift certificates. See links today's dining code from restaurant.com.
Coupon Bar @ Coupons.com. Get hundreds of free printable coupons from familiar consumer brands. Coupons.com is the undisputed leader in providing print-at-home coupons. Coupons.com works with well known companies such as General Mills, Kimberly-Clark, Johnson & Johnson, and Unilever offering many local in-store coupons. Click for many grocery coupons for free.
Gift Certificates.com has gift cards and gift certificates to over 200 popular merchants, GiftCertificates.com is your Online Gift Card Superstore! Choose from hundreds of popular stores and restaurants including Macy's, Bed Bath & Beyond, Staples, Barnes & Noble, Old Navy and hundreds more! SuperCertificate® can be exchanged for gift cards to any of Gift Certificates.com merchants. Most products can be shipped or e-mailed and used either online or in retail stores. See Gift Certificates.com.
GiftCards.com holiday promotional code GREETING2010 will provide a Free Custom Greeting Card with the purchase of any prepaid Gift Card. Free shipping on Discounted Gift Cards!
Giftcardmall.com has online access to hundreds of the best retail branded gift cards like Nordstrom, Home Depot, iTunes and AMC. Gift cards are delivered by email or traditional mail! Cards can be used online or on location as the issuing retailer. Customized gift cards are also available by uploading photos and images. Shop GiftCardMall.com Today!
Groupon features a daily deal on the best stuff to do, see, eat, and buy in a variety of cities across the United States and has been recently featured on the Today Show, Good Morning America, and named the #1 Hottest Website for 2010 by Fox Business News. A deal a day great things to do, eat, see and buy in your area. Shop Groupon.com today!
After Holiday Travel Deals
---
Expedia posts their latest Top Year End Travel Deals at Expedia.com.
IHG is an international hotel company whose goal is to create Great Hotels Guests Love.™ Our hotels welcome over 180 million guests each year to over 620,000 rooms in more than 4,200 hotels across nearly 100 countries. Save up to 20% at InterContinental Hotels when you Book Now!
Luggage OnLine's Black Friday Sale is extended until 10/3/2012. Travelpro TPro Lite Xtreme Closeout - starting at $27.95
Priceline lets you shop, compare, and select the final price in advance! Visitors can then simply select the EXACT airline ticket, hotel brand, rental car agency, vacation package, or cruise that works best for them. Last-Minute Deals Up to 50% off: Flights, Hotels, Cars, Packages!
Southwest Airlines Vacations Find affordable air/hotel packages to exciting destinations from coast to coast with Southwest Air. Valid for ALL DESTINATIONS and open for travel until June 2011. Get promotional codes for our links to Southwest Air Vacations.