Entertainment Magazine: Mexican Food: Green Corn Tamales
Preparing Green Corn Tamales
Green corn tamales originated in the Southwest US
Green corn tamales originated, in the tradition of Tucson, Arizona Mexican food dining. It is served in nearly every Mexican restaurant in the Tucson area.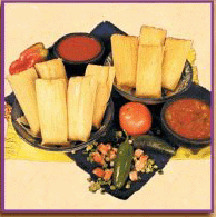 Green chile tamales are now more popular than red chile. Many types of stuffing can be used: shredded beef and chicken, even fish.
Tucson, AZ., located deep in the deserts of the Southwest USA, is home to many fine traditional foods.
The base of any good tamale, taco, burrito, burro or chimi is the tortillla. This type of tortilla (pronounced: tor-tee-a) is made from masa- soaked corn, cooked with lime and then grounded up.
The history of the tamale is well rooted in Mexico. The tamale was a favorite food long before the arrival of Columbus to Mexico. Tamales are a staple dinner items in both Mexican and American dining tables. In the Southwest, tamales are found in the supermarkets along side frozen chimis, enchiladas and pre-made tacos.
Del Real Foods Gourmet Chicken Tamales in Green Sauce

Del Real Foods Gourmet Chicken Tamales in Green Sauce Mexican Prepared Meals, a nationwide online grocery store for authentic Mexican food, recipes, cookbooks and culture. Tamales de pollo en salsa verde.

Tamales 101: A Beginner's Guide to Making Traditional Tamales Paperback

Author Alice Guadalupe Tapp has perfected the art of tamale making, and in TAMALES 101 imparts her knowledge and passion for this comforting treat. TAMALES 101 shows beginners how to make masa dough as well as fold and steam tamales to perfection. Then, once you've mastered the basics, you'll be whipping up batches of Chicken Tomatillo, Chorizo Potato, Vegetable Curry, and Greek tamales in no time. With recipes for nearly 100 traditional, vegetarian, vegan, and specialty tamales and sauces.

Tamale Kits and Books
from Amazon

New Mexico Tamale Sampler

This prepared tamale kit includes eight tamales, a sampling of four of the most popular Tamales from New Mexico Chile Express. These tamales are hand made, using authentic Southern New Mexico Recipes. Fully cooked, just thaw and enjoy. Includes 6 oz. of Red Sauce and 6 oz. of Green Sauce.

Ruiz Chicken Tamale

Ingredients: Cooked Masa (Water, Corn Masa Flour (With Trace Of Lime), Vegetable Oil (Soybean, Sunflower, Canola And/Or Corn Oil), Salt, Ground Chili Pepper), Filling (Chicken Meat (Dark Chicken Meat, White Chicken Meat, Water, Modified Food Starch, Salt, Sodium Phosphate), Green Chili (With Citric Acid), Monterey Jack & Cheddar Cheese. See list for more.

Ruiz Chicken Tamale with Label, 4.5 Ounce -- 36 per case only $45.75.

Ruiz Chicken Tamale, 5 Ounce -- 60 per case only $81.05.
---
---
© 2006-2014 EMOL.org Entertainment Magazine On Line