Entertainment Magazine: Mexican Food
How to make Green Corn Tamales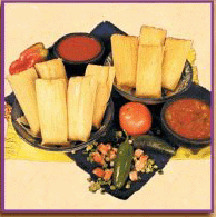 Making homemade tamales can be simple. It's easier if made from corn tamale mixes or kits.
Tamales are a delicious staple of Mexican and Southwestern cuisine.
To make green corn tamales, or any meat tamale, from scratch you need to start with actual corn, scraped from the cob (save the husks!). In Spanish, this is called masa.
Tamale kits, or market bought masa, will contain the grounded corn kernals.
If grinding corn by hand: Grind the corn with Jack Cheese in a meat grinder, blender or food processor.
Combine with lard (or substitute), cream and butter.
Spread the corn mixture on each corn husk, lay a sliver of green chile down the middle (add an olive, if you like). Fold, tuck and roll.
Hot tamales can be steamed in a pressure cooker or large steaming kettle. Always pour water at the bottom of the pan about 1/2 inch deep. Steam for about 1/2 hr to and hour (depending on the method). Refrigerate for 3-4 days. If freezing the tamales, don't steam them. Hot tamales are the best when they first come out of the steamer. But reheating frozen tamales still captures that spicy corn taste.
More about green corn tamales.
Quick Homemade Tamale recipe
This tamale recipe makes 4 dozen tamales.
Food Needed: 4 lbs. Pork (Shanks or Shoulder) or beef (chunks for stew, or chicken breast.
One-half onion, 7 lbs prepared masa, salt to taste.
Also: green chilies, bay leaves
Step 1- Preparing the Meat: Place meat, bay leaves, granulated garlic, salt to taste, and onion (cut in 4 pieces) into pot and add enough water to just cover the meat and ingredients. Cook meat and spices until tender. When done, remove and shred meat. Set aside 3 to 4 cups of the broth and bay leaves for preparing the chilies.
Step 2 - Preparing the Corn Husks: Soak corn husks for 30 minutes to 1 hour unit flexible.
Step 3 - Preparing the Chili Sauce: Place the chilies in a separate pot. Cover chilies with water and bring to boil. Drain chilies and remove stem and seeds. Place the chilies in a blender.
From step 1, use the 3 to 4 cups of both with bay leaves, add cumin and puree. Add the shredded meat and the chile sauce in a pot and cook. Remove from heat when sauce has thickened. Meat and the chili sauce.
Step 4 - Preparing Masa for the Tamales in the Corn Husks: Gently remove the husks and individually spread one corn husk Place two tablespoons of masa flour into the center of the husks.
Using a spoon, flatten the masa and spread evenly around the husks until is about 4.5 square inches. Spread 1-2 rounded teaspoons of meat sauce in the center of the masa and fold the husks and the masa. Allow the masa to completely surround the meat sauce.
Fold the bottom of the husk up and place in a steamer pot open end up. Place lid on the pot and steams tamales for 1-1/2 to 2 hours. Tamales are done when the masa easily separated from the husks.
This tamale recipe is courtesy of the Mojave Tamale Kit which contains everything you need to make authentic meat tamales.
We are searching for a special Tucson home cooking recipe for Mexican tamales and green corn tamales that can be shared with the public. We also will feature some Tucson homemade green corn tamales available to be shipped anywhere in the world.
Green corn tamales originated in the Southwest US
Green corn tamales originated, in the local tradition of Tucson, Arizona Mexican food dining. It is served in nearly every Mexican restaurant in the Tucson area.
Tucson, AZ., located deep in the deserts of the Southwest USA, is home to many fine traditional foods. The chimichanga is another exquisite Mexican delicacy developed in Tucson to be covered in another topic.
The base of any good tamale, taco, burrito, burro or chimi is the tortillla. This type of tortilla (pronounced: tor-tee-a) is made from masa- soaked corn, cooked with lime and then grounded up.
The history of the tamale is well rooted in Mexico. The tamale was a favorite food long before the arrival of Columbus to Mexico. Tamales are a staple dinner items in both Mexican and American dining tables. In the Southwest, tamales are found in the supermarkets along side frozen chimis, enchiladas and pre-made tacos.
Two hot tamales are better than one. Most people eat two or more at a time. Homemade tamales are common in many local Mexican restaurants and street cart vendors. They are easy to eat, not messy and one can never have too many tamales!
At Christmas time, tamales are the main staple. They are called "red tamales," made of shredded beef, red chile and wrapped in a corn husk. Red beef tamales are found all year round and are a popular "hand food" on the run.
The green corn tamal (green, meaning "fresh") is made with fresh white corn, often mixed with cheese, then lined with a long green chile slice before it is rolled and wrapped in a husk. Then the husks are steamed.
Green Corn Tamales Kits
Everything you need to make authentic meat tamales. Shipping Weight: 6.1 pound. 12 Ounce Unit (Pack of 6).
By Alice Guadalupe Tapp; Paperback. Includes 60 food and spot photographs and 15 illustrations showing, step by step, how to spread masa and wrap and tie tamales. At Tamara's Tamales, Alice and her daughter, Tamara, sell hundreds of tamales a day—and have since 1996. 208 pages. English. Click image to read more.
Southwest Tamales
Fresh takes on tamales–from three pioneers of modern Southwestern cuisine. By Mark Miller, Stephan Pyles, John Sedlar and John Harrisson. Hardcover; Buy New or used. 128 pages. Click image to read more.
Meat-filled tamales range from Coriander-Cured Beef Tamales with Barbecue-Onion Marmalade to Lamb Tamales with Mint, Black Beans, and Blackened Tomato and Mint Salsa. Tamales even make wonderful, innovative desserts; the inspired recipes in this book include Ginger-Sticky Rice Tamales with Mango and Basil, Mom's Apple Pie Tamales, and Chocolate Bread Pudding Tamales.
Christmas Means Tamales: As Did Every Weekend When I Was a Kid Arthur D. Sandoval; Paperback; Buy New: $14.50
---
© 2006-2016 EMOL.org / AZentertain.com / Entertainment Magazine On Line