Looking towards down the shared walkway at the beach (right) and Cabrillo Blvd. (left). Notice the dot just above the horizon- that's a hang glider (see next).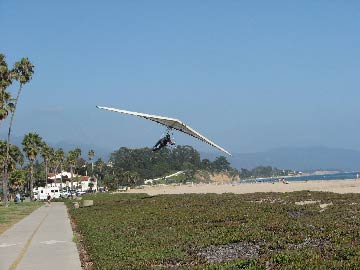 Hang gliding is a popular sport in Santa Barbara. Several were spotted within a few days floating around the city.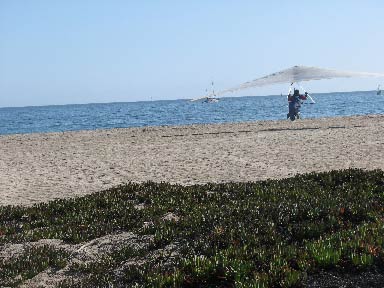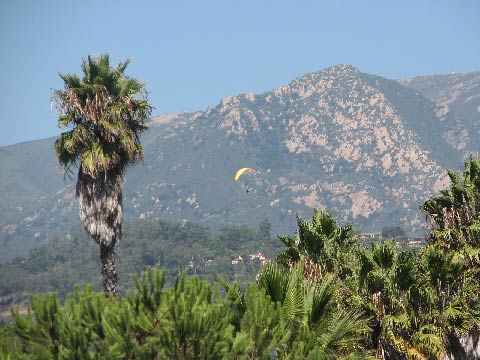 Looking north towards the mountains. Notice the yellow parachute- another hang glider!
The Santa Barbara beach looking out towards the Pacific Ocean.

Birds digging for their dinner as the tide rushes out for a few moments trapping unsuspecting delicacies.
The Chase Palm Park, across the street from the beach and within a few minutes walk from State Street and the Warf, features a natural setting, mixed with a manicured park for events, children's playground, even a carousel.
A skateboard park just at the edge of the warf's entrance on State Street is a popular hang out.
Online grocery shopping and home delivery is perfect for busy families, individuals short on time or anyone that wants a quick and easy way to do the weekly grocery shopping.
Von's make it easy to get quality groceries, fresh produce, meat and seafood delivered to homes and businesses. Customers will find the same quality products, in-store prices and Vons Club Card savings online since their order is handpicked from their local Vons store. All first-time customers get a promotion code good for free delivery on their first order (minimum order size $50).
PLEASE NOTE: Delivery service is available in select regions: Los Angeles, CA, San Diego, CA, Las Vegas, NV. Look for Santa Barbara and surrounding communities.