concert tickets are available at TicketsNow.com, the worlds largest source for premium event tickets.
Cher tickets from TickCo Premium Seating has provided premium event tickets for over a decade.
Cher in the news
Cher's Las Vegas performance is legendary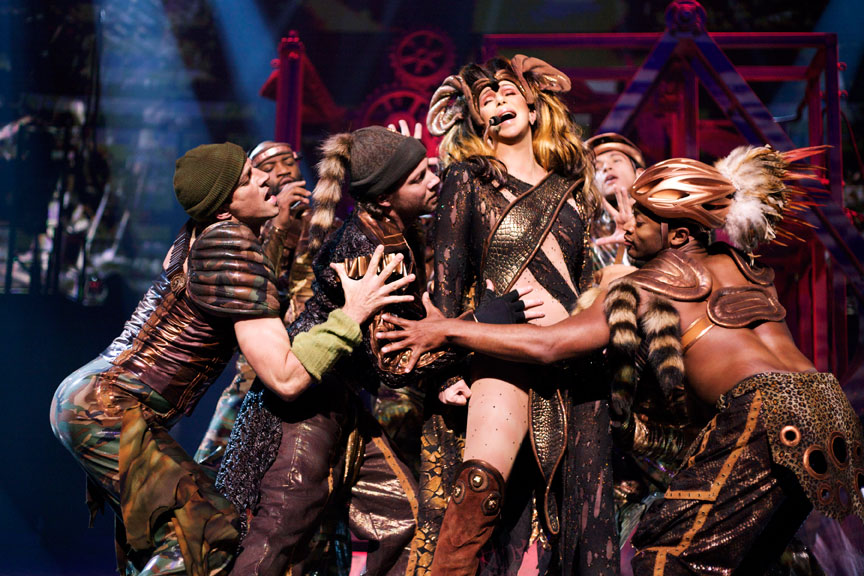 "Cher's name in one word encapsulates icon, award-winning legend, and captivating performer. There is only one home for someone of that legendary status -- the most recognized casino brand in the world, Caesars Palace," said Caesars Palace President, Gary Selesner. "Caesars is pleased to welcome Cher back to Las Vegas' most prestigious entertainment address, The Colosseum, joining Bette Midler and Elton John."
The 90-minute show is presented at 7:30 p.m. four nights a week on Tuesday, Wednesday, Saturday and Sunday (dark Monday, Thursday and Friday). Ticket prices vary depending on the seating and ticket vendor.
Tickets for performances are on sale now and can be purchased by calling 1-866-510-CHER (2437) or online at www.ticketmaster.com, keyword "Cher." Tickets may also be purchased in person at The Colosseum at Caesars Palace Box Office open daily from 10 a.m. to 10 p.m. For groups of 20 or more, call 702-731-7208.
AEG Live
AEG Live, the live-entertainment division of Los Angeles based AEG is dedicated to all aspects of live contemporary music performance, touring for a variety of programming and multi-media production. One of the largest concert promotion and touring companies in the world, AEG Live is comprised of special event, broadcast and exhibition divisions, and operates and owns numerous state of the art venues nationwide.
Recent AEG Live tours and productions include Celine Dion A New Day ... , which just ended a landmark five year run at The Colosseum at Caesars Palace and "Tutankhamun and the Golden Age of the Pharaohs," an international tour of the artifacts of King Tut. Recent and current promoted concert tours include Justin Timberlake, Christina Aguilera, Prince, Bon Jovi, Usher, Nickelback, Kenny Chesney, Rod Stewart, and Paul McCartney. AEG Live also co-produces the New Orleans Jazz & Heritage Festival. Goldenvoice, the company's southern California-based regional promotion division, created and operates the award winning annual Coachella Valley Music & Arts Festival.
About Caesars Palace
Caesars Palace is the world's best known resort-casino, celebrating the glory that was Greece and the grandeur that was Rome, in an 85-acre destination location that sets the standard for entertainment, dining and luxury.
Reigning at the heart of the Las Vegas Strip, Caesars Palace ranks among the world's top luxury resorts known for their originality and beauty and features 3,348 hotel guest rooms and suites, 25 unique restaurants and cafes, 4.5-acre Garden of the Gods pools and gardens, 50,000 square foot Qua Baths & Spa and 240,000 square feet of premium meeting and convention space.
The 4,100-seat Las Vegas Colosseum sits just steps from celebrity chef restaurants and the acclaimed Forum Shops at Caesars and spotlights world class entertainers such as Bette Midler, Elton John, Jerry Seinfeld and starting in May 2008, Cher.
Source: Caesars Palace
LAS VEGAS, Feb. 11, 2008 /PRNewswire/ --
Cher to Headline the Colosseum at Caesars Palace, Las Vegas. (PRNewsFoto/Caesars Palace) LAS VEGAS, NV UNITED STATES 02/11/2008
Cher celebrates four decades entertaining
Cher is a world famous superstar who has performed worldwide for more than 40 years. Cher is the only female recording artist with had a farewell tour in 2005.
Cher is an Oscar and Emmy-winning performer who has staged numerous concerts, recordings, Broadway, TV, movies, film directing and books over her career. Cher has released more than 25 albums and sold over 100 million records worldwide in her Grammy-winning solo recording career.
Cher, whose real name is Cherilyn Sarkisian, was born on May 20, 1946. Her age is 63 in 2009. She started her career in 1962 as a solo recording artist with her partner Sonny Bono. Cher's wrote some of the lyrics of the singing duo. Cher became a television star in the 1970s, and a film actress in the 1980s. Cher starred in a string of hit films including The Witches of Eastwick, Silkwood, Mask and Moonstruck, for which she won the Academy Award for Best Actress. More about the life of Cher on the Cher wiki page.
Cher's "Believe" is still a top song

Cher's hit dance single song, "Believe," is Cher's biggest-selling recording. It sold over 10 million copies of the album and CD worldwide. The CD was released on November 10, 1998 from Warner Bros/WEA.

Comment about Believe from an Amazon.com reader: Cher's recording career has long taken a back seat to her acting pursuits, but with Believe she's back with a vengeance as a throbbing disco diva. Although no fewer than five producers with dance pedigrees are along for the project (including Todd Terry, Junior Vasquez of Madonna fame, and Rob Dickins, who helped resurrect Rod Stewart's ailing career), this is by no means a dance album in the '90s trip-hop sense of the term.

Rather, it's a tour de force that summons mid-'70s images of strobe-lighted dance floors, sequined miniskirts, and writhing bodies. In "Power," Cher wails, "Ain't nothing changed much through the years." Not a bad thing in this case, since Cher's star was still rising in the steamy '70s and '80s with a string of hits that included the disco gem "Take Me Home" and the haunting "If I Could Turn Back Time."

Although not blessed with much vocal range, Cher knows how to work a song with her trademark sultry, slightly ironic delivery. And she's certainly in fine form on the masterful title track, which is marred only by the intrusive, anachronistic wah-wah vocal effect. By Jaan Uhelszki.

Cher's "Believe" Track Listings

1. Believe
2. Power
3. Runaway
4. All or Nothing
5. Strong Enough
6. Dov'e L'amore
7. Takin' Back My Heart
8. Taxi Taxi
9. Love Is the Groove
10. We All Sleep Alone

See more about Believe from Amazon.com
2009 EMOL.org. Celebrity Entertainment Magazine. All rights reserved.
Cher Movies and DVDs
Cher Music CDs
Find all of Cher's songs and classic music from amazon.com
Netflix: Get Your DVDs delivered FREE!
TV Collectibles:
Shop ABC-TV Official merchandise for Boston Legal, Dancing with the Stars, Desperate Housewives, and more!
Shop NBC: NBC Universal Store Favorite TV merchandise. Dwight Schrute Bobblehead!
NBC Universal Store DVDs, Soundtracks, Clothing, Accessories and Collectibles from your favorite NBC Universal Shows, Movies and Sporting Events.
Movie Collectibles:
Warner Bros. Shop
Shop for toys, clothing, posters and more from Warner Bros. favorites like Harry Potter and The Wizard of Oz.
Tarzan collectibles, DVDs