Ellen's Accomplishments before talk TV
Prior to the launch of her talk show, DeGeneres accomplishments were on stage, film and in the literary world.
She enjoyed popular and critical response to her voice performance of 'Dory,' the fish with extreme short-term memory, in the Disney/Pixar animated feature film, "Finding Nemo."
DeGeneres earlier crossed the country on a 35-city stand-up comedy tour, entitled "Here and Now," which was taped for HBO and subsequently nominated for two Emmys.
In October, 2003, her second book, "The Funny Thing Is..." was published. Comprised of comedic short stories and essays, the book hit the New York Times' bestseller list upon its release.
In 2005, she was nominated for a Grammy Award for Best Comedy Album for the audio version of the book.
DeGeneres TV achievement began on Fox television's sitcom, "Open House." She moved on to ABC's "Laurie Hill," prior to being offered "These Friends of Mine" by ABC. After the first season, the show was renamed "Ellen." Running from 1994 to 1998, the show brought DeGeneres Emmy nominations each season in the "Best Actress" category.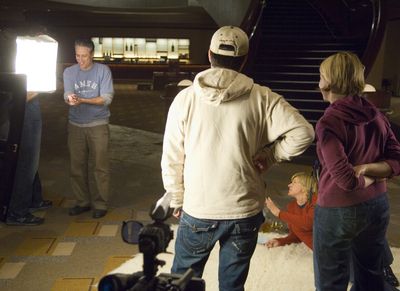 (photo left) Jon Stewart, host of the 78th Academy Awards, gets ready for a chat with Ellen DeGeneres about the upcoming awards for her talk-variety show in the lobby of the Kodak Theatre as preparations continue in Hollywood.
In 1997 DeGeneres was the recipient of the Peabody Award as well as earning an Emmy for writing the critically acclaimed "Puppy Episode" in which her character came out as a gay woman.
DeGeneres followed with the CBS sitcom, "The Ellen Show," which ran from 2001 to 2002.
DeGeneres' feature film credits also include "EDTV" for director Ron Howard, "The Love Letter," "Goodbye Lover," "Coneheads" and "Mr. Wrong," in which she starred with Bill Pullman.
In 1995, her first book "My Point...And I Do Have One" debuted at number one on the New York Times' bestseller list and in 1997 she released her comedy CD, "Taste This."
The ceremonies honoring film achievements for 2006 were held on Sunday, February 25, 2007. The 79th Annual Academy Awards Presentation was broadcast live from the Kodak Theatre at Hollywood & Highland by the ABC Television Network, at 5:00 p.m. (PST) with a half-hour arrivals segment. Read more about the 79th Academy Awards.