Kevin Federline "K-Fed"
KEVIN FEDERLINE at CABARET
By Steve Starr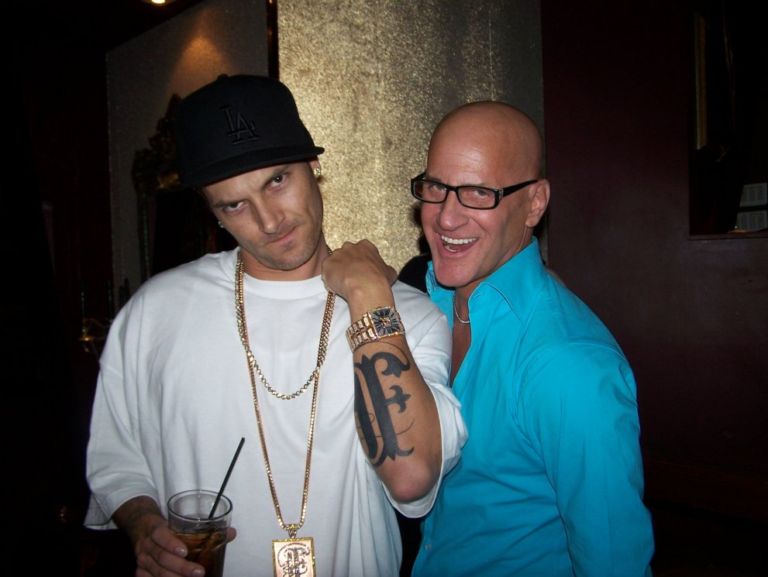 Photo: Kevin Federline and Nightlife Photographer Steve Starr. 9/23/06
Surrounded by 100 Britney Spears, several gorgeous brunettes, and dozens of handsome men, host Kevin Federline relaxed in the VIP section of the Cabaret Cocktail Boutique, 15 West Hubbard Street, Chicago, with IMAGE Magazine publisher and event producer Paul Sorkin, WWE wrestler Matt Hardy, and other luminous guests.
The party, October 23, 2006, was the official celebration of the release and preview of Federline's new album, and the stunning crowd danced, gyrated, posed for my camera, and made out to the sounds of Cabaret's resident DJ, Jernell Geronimo.
I handed my camera to a very nice girl who was thrilled to be at the party, and she took a great snapshot of Federline, displaying his huge scripted "F" on his forearm, and me.
When the lights came on to herald closing time at Cabaret, Federline took to the DJ Booth where he rapped, serenading the crowd as they left the sumptuous seating of the gorgeous room, ablaze with red lights, chandeliers, and mirrors.
Steve Starr is the author of Picture Perfect-Art Deco Photo Frames 1926-1946, published by Rizzoli International Publications. A photographer, writer and artist, he is the owner of Steve Starr Studios. His column, STARRLIGHT, about movie stars of the 1920's, 1930's and 1940's appears in various publications. STARRGAZERS-Radiant Photography by Steve Starr is available for portraits and events. Phone 773-463-8017. Visit www.SteveStarrStudios.com
2006 EMOL.org. Entertainment Magazine. All rights reserved.
Playing With Fire [EXPLICIT LYRICS]
Kevin Federline (Artist)
Track Listings
1. World Is Mine
2. America's Most Hated
3. Snap
4. Lose Control
5. Dance with a Pimp - Kevin Federline,
6. Privilege
7. Crazy - Kevin Federline, Britney Spears
8. League of My Own
9. Playing with Fire
10. Caught Up
11. Kept on Talkin'
12. Middle Finger [Hidden Track]
• Original Release Date: October 31, 2006
• Number of Discs: 1
• Format: Explicit Lyrics
• Label: Reincarnate Music