(left) A balcony stateroom on the fifth deck of the Carnvial Spirit as it sat in the San Deigo, CA. dock preparing for a weekend cruise to Mexico from the San Diego, CA port.
My first trip aboard an ocean liner was during the spring of 2004. I was years - decades- behind my other family and friends who already discovered the secret to a unique and complete vacation- take a cruise!
Cheap cruises on luxury ships are now very affordable. The costs have gone down hundreds of dollars and quick get away weekend cruises are very popular.
I had no idea what to expect, except what I read about cruises from other web sites and bits and pieces of discussions from family and friends. So, after my journey, I wanted to gather my thoughts for others planning their first or next cruise.
As a cruise-virgin, I was overwhelmed!
This extended weekend cruise began on a Thursday afternoon, leaving from the San Diego, CA dock at 6pm, docking in the Ensenada, Mexico port for a day and a day in the ocean.
We returned Sunday morning and were promptly encouraged to leave the ship by 9:30am. One last, quick, breakfast on board and off the boat to San Diego.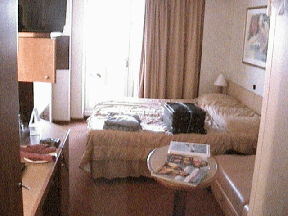 Photo right: The Carnival Spirit cruise ship is an impressive 88,500 gross tons, 963 feet long and rises 12 decks (Beam: 106 feet). It can host 2,600 passengers and nearly 1,000 crew. The ship was delivered in 2001. Panama is the country of registry.
Large, spacious cabins
Staterooms with balconies feel more open, especially during long cruises. It was a great feeling to wake up in the morning with the curtains open and see the Mexican flag flying in Ensenada.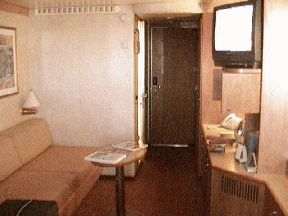 I can only imagine (hopefully, not for long) to enjoy awakening to other ports of call. The shipped docked for the day and our family wandered the streets of Ensenada visiting the stores and a stop at Senor Frogs, a wild party place.
Back at the ship, everything in the stateroom needed is close to hand- a TV with channels of ship videos, taped network shows, music and a ship web cam on both ends of the ship.
A small refrigerator stores a for-charge bar, but can be used to store any of those amazing leftovers.
I was concerned about "rocking" but was not even phased at all by motion sickness or even the feeling of being on a ship.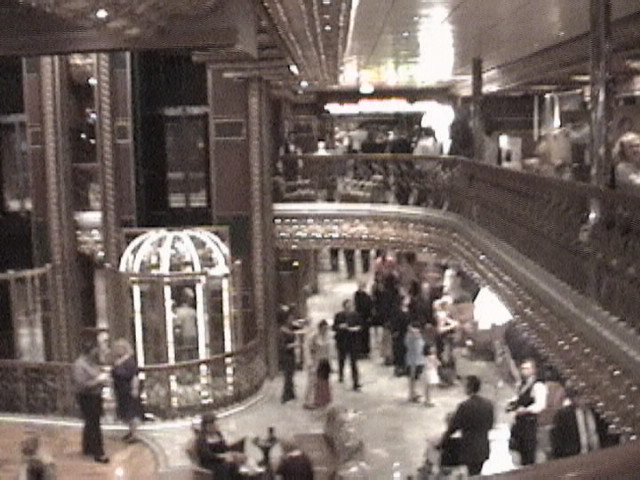 The casino was open 24 hours when out at sea. I had left the disco at 4am and it seemed like one shift for the crew was getting off work- so the party was going to continue into the dawn.
Just staying up to the midnight buffets was a struggle. There was no lack of food, or things to do. A daily newsletter provided activities every minute of the day
(picture left) A view of the atrium below from one of the three glass elevators. This ship is 12 decks tall. One floor had theaters for large audiences.
(above) The stateroom on the fifth deck had a partially obstructed view, but the lifeboat was not annoyingly visible above the railing, but did not take away any of the view of the ocean or ports. It wasn't a distraction, especially with the reduction in price for "obstructed view."
This is a way to save some money with a cheap cruise rate- just ask for an "obstructed balcony." I'm told that a room without a window or a small peep hole is not a good choice unless cost is a factor or you don't plan to spend much time in the room. But a nice stateroom does make the difference. It is like a hotel room, but smaller- much smaller. But, one does not go on a cruise just to spend it inside the room.
(right) Looking over the balcony at a Navy ship in the San Diego, California port with the Spirit's lifeboat in front. The boat was only a few inches above the balcony railing. The balcony had a nice open space with privacy blinds between cabins. Chairs on the balcony made the complimentary room service breakfast quite enjoyable. I ordered some fresh lox (salmon), bagels and cream cheese with coffee, orange juice and fruit. It was one of the best breakfasts ever.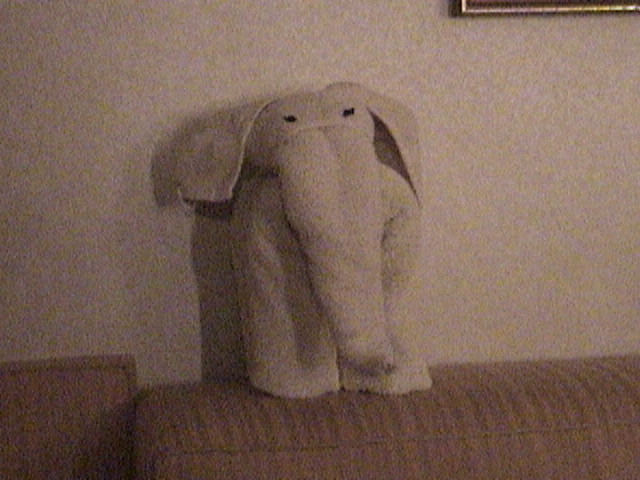 (left) Every night after dinner, the room steward would leave a towel-fashioned animal characture on the bed. A very nice touch. My mother enjoyed the elephant.
At the end of each evening, an animal skillfully shaped from a towel by your cabin steward sits on your bed. Each night is a different animal. This evening it was an elephant. Mints are also left on your pillow.
Our travel agent, Margie from Raindancer Travel, made the trip especially nice. She had wine, fruit baskets and complimentary coupons arranged with our travel plans. From beginning to end, it was "smooth sailing."
The cruise was a special "reposition" cruise that liners often provide as they turn their ships around for new destinations. These cut-rate cruises are not often advertised, but offer great deals if you are willing to travel during the repositioning cruise windows.
Actress Mira Sorvino Named Godmother of Carnival Cruise Lines' New Carnival Liberty
---
---
© 2006-2014 EMOL.org Cruise Entertainmen tMagazine / AZentertain.com