Film: "27 Dresses"
"27 Dresses" movie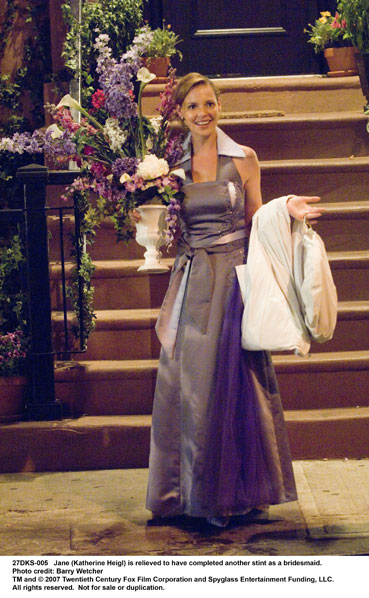 Release: January 11, 2008
Twentieth Century Fox
Jane (Katherine Heigl) is relieved to have completed another stint as a bridesmaid.

Photo credit: Barry Wetcher
Movie SYNOPSIS

Katherine Heigl, who earlier this year got "Knocked Up" in the hit motion picture comedy from Judd Apatow, and nabbed an Emmy® for her starring role as a surgical resident in "Grey's Anatomy," is always a bridesmaid but never a bride in the romantic comedy 27 DRESSES.
From the screenwriter of "The Devil Wears Prada," 27 DRESSES centers on Jane (Heigl), an idealistic, romantic and completely selfless woman…a perennial bridal attendant whose own happy ending is nowhere in sight. But when younger sister Tess captures the heart of Jane's boss – with whom she is secretly in love – Jane begins to reexamine her "always-a-bridesmaid…." lifestyle.

Jane has always been good at taking care of others, but not so much in looking after herself. Her entire life has been about making people happy – and she has a closet full of 27 bridesmaid dresses to prove it.
One memorable evening, Jane manages to shuttle between wedding receptions in Manhattan and Brooklyn, a feat witnessed by Kevin (James Marsden), a newspaper reporter who realizes that a story about this wedding junkie is his ticket off the newspaper's bridal beat.

Jane finds Kevin's cynicism counter to everything she holds dear – namely weddings, and the two lock horns. Further complicating Jane's once perfectly-ordered life is the arrival of younger sister Tess (Malin Akerman). Tess immediately captures the heart of Jane's boss, George (Edward Burns). Tess enlists her always-accommodating sister to plan yet another wedding – Tess and George's – but Jane's feelings for him lead to shocking revelations…and maybe the beginning of a new life.


NOTE: SOME CREDITS MAY NOT BE FINAL
THE CAST

KATHERINE HEIGL (Jane) was recently seen in the box office smash hit "Knocked Up." The film, directed by Judd Apatow and co-staring Paul Rudd and Seth Rogen, focuses on a young woman who finds out that she is pregnant after a one night stand.

Heigl can be seen weekly on ABC's critically acclaimed drama "Grey's Anatomy." She portrays Dr. Isobel "Izzie" Stevens, the small-town girl who is constantly battling for respect amongst her peers. The series focuses on the personal and professional lives of five surgical interns struggling to be doctors and their supervisors who are struggling to stay human. Heigl earned an Emmy Award in 2007 as well as a Golden Globe® nomination in 2007 for her performance.

Heigl's previous film credits include the comedy "The Ringer," the horror film "Valentine," Steven Soderbergh's critically acclaimed depression-era drama, "King of the Hill," "Under Siege 2: Dark Territory," opposite Steven Segal, "Stand-Ins" and "That Night." Her first leading role was in Touchstone Pictures' "My Father the Hero" starring opposite Gerard Depardieu.

On television, Heigl starred on the WB's sci-fi drama series, "Roswell." Additional television credits include the Hallmark Channel's "Love Comes Softly," TBS' "Evil Never Dies," and "Love's Enduring Promise."



JAMES MARSDEN (Kevin) can currently be seen in the box office hit "Enchanted" opposite Susan Sarandon, Amy Adams and Patrick Dempsey for Disney for which he is receiving rave reviews. "Enchanted" is a romantic fable, mixing live action with CGI animation directed by Kevin Lima. He was recently seen in Adam Shankman's box-office hit "Hairspray" opposite John Travolta, Queen Latifah, Michelle Pfeiffer and Christopher Walken. Marsden played Corny Collins, the host of the TV dance show.

Marsden is currently in production on Richard Kelley's horror film "The Box" opposite Cameron Diaz. Marsden and Diaz play an unhappily married couple who receive a box from a stranger who tells them that, if they push a button on the box, they will receive a large amount of cash and someone they don't know will die. The film is based on a Richard Matheson short story called "Button, Button." Marsden is also set to appear in a cameo role in Sean Anders' upcoming comedy called "Sex Drive" opposite Michael Cera.

Marsden was also seen in "Superman Returns" for director Bryan Singer. Marsden starred as Richard White, a new rival for the affections of Lois Lane. Kevin Spacey, Kate Bosworth, Brandon Routh and Frank Langella also starred.

Marsden's diverse film credits include Cyclops in the "X-Men" trilogy, the Nick Cassavetes romantic drama "The Notebook," and "The Alibi." Additional film credits include "Disturbing Behavior," "10th and Wolf," "24th Day," "Sugar and Spice" and "Interstate 60." His notable television roles include Glen Floy on the final season of the Emmy winning, David E. Kelley series "Ally McBeal."



MALIN AKERMAN (Tess) was born in Stockholm, Sweden. A career opportunity for her father moved her family to Toronto, Canada when Akerman was only two years old. Akerman began modeling and acting in television commercials at age five.

At seventeen, Akerman won the Ford Supermodel of Canada search. Interest from international agents led Akerman to spend her summers in Europe modeling until she finished high school. She pursued a successful modeling career for several years but eventually decided to stay in Toronto and focus on acting. Akerman quickly landed a role on a television series produced by Steven Spielberg, and several guest roles followed. She then relocated to Los Angeles.

This fall, Akerman had a starring role opposite Ben Stiller in the comedy "The Heartbreak Kid," directed by the Farrelly brothers. Before that she co-starred in "The Invasion," starring Nicole Kidman, and in the comedy "The Brothers Solomon," directed by Bob Odenkirk, starring Will Arnett and Will Forte. She has also appeared in the films "Harold and Kumar Go to White Castle," "The Utopian Society" and "The Skulls."

On the small screen, Akerman impressed critics and audiences with her portrayal of Juna Millken in the HBO series "The Comeback." She also had a recurring role in the third season of "Entourage."

Akerman is currently shooting "The Watchmen," also starring Patrick Wilson, Billy Crudup and Carla Gugino.



JUDY GREER (Casey) can be seen starring in the upcoming new half-hour comedy series for ABC "Miss/Guided." The single camera project from 20th Century Fox TV and Ashton Kutcher's studio-based Katalyst Films, centers on a woman (Greer) who returns to her high school alma mater to become a guidance counselor. Caroline Williams ("The Office") penned the script for the pilot, directed by Todd Holland.

Before that, Greer starred in the series "Love Monkey" with Tom Cavanaugh and in the critically-acclaimed hit show "Arrested Development," in a recurring role as Kitty Sanchez. Greer recently finished shooting an episode of the FX series "It's Always Sunny In Philadelphia," as well as taking on roles in "Californication" for Showtime, and in the NBC hit, "My Name is Earl." She has a recurring role on the sitcom "Two and a Half Men."

On the big screen, Greer stars in the upcoming independent feature "The Key Man" playing opposite Brian Cox and Jack Davenport, directed by Peter Himmelstein. Greer was seen in Paul Weitz's "American Dreamz," opposite Hugh Grant and Mandy Moore, in addition to Cameron Crowe's "Elizabethtown," starring opposite Kirsten Dunst, Orlando Bloom and Susan Sarandon, and in the independent films "The Amateurs," opposite Jeff Bridges and Jeanne Tripplehorn, and "The Great New Wonderful" with Maggie Gyllenhaal and Tony Shalhoub.

Additional film credits include "The Go-Getter," with Zooey Deschanel and Jena Malone, "The Grand," with David Cross and Shannon Elizabeth, and "Visioneers."

Other credits include M. Night Shyamalan's "The Village" opposite Joaquin Phoenix, Adrien Brody, Sigourney Weaver and William Hurt; "13 Going on 30" opposite Jennifer Garner; writer-director Adam Goldberg's psychological drama "I Love Your Work," "The Hebrew Hammer," Charlie Kaufman's critically-acclaimed "Adaptation," "The Wedding Planner," "What Women Want," "What Planet Are You From?" "Three Kings," "Jawbreaker," "In Memory of My Father," "The Father," "The Specials," and "Kissing a Fool."

Greer was born and raised in the Detroit. She trained for nearly ten years in classical Russian ballet and then shifted her interest to acting and was accepted into Chicago's prestigious The Theatre School at DePaul University.



EDWARD BURNS (George) continues to entertain audiences as an actor, writer, director and producer.

Burns' latest film, "Purple Violets," debuted at the 2007 Tribeca Film Festival. "Purple Violets" also starred Debra Messing, Patrick Wilson and Selma Blair and marks the eighth time Burns has written, directed, produced and starred in a motion picture. "Purple Violets" premiered on iTunes on November 20, and became the first feature film to be exclusively distributed on that popular service.

Burns will next be seen in the Japanese horror remake "One Missed Call" for Warner Bros., set for a January 2008 release.

Burns appeared in Nancy Meyer's film "The Holiday" opposite Kate Winslet and Jude Law. Additionally, Burns released two films in 2006, "Looking for Kitty" and "The Groomsmen," in which he directed, wrote and starred opposite Brittany Murphy, John Leguizamo, Jay Mohr and Donal Logue.

Burns starred opposite Dustin Hoffman and Andy Garcia in director James Foley's "Confidence," which had its world premiere at the 2003 Sundance Film Festival. Other recent films as an actor include the 20th Century Fox romantic comedy "Life, Or Something Like It," opposite Angelina Jolie, and New Line's "Fifteen Minutes" co-starring Robert De Niro. Burns also starred opposite Tom Hanks in Steven Spielberg's "Saving Private Ryan." The critically acclaimed World War II epic marked the first film in which Burns acted in a film he did not write and direct himself.

Burns was lauded by critics and audiences alike for his first feature, "The Brothers McMullen," which premiered in competition at the 1995 Sundance Film Festival, winning the Grand Jury Prize. Burns wrote, directed and starred in the film, which was shot on a budget of only $25,000 and went on to gross over ten million dollars at the domestic box office, making it the most profitable film of 1995. The film also won "Best First Feature" at the 1996 Independent Spirit Awards.

Burns' second film which he wrote, directed, produced and starred in, was the romantic comedy "She's The One," with Jennifer Aniston and Cameron Diaz. Burns' additional films on which he wore multiple hats include Gramercy Pictures' intimate drama, "No Looking Back," with Lauren Holly and Jon Bon Jovi; Paramount Classics' romantic comedy ensemble "Sidewalks of New York," featuring Heather Graham, Brittany Murphy, Rosario Dawson, and Stanley Tucci; and the 1980's-set drama, "Ash Wednesday," which starred Burns and Elijah Wood as two New York brothers trying to escape their past. Burns sixth feature film in just ten years was "Looking for Kitty," which premiered at the 2004 Tribeca Film Festival.

For television, Edward Burns and brother Brian served as creators and executive producers of the half-hour comedy "The Fighting Fitzgeralds" for NBC starring Golden Globe winner Brian Dennehy.

Burns was born in Woodside, Queens and grew up on Long Island. Initially an English major, he decided to focus on filmmaking, which he studied at Hunter College in New York City before making "The Brothers McMullen." After the film won the Grand Jury Prize at Robert Redford's Sundance Film Festival, Redford was so impressed with Burns' talents that he served as executive producer on both "She's The One" and "No Looking Back."