2008 and 2009 Upcoming Movie Productions
Read press releases and production information about new movies

These films are planned for release in 2008 and 2009, according to the movie companies. New movie titles are added weekly. Also, current titles are often updated with additional production notes, actor biographies, photos and movie trailer videos.

Dec. 19: The Tale of Despereaux animated adventure. Robbie Coltrane, Frances Conroy, Tony Hale, Ciaran Hinds, Dustin Hoffman, Kevin Kline, Christopher Lloyd, William H. Macy, Stanley Tucci, Tracey Ullman, Emma Watson and Sigourney Weaver. Universal Studios.

Dec. 19: Revolutionary Road. Leonardo DiCaprio, Kate Winslet, Michael Shannon, Kathryn Hahn, David Harbour and Kathy Bates. ased on the celebrated novel by Richard Yates.The Star Trek movie release date has been changed from December to May 2009.
New Movie Production News: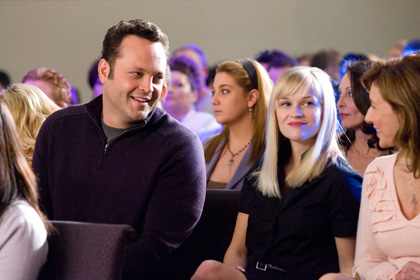 "Four Christmases" Vince Vaughn, Reese Witherspoon, Robert Duvall, Romantic Comedy. When upscale, happily unmarried San Francisco couple Kate and Brad find themselves socked in by fog on Christmas morning, their exotic vacation plans morph into the family-centric holiday they had, until now, gleefully avoided. Opens November 26.
Lucasfilm Ltd., Warner Bros. Pictures and Turner Broadcasting System Inc. Announce Deal to Release STAR WARS: THE CLONE WARS in 2008. Warner Bros. Pictures Releases Full-Length, Theatrical Clone Wars Movie August 15, Followed by the Debut of the Groundbreaking TV Series, Premiering This Fall on Cartoon Network and TNT.
Interview with Faith Filmworks Michael and Christine Swanson and "All About Us." Michael Swanson and Christine Swanson are a team – in more ways than one. They have been married since 1994, have three children, own Faith Filmworks, and have made two feature films, All About You (2001) and All About Us (2007). They are about to begin pre-production on their third feature, Preacher Man. Continue reading...
Read details of the development, production and filming provided by the filmmakers and producers. Photo clips, video clips and links to the Official movie web sites are posted as they become available. SInce these movie production notes are provided by the film companies to promote their upcoming new releases, the content is copyright of the respective sources and cannot be republished or distributed without permission from the production company source.
Film Production Press Notes:
CyberWeek Index
Find Your Movie with Fandango's Search Box


Click Here to See StarWarsShop.com Sale Items!