November 2008 Upcoming New Movie Productions
These are the new films planned for release in November 2008. While some opening dates and locations may change, the movie companies have these films already in production. Read movie production notes about the film, find out more about the cast members and filmmakers and watch movie trailers for some films as they are available.
Friday, November 7, 2008

James Bond 22. Sony

Powerful Innocence: The Boy in the Striped Pajamas, review by Madelyn Ritrosky

Madagascar: Escape to Africa All of the loveable characters are back -- Alex the lion, Marty the zebra, Melman the giraffe and Gloria the hippo, King Julien, Maurice and the penguins. Ben Stiller, Chris Rock, David Schwimmer, Jada Pinkett Smith, Sacha Baron Cohen, Cedric The Entertainer, Andy Richter. DreamWorks SKG Animation.

Quantum of Solace Sony Pictures

Rachel Getting Married. Sony Pictures Classics. Opens in Tucson, Alb, Las Vegas, Reno, Santa Fe.

Role Models Universal Pictures. Rated R.

The Star Trek movie release date has been changed from December to May 2009.

Harry Potter movie moved to July 2009
Friday, November 21
"BOLT." For super-dog BOLT (voice of JOHN TRAVOLTA), every day is filled with adventure, danger and intrigue—at least until the cameras stop rolling. When the star of a hit TV show is accidentally shipped from his Hollywood soundstage to New York City, he begins his biggest adventure yet—a cross-country journey through the real world to get back to his owner and co-star, Penny (voice of MILEY CYRUS). Armed only with the delusions that all his amazing feats and powers are real, and the help of two unlikely traveling companions—a jaded, abandoned housecat named Mittens (voice of SUSIE ESSMAN) and a TV-obsessed hamster named Rhino (voice of MARK WALTON) -- Bolt discovers he doesn't need superpowers to be a hero. Directed by Disney veterans Chris Williams and Byron Howard, BOLT is a hilarious, fun-filled, action-packed animated comedy adventure in Disney Digital 3-D. Walt Disney Pictures.
Wednesday, Nov. 26
Australia epic and romantic action adventure, set in that country on the explosive brink of World War II.
Bolt. Buena Vista
Milk. Focus Features. Opens in Phoenix (opens 12/5 in Alb, LV and 12/12 in Tucson and Reno).
The Curious Case of Benjamin Button Brad Pitt, Cate Blanchett, Taraji P. Henson, Tilda Swinton, Jason Flemyng, Elias Koteas. Adapted from the 1920s story by F. Scott Fitzgerald about a man who is born in his eighties and ages backwards. Paramount Pictures and Warner Bros. Pictures.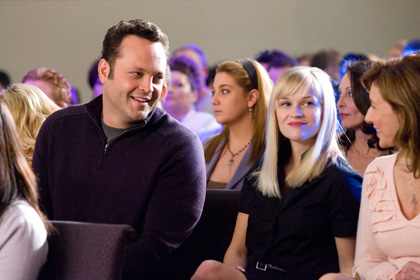 "Four Christmases" Vince Vaughn, Reese Witherspoon, Robert Duvall, Romantic Comedy. When upscale, happily unmarried San Francisco couple Kate and Brad find themselves socked in by fog on Christmas morning, their exotic vacation plans morph into the family-centric holiday they had, until now, gleefully avoided. New Line Cinema.
2008 Film Entertainment Magazine. EMOL.org. All rights reserved.
Find Your Movie with Fandango's Search Box

Amazon.com
Amazon Grocery
Apple Store/iTunes
Best Buy
Barnes & Noble Book Store
DISH Network TV/AllSat
DirectDISH Satellite TV
Discovery Channel Store
Disney Shopping
eBay (US, UK, )
Fox TV Store
GAP Store
House of Dereon
Jlo
Kodak Easy Share
Kodak Shop UK, DE, FR
Lands End
Lane Bryant
Lucas Arts Store
Macy's
Movielink
NBC Universal Store
NBC Olymics Store
New Line Cinema Studio
Palm Store UK, DE, FR
Pricerunner
ShopABC
ShopNBC
Roxio Digital Software (US)
Sony Consumer Electronics
Sony Music Store
Sony Playstation 3
StarWars Shop
Warner Bros. Online Shop