Movie Quotes Line the Road to Oscars ®
Spike Lee Directed 79th Academy Awards ® Ads on TV, Online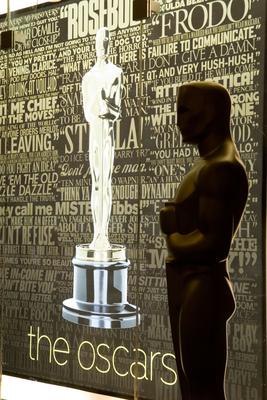 Beverly Hills, CA -- Tapping into the power of the spoken word, the Academy of Motion Picture Arts and Sciences has launched an integrated marketing campaign for the 79th Academy Awards featuring unforgettable movie lines that have infiltrated pop culture and public consciousness.
More than 100 notable quotes from Oscar ®-nominated and winning films will celebrate movies and generate buzz from numerous media platforms, including television, print, online, mobile and outdoor ads.
"The Oscars are about our love of movies. This campaign reminds us of the depth and breadth of that connection by highlighting memorable quotes and phrases that have come to permeate our everyday dialogue," said Cheryl Boone Isaacs, Academy Governor and chair of the public relations coordinating committee.
In movie houses, on television and online, viewers will see advertising spots and a theatrical trailer directed by Academy Award®-nominated writer-director Spike Lee. Shot throughout New York City, the spots feature passers-by reciting famous movie lines from the past 70 years. I always love shooting on the streets of New York City. We were pulling people off the streets and getting wonderful looks and performances," said Lee.
Dozens of quotes will be featured in an outdoor campaign incorporating billboards, taxicab toppers, bus shelters, construction barriers, telephone kiosks and streetlight banners. Financial gurus will see "Greed is good" ("Wall Street") on kiosks on Wall Street in New York City. "Forget it, Jake. It's Chinatown" ("Chinatown") will greet visitors in San Francisco's Chinatown. On West Hollywood's Sunset Strip, shoppers, diners and late-night denizens will come across "I am big. It's the pictures that got small" ("Sunset Blvd.")."This campaign also encourages media organizations to challenge their readers and viewers by executing quote-related trivia contests," added Boone Isaacs.
The Academy Awards Web site, www.oscar.com, produced by abc.com in association with the Academy, will feature expanded video content including a weekly and daily show covering the "Road to the Oscars," video diaries from Oscar host Ellen DeGeneres and a "Thank You Cam" which will capture the newest Academy Award winners' first reactions. The Web site will also present interactive trivia games and quizzes, including "Find the 79s," a watch-and-win contest challenging viewers to find 79s hidden in the set and props of the show. Oscar.com will also have extensive information on Academy Award nominees, show presenters and performers, fashion and Oscar history.
Netflix, an online movie rental service, will promote the 79th Academy Awards with tune-in messaging across a number of different platforms, including a promotion on 8 million subscriber mailers and viral videos on its Oscar-dedicated Web site www.netflix.com/oscars, where video content submitted by the public quoting classic movie lines will be featured.
The marketing and promotional concept was created for the Academy by TBWA\Chiat\Day Los Angeles.
Academy Awards for outstanding film achievements of 2006 will be presented on Sunday, February 25, 2007, at the Kodak Theatre at Hollywood & Highland Center®, and televised live by the ABC Television Network at 5 p.m. PST (8 p.m. EST), beginning with a half-hour arrivals segment, "The Road to the Oscars."