Entertainment Magazine: Film: "All Roads Lead Home"
Home Is Where the Heart Is
Producer-Director Dennis Fallon on "All Roads Lead Home"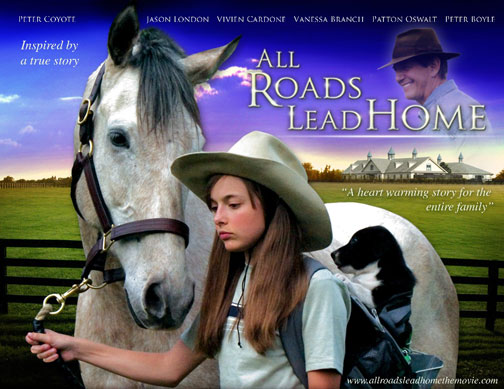 By Madelyn Ritrosky & Jared Winslow
What kinds of films do you look for when perusing the local theater's family matinees?
If you have kids between the ages of eight and twelve, then you know that your choices are usually limited. Are you looking for well-made family films that don't rely on dazzling technical effects, trite platitudes, or fantasy violence? Films with appealing stories that take both kids and adults seriously?

In late spring/early summer, keep your eye out for All Roads Lead Home. This multi-layered family film is directed and produced by Dennis Fallon (More Than Puppy Love), and the world premiere was held a few weeks ago at the Santa Barbara International Film Festival.

My eight-year-old, Jared, and I were at that screening. Not only was Dennis Fallon there, but so were three of the film's actors: Vivien Cardone (Everwood), who plays the central character, twelve-year-old Belle Lawlor; Jason London (Dazed and Confused), who portrays Belle's father Cody; and Shannon Knopke, whose role as Belle's mother and Cody's wife Andrea is small but important. It's what happens to Andrea and the ensuing reactions of her loved ones that sets the plot in motion.

All Roads Lead Home is a film that both Jared and I enjoyed. It's not the typical, predictable plot of some family films nor is it a family comedy. It's about learning to live again after a family tragedy, growing up, and the importance of animals in our emotional lives.

We sat down with Dennis Fallon in "All Roads Lead Home" and talked about the film.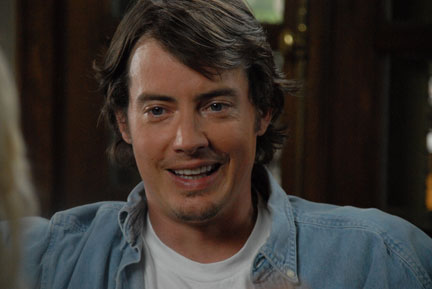 All Roads Lead Home was shot in 2006, and it is Dennis's fourth feature as a producer, his first as a director. He said he loved directing it, but "the problem is you're on all the time – you get no break. It's your baby. You can't get away from it."

Three years ago he decided he wanted to do movies on a "grander scale" than The Movie Channel, Lifetime, and Showtime work he had done. He initially began developing a "huge animated project," Chilly Won Ton Willy, with writer Doug Delaney. But then Dennis, executive producer Charles W. Nelson, and Delaney worked through several story ideas before Delaney gave them a final treatment for All Roads Lead Home. At that point, they asked Delaney to write the script. This is his first produced screenplay even though he has written other scripts for studios and is a produced playwright and fiction writer.

So how did Dennis Fallon end up directing All Roads Lead Home?
"Everybody sort of pushed me into directing it, and I've spent the last two years of my life working on it. I've done a lot of directorial things as a producer because I'm so hands-on. Producing is hard work, but with what we had to do to get what I wanted onscreen, I didn't think there was anybody who would work harder than I would. But as the producer, was I hiring the right guy? My writer, director, and actor friends said, 'Dennis, there's no other person who can direct this film but you'. So I did it. And I loved it. I do want to do it again, but not on every film. You learn so much, and you want to take that experience to the next film."
As director, one of the things Dennis spent a lot of time on was getting the right people in front of the camera. He revealed, "I spent four or five months just casting this movie, because if you take the time to cast it right, you get performances like this and the right roles for the right people."

In some cases, Dennis knew he wanted certain actors for certain roles: Vivien Cardone as Belle, Peter Coyote (Erin Brockovich) as Hock, and Peter Boyle (Everybody Loves Raymond) as Poovey. With Jason London and Vanessa Branch (who plays veterinarian Lillian Cole), the actors approached him, actively seeking their roles.

It's not surprising that an important supporting character is a veterinarian, for animals play key roles in this film. Dennis Fallon is concerned about the plight of animals, so the film makes a statement at that level. But he also uses animals as metaphors for his characters and their struggles. They are the connections between people as well as being relationally connected to people. This is true of Belle's dog, horse, and puppies.

Since it's clear from the film's synopsis that Belle's mother's death sets up the story, we will say that her fate is tied to her love of animals, specifically to saving a deer's life. This scene happens fast, and it's a bit scary since viewers are pretty sure what's going to happen. This was especially the case for eight-year-old Jared. Dennis explained how we learn about the character and what happens even though it consists of just a few brief shots.
Animals are Cody Lawlor's job as head of city animal control. When Belle feels helpless in her anger at her mother's death, at her father for how she presumes he handled the aftermath, and in her identification with animals, she interferes in her father's job. Dennis explained, "Cody is a good guy, trying to do good things in the world, and his daughter has this angst because she believes he pulled the plug on her mom because he has to put animals down through euthanasia. She learns in the story that sometimes you have to do these things, you have to grow up. That's the way the world is."

When Belle stays for a while at her grandfather Hock's farm, she discovers that he sees animals only in monetary terms. And she watches in horror as Hock's foreman Basham (Evan Parke) appears to toss a burlap bag of puppies off a bridge at Hock's orders. Since his daughter's untimely death, Belle's grandfather has gone down emotionally to the point where he coldly deems puppies not well-bred and thus not fit to live.


This precipitates deeper anguish for Belle, who clearly identifies with the animals. She expresses that in everything she does.

The apparent callousness about the puppies affected Jared, and he was relieved that not only does Hock finally heal, but Basham is revealed to be a generous, caring man.

Jared knew puppies weren't really in the bag, but he was concerned to find out exactly how that scene was done. Dennis explained that it was rocks. He also said, "Unfortunately, there are people out in the world who do those kinds of things because they're so caught up in the breeding of 'perfect' animals. The movie is all about giving animals a chance no matter what and giving people a chance no matter what."

Perhaps it goes without saying that Belle's growth is directly related to dealing with animals. Even a seemingly tangential thread about mysterious dog deaths involving the veterinarian and Cody gets woven into the climactic scenes for Belle.

In those scenes, Belle's dog Atticus uncharacteristically growls and bares his teeth at Basham when he tries to scoop some dog food. We won't reveal the plot reasons why Atticus does this or how the ensuing scenes enable Belle to grow. But we will reveal a filmmaking trick: to get the dog to appear to snarl, a rubber band was looped around the top teeth, with the dog then trying to get the darn thing off!

All Roads Lead Home is "inspired by a true story." As Dennis revealed, it is actually inspired by more than one true story, woven together to give us this new tale. One is the story thread about the dog deaths. He guessed it was "probably ten to twenty-five dogs who died in real life from moldy dog food in Missouri." This occurred before the nationwide crisis and recall in 2006.

But his main inspiration "came from knowing somebody who had five kids and his wife died. He had to raise the kids on his own, through all the struggles and all the tragedy. You get inspiration from a lot of things, including how hard it is for a family to lose a loved one like that."
A little comical element is a parrot named Vinnie, who is presumed a boy but turns out to be a girl when she lays an egg. Dennis assured us that "everything about Vinnie is absolutely true."

All Roads Lead Home is also noteworthy as Peter Boyle's last film. There is always something poignant about seeing a recently deceased actor's final performance. Boyle plays Poovey, a lonely innkeeper of an old roadside motel, where he and the motel end up with a new lease on life by the end of the movie – once again tied to everyone's love of animals.
Unfortunately, there was no new lease on life for Boyle. He was not well at the time of filming but still turned in a wonderful performance. As Dennis said, "He was still at the top of his game." It was only after they completed shooting that everyone learned Boyle was terminally ill. "We knew he wasn't feeling well, but we didn't know he had blood cancer and was going to die. So I was the last guy to direct Peter Boyle in a movie."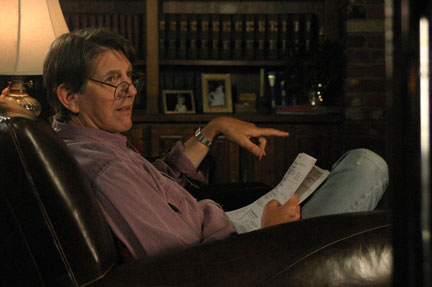 As for other projects, Dennis Fallon's Waldo West Productions, with offices in Los Angeles and Kansas City, has several in development. In collaboration with Doug Delaney, he is getting started on Chilly Won Ton Willy and a reality TV series. Another feature film in the works is The Devil You Know, "an intriguing mind-twister but where you don't get so confused."

Dennis is especially excited to devote more time to Chilly Won Ton Willy because "it's too good of a story and I'm excited to make it. It takes a long time to make an animated feature."
At the 2008 International Family Film Festival, not only will All Roads Lead Home be screened, but the screenplay for Chilly Won Ton Willy is in the festival's screenplay competition – and Dennis Fallon couldn't be happier.

When I asked him to sum things up, he said, "I think there's a message in All Roads Lead Home that will make your day a little better. I think our actors did an amazing job…. It's a complicated movie, and it's hard to advertise all the things that this movie is. There are so many layers." One result of those layers is that the film "sort of has two endings" to resolve everything. As Dennis said, "You don't see that often in family films."

So if you're looking for a family film that gets you thinking, allows its characters to grow, and leaves you feeling optimistic after an emotional journey, then you will want to check out All Roads Lead Home. It was released in theaters in late spring/early summer 2008.