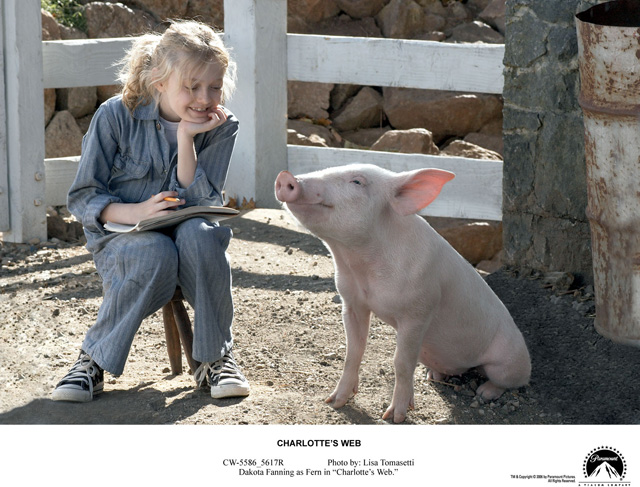 Dakota Fanning (pictured) as Fern in "Charlotte's Web." Paramount Pictures and Walden Media present a Kerner Entertainment Company / Nickelodeon Movies Production "Charlotte's Web." Directed by Gary Winick from a screenplay written by Susannah Grant and Karey Kirkpatrick based upon the book by E.B. White, the film is produced by Jordan Kerner. Executive Producers are Edgar M. Bronfman, Julia Pistor, Bernie Williams, and Paul Neesan. The film is rated G for all audiences. © 2006 Paramount Pictures. All rights reserved. Photo by: Suzy Wood
JULIA ROBERTS (Charlotte)
DAKOTA FANNING (Fern)
STEVE BUSCEMI (Templeton)
JOHN CLEESE (Samuel)
OPRAH WINFREY (Gussy)
CEDRIC THE ENTERTAINER (Golly)
ROBERT REDFORD (Ike)
KATHY BATES (Bitsy)
REBA McENTIRE (Betsy)
THOMAS HADEN CHURCH (Brooks)
ANDRÉ BENJAMIN (Elwyn)
DOMINIC SCOTT KAY (Wilbur)

JULIA ROBERTS (Charlotte) made her Broadway debut this spring in Richard Greenberg's "Three Days of Rain." Roberts recently starred in "Closer," directed by Mike Nichols, and "Ocean's Twelve," directed by Steven Soderbergh. Her voice was heard in the animated feature "The Ant Bully."
Previously she starred in Mike Newell's "Mona Lisa Smile"; George Clooney's directorial debut, "Confessions of a Dangerous Mind"; and "Full Frontal," her third role in a Steven Soderbergh film. She received the Academy Award® and a Golden Globe Award for her portrayal of the title role in "Erin Brockovich," directed by Soderbergh. Additionally, Roberts starred with George Clooney, Matt Damon, Andy Garcia and Brad Pitt in the 2001 ensemble crime caper "Ocean's Eleven," also under Soderbergh's direction.
"Erin Brockovich" followed the success of two box-office smashes: "Notting Hill," directed by Roger Michell in which she co-starred with Hugh Grant; and "Runaway Bride," in which she was reunited with Richard Gere, her "Pretty Woman" co-star, and their director, Garry Marshall.
She also starred in "The Mexican," with Brad Pitt and James Gandolfini; and "America's Sweethearts," in which she starred alongside Billy Crystal, Catherine Zeta-Jones, John Cusack and Hank Azaria.
Roberts first came to the attention of audiences with her critically acclaimed role in "Mystic Pizza," followed by "Steel Magnolias," for which she earned her first Academy Award® nomination. Her next film, "Pretty Woman," was one of the top-grossing films of 1990 and brought Roberts her second Academy Award® nomination. Her subsequent film credits include "Flatliners," "Sleeping with the Enemy," "Dying Young," "The Pelican Brief," and "Something to Talk About."
Roberts also starred with Liam Neeson in Neil Jordan's "Michael Collins," and in Woody Allen's romantic musical comedy "Everyone Says I Love You." In 1997, she starred in the box-office smash "My Best Friend's Wedding," directed by P.J. Hogan, and the Richard Donner-directed thriller "Conspiracy Theory," co-starring Mel Gibson. The following year, Roberts starred opposite Susan Sarandon and Ed Harris in the Chris Columbus film "Stepmom."
Collectively, her films have grossed more than two and a half billion dollars worldwide.

Hailing from Conyers, Georgia, DAKOTA FANNING (Fern) began her career only six years ago, at the age of six. Guest appearances on such Emmy Award-winning television series as "ER," "The Practice," "Malcolm in the Middle," and "Spin City" led to her breakout role opposite Academy Award® winner Sean Penn and Michelle Pfeiffer in New Line's "I Am Sam." For her stunning performance as Lucy, Dakota won a BAFTA award and became the youngest actor ever nominated for a Screen Actor's Guild Award. Shortly thereafter, she starred in the miniseries "Taken" for executive producer Steven Spielberg, which not only became the Sci-Fi Channel's highest-rated show, but also won the 2003 Emmy Award for Outstanding Miniseries.
In 2004, Dakota was honored to star opposite Academy Award® winner Denzel Washington in "Man on Fire," directed by Tony Scott. This 20th Century Fox release earned Dakota her second BAFTA nomination for her performance.
Dakota teamed again with 20th Century Fox, starring opposite Academy Award® winner Robert De Niro, in "Hide and Seek," released in January 2005. The film opened #1 at the box office.
Then, in summer, 2005, Dakota starred opposite Tom Cruise in the worldwide blockbuster "War of the Worlds," directed by Steven Spielberg. The film scored the largest opening weekend in the history of Paramount Pictures.
Later that year, Dakota starred in DreamWorks feature "Dreamer" opposite Kurt Russell. Dakota is also proud to be part of a remarkable ensemble of women including Glenn Close, Holly Hunter, Sissy Spacek, and Robin Wright Penn in the film "Nine Lives," which premiered at the 2005 Sundance Film Festival.
Other credits include "Trapped," opposite Academy Award® winner Charlize Theron, "Dr. Seuss' The Cat in the Hat," opposite Mike Myers, "Uptown Girls" with Brittany Murphy, and a cameo role as young Reese Witherspoon in "Sweet Home Alabama." She will be the voice of Coraline in the animated film directed by Henry Selig and based on the Neil Gaiman children's novel of the same name.
Dakota is an avid reader who plays the piano, knits, collects dolls, rides horses, and dances ballet. She is also learning to speak both Spanish and French. She resides in Los Angeles with her parents, Joy and Steve Fanning, and her sister, actress Elle Fanning.

By consistently portraying some of the most unique and unforgettable film characters in recent memory, STEVE BUSCEMI (Templeton) has built a singular career in American movies.
In 2002, he won the Independent Spirit Award, The New York Film Critics Award, and was nominated for a Golden Globe for his role in "Ghost World." He was also nominated for an Emmy and a DGA Award for directing the "Pine Barrens" episode of The Sopranos. He has since directed four more episodes, and he became a series acting regular in the fifth season of the show, receiving an Emmy nomination for his role.
He will next be seen in the Coen Brothers' portion of "Paris Je T'aime" and in Tom Di Cillo's "Delirious," Chris Rock's "I Think I Love My Wife," "I Now Pronounce You Chuck and Larry," and "We're the Millers." He was most recently seen in "Art School Confidential" and heard as Nebbercracker in the animated hit "Monster House."
Born in Brooklyn, NY, Buscemi began to show an interest in drama while in his last year of high school. Soon after, he moved to Manhattan to study acting with John Strasberg. There he and a fellow actor/writer Mark Boone Junior began writing and performing their own theatre pieces in performance spaces and downtown venues, which led to his being cast in his first lead role in Bill Sherwood's "Parting Glances" as a musician with AIDS.

Since then, he has become the actor of choice for many of the best directors in the motion pictures. His resume includes Jim Jarmusch's "Mystery Train," for which he received an IFP Spirit Award Nomination, AlexAndré Rockwell's 1992 Sundance Film Festival Jury Award-winner "In the Soup," Martin Scorsese's New York Stories, the Coen brothers' "Miller's Crossing," "Romance and Cigarettes," "Barton Fink," the Academy Award®-winning "Fargo," "The Big Lebowski," and "Big Fish," Stanley Tucci's "The Impostors," the Jerry Bruckheimer productions "Con Air," Michael Bay's "The Island" and "Armageddon," Tom Di Cillo's Sundance Film Festival Award-winning "Living in Oblivion," "Twenty Bucks," John Carpenter's "Escape From L.A.," "Desperado," "Domestic Disturbance," "Things to Do in Denver When You're Dead," AlexAndré Rockwell's "Somebody to Love," an IFP Spirit Award-winning performance as Mr. Pink in Quentin Tarantino's "Reservoir Dogs," Robert Altman's "Kansas City," "Deeds," "Spy Kids 2: The Island of Lost Dreams," "Spy Kids 3-D: Game Over," "The Grey Zone," "13 Moons," "Double Whammy," the HBO telefilm "The Laramie Project," and numerous cameo appearances in films such as "Art School Confidential," "Rising Sun, The Hudsucker Proxy," "Big Daddy," and "The Wedding Singer." He has also provided the voices for characters in the animated features "Monsters, Inc." and "Final Fantasy."
In addition to his talents as an actor, Buscemi has proven to be a respected writer and a director as well. His first project was a short film, "What Happened to Pete," which was featured at several film festivals including Rotterdam and Locarno and aired on the Bravo Network.
He marked his full-length feature film directorial debut with "Trees Lounge," which he also wrote and starred in. Buscemi's second feature film as a director, "Animal Factory," was based on a book by Edward Bunker. He most recently directed "Lonesome Jim" starring Liv Tyler and Casey Affleck and produced by Gary Winick. He is currently directing the remake of director Theo Van Gogh's "Interview," in which he also stars alongside Sienna Miller.

JOHN CLEESE (Samuel) has long been one of the industry's most innovative and influential comedic talents. Today's audiences have most recently seen him on the big screen as the new Q in the James Bond movie "Die Another Day" – having been promoted from R in "The World is Not Enough" – and as Nearly Headless Nick in the "Harry Potter" series. He also voiced the role of King Harold in "Shrek 2," a role he will reprise in the upcoming "Shrek the Third."
Cleese's recurring role as Lyle Finster on the NBC television sitcom "Will & Grace" recently earned him his third Emmy nomination.
John Cleese was born in England, where he first gained international fame for his groundbreaking work as a creator, writer and member of the classic "Monty Python's Flying Circus." First aired on the BBC in 1969, the series was an instant hit in Europe and gained an equally loyal following when it landed on American shores in 1972. The show also spawned the feature film comedies "Monty Python and the Holy Grail," "The Life of Brian," and "The Meaning of Life." There have also been subsequent Monty Python videos, CDs and specials.
In 1988, Cleese co-wrote, executive produced and starred in the comedy hit "A Fish Called Wanda," for which he earned Oscar® and BAFTA nominations for Best Original Screenplay, and won a BAFTA Award and received a Golden Globe nomination for Best Actor. He also co-wrote, produced and starred in the sequel "Fierce Creatures." His additional film acting credits include "Charlie's Angels: Full Throttle," "The Out-of-Towners," "Rat Race," "The Jungle Book," "Mary Shelley's Frankenstein," "Silverado," "Time Bandits," and "The Great Muppet Caper."
For his work on television, Cleese won an Emmy Award for his guest role on the comedy series "Cheers," and received another Emmy nomination for a guest stint on "3rd Rock From the Sun." He also garnered a BAFTA Award for the acclaimed BBC series "Fawlty Towers," which he created and starred in.

OPRAH WINFREY (Gussy) made her acting debut in 1985 as "Sofia" in Steven Spielberg's "The Color Purple," for which she received both Academy Award® and Golden Globe nominations. She also has been lauded for her performances in the made-for-television movies 1997's"Before Women Had Wings," 1993's "There Are No Children Here,"(1993), and in 1989 "The Women of Brewster Place." As supervising producer and host of "The Oprah Winfrey Show," she has gathered an audience of millions of viewers for the past two decades. Her accomplishments as a television pioneer, producer, magazine founder, educator, and philanthropist have established her as one of the most respected and admired public figures today.
Through her company's film division, Harpo Films, she has produced projects based on classic and contemporary literature that have garnered the highest industry honors for quality acting and production. Telefilms under the "Oprah Winfrey Presents" banner have included the award-winning "Tuesdays With Morrie," based on the best-selling novel by Mitch Albom and starring Academy Award®-winner Jack Lemmon and Emmy Award-winner Hank Azaria; "David and Lisa," an updated version of a 1962 film, re-written for television by Lloyd Kramer and Theodore Isaac Rubin and starring Academy Award®-winner Sidney Poitier; and "Their Eyes Were Watching God," based on the Zora Neale Hurston novel and starring Academy Award®-winner Halle Berry.
In 1998, Harpo Films produced the critically acclaimed "Beloved," based on the Pulitzer Prize-winning novel by Toni Morrison, which co-starred Oprah Winfrey and Danny Glover and was directed by Jonathan Demme.
Oprah began her broadcasting career at WVOL radio in Nashville while still in high school. At the age of 19, she became the youngest person and the first African-American woman to anchor the news at Nashville's WTVF-TV. She then relocated to Baltimore's WJZ-TV to co-anchor the "Six O'Clock News" and later went on to become co-host of its local talk show, "People Are Talking."
In 1984, she moved to Chicago to host WLS-TV's morning talk show, "AM Chicago," which became the number one local talk show—surpassing ratings for "Donahue"—just one month after she began. In less than a year, the show expanded to one hour and was renamed "The Oprah Winfrey Show." It entered national syndication in 1986, becoming the highest-rated talk show in television history. In 1988, she established Harpo Studios, a production facility in Chicago, making her the third woman in the American entertainment industry (after Mary Pickford and Lucille Ball) to own her own studio.
"The Oprah Winfrey Show" has remained the number one talk show for 20 consecutive seasons. The show is seen by an estimated 48 million viewers a week in the United States and is broadcast internationally in 123 countries.
In April 2000, Oprah and Hearst Magazines introduced O, The Oprah Magazine, a monthly publication that currently has a circulation of 2.3 million readers each month. In April 2002, Oprah launched the first international edition of the magazine in South Africa.
Oprah.com is a premier women's lifestyle website, offering advice on everything from the mind, body and spirit to food, home and relationships. It provides comprehensive resources related and exclusive content based on "The Oprah Winfrey Show", "O, The Oprah Magazine", and "Oprah & Friends." In addition, the website has unique original content, including Oprah's Book Club, which offers free in-depth reading guides for each book selection, online discussion groups and Q&A sessions with literary experts. Oprah's Book Club quickly became the largest book club in the world, presently attracting more than one million members. In 2003, Oprah.com also launched "Live Your Best Life," an interactive multimedia workshop based on her sold-out national speaking tour that features Oprah's personal life stories and life lessons along with a workbook of thought-provoking exercises.
In September 2002, Harpo Productions, Inc. created "Dr. Phil," a syndicated daytime talk show produced by Paramount Domestic Television. "Dr. Phil" consistently ranks second among all U.S. talk shows.
Oprah is also co-founder of Oxygen Media, which operates a 24-hour cable television network for women that launched in 1998 and is currently available in more than 69 million homes across America.
Through a joint venture, Oprah announced the launch in September 2006 of "Oprah & Friends," channel 156 on XM Satellite Radio. "Oprah & Friends" features a broad range of original daily programming from Harpo Radio, Inc., including regular segments hosted by popular personalities from "The Oprah Winfrey Show" and "O, The Oprah Magazine" and an exclusive listener call-in weekly radio show, "Talk to Me with Oprah Winfrey."
Twenty years after she made her movie debut as "Sofia" in "The Color Purple," Oprah made her Broadway debut as a producer for the musical "The Color Purple," which opened on December 1, 2005 at the Broadway Theatre in New York City.

CEDRIC THE ENTERTAINER (Golly) is best known for his crowd-pleasing roles in the recent hit films "Barbershop," "Intolerable Cruelty" with George Clooney and Catherine Zeta-Jones, and "The Original Kings of Comedy," a concert documentary directed by Spike Lee, and "Be Cool," the sequel to the hit "Get Shorty," with John Travolta.
Cedric's other big screen credits include "The Honeymooners," in which he starred as Ralph Kramden, Paramount Pictures' "Lemony Snicket's A Series of Unfortunate Events" with Jim Carrey, "Man of the House" with Tommy Lee Jones, "Barbershop 2," "Big Momma's House" with Martin Lawrence, "Kingdom Come" with Whoopi Goldberg, and "Serving Sara" with Matthew Perry. He lent his voice talent to blockbusters "Dr. Dolittle 2" and "Ice Age" and starred in and produced "Johnson Family Vacation," which was the #1 comedy in America for two consecutive weeks.
Looking ahead, Cedric will star in New Line Cinema's "Code Name: The Cleaner" with Lucy Liu.
Among Cedric's many accolades are the AFTRA Award of Excellence in Television Programming for his Fox Television series "Cedric the Entertainer Presents…" and a record-breaking four consecutive NAACP Image Awards for Outstanding Supporting Actor in a Comedy Series for his portrayal of the lovable coach, Cedric Robinson, on the WB's top-rated "The Steve Harvey Show." In 1994, Cedric received the Richard Pryor Comic of the Year Award from Black Entertainment Television for his groundbreaking work as host of Def Comedy Jam and BET's Comic View.
Cedric's first comedy book, Grown-Ass Man, was released in January, 2002, and sold out across the country. In 2001, a viewing audience of over 144 million saw Cedric star in the Bud Light commercial during the Super Bowl broadcast. He was subsequently dubbed "Madison Avenue's Most Valuable Player" by USA Today and has gone on to star in a series of these top-rated commercial favorites.
Cedric's production company, A Bird and A Bear Entertainment, develops and produces feature films; "Johnson Family Vacation" was the company's first project.
As a philanthropist, Cedric founded The Cedric the Entertainer Charitable Foundation which provides scholarships and outreach programs to enhance the lives of inner-city youth and their families in his hometown of St. Louis. He plans to expand the foundation to provide similar programs nationally.

ROBERT REDFORD (Ike) recently starred in 2005's "An Unfinished Life," directed by Lasse Hallström, and in 2001, he starred in "Spy Game," directed by Tony Scott, and "The Last Castle," directed by Rod Lurie. In 2004, Redford was seen in "The Clearing," directed by Pieter Jan Brugge.
He has since built a distinguished acting career, starring in such notable feature films as, "Jeremiah Johnson," "The Way We Were," "The Great Gatsby," "Three Days of the Condor," "The Great Waldo Pepper," "Brubaker," "A Bridge Too Far," "The Natural," "Out of Africa," "Legal Eagles," "Sneakers," "Indecent Proposal," and "Up Close and Personal," among others
Redford has starred in several films produced by his own Wildwood Enterprises, which he founded in 1968. His acting and producing credits under the Wildwood banner include "Downhill Racer," The Candidate," The Electric Horseman," and "All the President's Men," which earned seven Academy Award® nominations including Best Picture.
In addition to his prominence as an actor, Redford won a Directors Guild of America Award, a Golden Globe Award and the Academy Award® for Best Director for his feature film directorial debut on the family drama, "Ordinary People." He went on to both direct and produce "The Milagro Beanfield War" and "A River Runs Through It," for which he received a Best Director Golden Globe nomination; and earned dual Oscar nominations for Best Picture and Best Director and a Golden Globe nomination for Best Director in 1994 for helming "Quiz Show." Redford also earned two Golden Globe nominations (Best Picture and Best Director) for "The Horse Whisperer" in 1998 and went on to direct and produce "The Legend of Bagger Vance" in 2000.
Redford also produced "A Civil Action," starring John Travolta, and served as an executive producer on the films "How to Kill Your Neighbor's Dog," "Slums of Beverly Hills," "No Looking Back," and "She's the One," and the September 2004 release, "The Motorcycle Diaries," which were produced under his South Fork Picture banner.
For television, Redford recently executive produced the first American episode of the PBS series, "MYSTERY!" Based on Tony Hillerman's novel, Skinwalkers, the script was written by Jamie Redford and directed by Chris Eyre ("Smoke Signals") and stars Adam Beach ("Flags of Our Fathers") and Wes Studi ("Dances With Wolves") as Native American detectives Jim Chee and Joe Leaphorn of the Navajo Tribal Police. "MYSTERY: Skinwalkers" premiered in November 2002. Previously, he executive produced the telefilm "Grand Avenue," which aired on HBO in 1996.
Robert Redford is somewhat of an anomaly in the entertainment industry. Though he has been world-famous for more than thirty years, he remains a highly private individual. He is an ardent conservationist and environmentalist who stands for social responsibility and political involvement and an artist a staunch supporter of uncompromised creative expression.
Born in Santa Monica, CA, as a child his only sources of entertainment were the public library, radio and the local movie theater. Cartoons inspired him to draw and paint on his own. Later, having attended the University of Colorado, he dropped out and went to Paris where he attended the Ecole des Beaux Arts, where he pursued his goal of becoming a painter.
When he returned to the United States, Redford enrolled in art school in Brooklyn and the American Academy of Dramatic Arts to study acting. His drama teachers recognized his talent and set design soon took a back seat to acting.
He landed his first Broadway starring role in "Sunday in New York," followed by "Little Moon of Alban" and Neil Simon's "Barefoot in the Park," directed by Mike Nichols.
His first movie role was in "War Hunt," in which Sydney Pollack, the man who would become a friend and frequently his director, played a bit part. He reprised the role of newlywed Paul Bratter in the film version of "Barefoot in the Park," opposite Jane Fonda, for which he received praise from critics and audiences. His early film work includes "Inside Daisy Clover," with Natalie Wood, "The Chase," "This Property is Condemned," "Tell Them Willie Boy is Here," among others.
In 1969, Redford and Paul Newman teamed to star in the Western, "Butch Cassidy and the Sundance Kid." Directed by George Roy Hill, the film firmly established Redford as one of the industry's top leading men. He, Newman and Hill later reunited for "The Sting," which won seven Oscars, including Best Picture, in addition to bringing Redford his Best Actor nomination.
A large part of Redford's life is his Sundance Institute (named for the outlaw he played in "Butch Cassidy and the Sundance Kid"), which he founded in 1981. The Sundance Institute is dedicated to the support and development of emerging screenwriters and directors of vision, and to the national and international exhibition of new independent cinema. Their highly acclaimed Screenwriting, Directing, Playwrite and Producing Labs take place at the Sundance Village mountain retreat in Utah, founded by Redford in 1969.
The Sundance Film Festival is a program of the Institute and is internationally recognized as the single most important showcase of independent cinema. Sundance Channel, a further extension of the Sundance Institute's mission, brings television viewers engaging feature films, shorts, documentaries, world cinema and animation, shown uncut and with no commercials. Launched in 1996, Sundance Channel is a venture between Robert Redford, Showtime Networks Inc., and Universal Studios.
In February 1996, Redford received the Screen Actors Guild's prestigious Lifetime Achievement Award, honoring his enduring contributions to film. In March 2002, he received an Honorary Academy Award®, recognizing his achievements as "actor, director, producer and creator of Sundance, inspiration to independent and innovative filmmakers everywhere."
In addition to his work as an actor, director and producer, Robert Redford has been a noted environmentalist and activist since the early 1970s and has served for almost thirty years as a Trustee of the Board the Natural Resources Defense Council. Redford has been involved with many pieces of environmental legislation including the Clean Air Act (1974-75), The Energy Conservation and Production Act (1974-76) and the National Energy Policy Act (1989).
Robert Redford has received numerous awards for his environmental work, including the 1989 Audubon Medal Award and the 1987 United Nations Global 500 Award, the 1993 Earth Day International Award and the 1994 Nature Conservancy Award. He was also the recipient of the 1997 National Medal for the Arts by President Clinton and the 2001 Freedom in Film presented by the First Amendment Center. He was honored with the 2002 Pell Award for Excellence in the Arts: Lifetime Achievement Award and the 2004 Forces for Nature Lifetime Achievement Award from the Natural Resources Defense Council (NRDC). In December 2005, Redford accepted the Kennedy Center Honors for his "distinguished achievement in the performing arts and in recognition of his extraordinary contributions to the life of our country."

In addition to the NRDC, he joined the advisory board of the Land Trust of Napa Valley in 2004 and is a board member of The Gaylord A. Nelson Environmental Endowment at the Institute for Environmental Studies at the University of Wisconsin. He also serves on the National Council of the Smithsonian's new National Museum of the American Indian. His board memberships have included the Environmental Defense Fund, The Smithsonian Institution, Environmental Policy Center, the Navajo Education and Scholarship Foundation, the Solar Lobby, and Yosemite Institute, among others. He is a published author (The Outlaw Trail). In 1979, he produced "The Solar Film," a short film about solar energy that was nominated for an Academy Award®. Other documentaries he produced include, the award -winning "Yosemite: Fate of Heaven" and the feature length documentary, "Incident at Oglala."
He is a resident of Sundance, Utah.

KATHY BATES (Bitsy) is an Academy Award®-winning actress who earned her reputation on Broadway. She was nominated for a Tony Award for her portrayal of the suicidal daughter in Marsha Norman's Pulitzer Prize-winning play "'Night, Mother" and won the Obie Award for her performance as Frankie in the original off-Broadway production of "Frankie and Johnny in the Clair de Lune."
Bates created an indelible impression as Annie Wilkes in "Misery," for which she won the Best Actress Academy Award® and the Golden Globe. She has appeared in such critically acclaimed films as James Cameron's Academy Award®-winning "Titanic," "Dolores Claiborne," and Jon Avnet's "Fried Green Tomatoes", which earned her a Golden Globe nomination. She has been twice nominated for the Best Supporting Actress Oscar® for her performances as Roberta Herzel in "About Schmidt" and as Libby Holden in Mike Nichols' "Primary Colors," for which she also won the Screen Actors Guild Award.
Bates most recently starred in Paramount's hit, "Failure to Launch." She also voices a role in the upcoming DreamWorks Animation feature, "Bee Movie."
Other film credits include "Little Black Book," "American Outlaws," "Dragonfly," "The Waterboy," "The War at Home," "A Home of Our Own," "Prelude to a Kiss," "Shadows and Fog," "Dick Tracy," "Men Don't Leave," "Come Back to the Five & Dime, Jimmy Dean, Jimmy Dean," "Straight Time" and Milos Forman's "Taking Off."
For her performance as Helen Kushnick in the HBO film "The Late Shift," she won a Golden Globe, a Screen Actors Guild Award and the American Comedy Award. Bates was recently nominated for an Emmy® award for her work in HBO's "Warm Springs" with Kenneth Branagh. She also starred in ABC's "Annie."
In 1995, PBS "Great Performances" aired her directorial debut, "Talking With." Bates has directed five episodes of HBO's critically acclaimed series "Six Feet Under." Her episode, "Twilight", was nominated for a Directors Guild Award. Her directorial credits include NBC's "Homicide," ABC's "NYPD Blue," HBO's "Oz" and the A&E original movie, "Dash and Lilly," starring Sam Shepard and Judy Davis, which was nominated for three Golden Globes and nine Emmys. Bates' film "Ambulance Girl" for Lifetime Television, which she both directed and starred in, aired September 12th. She recently wrapped "Bonneville," a feature film with Jessica Lange and Joan Allen.
Born in Memphis, Tennessee, Bates graduated with a Bachelor of Fine Arts degree in 1970, from Southern Methodist University, which honored her with an honorary doctorate in 2002.

REBA McENTIRE (Betsy) has been a leading lady of country music for over twenty years. As a mainstay on country radio, she has become familiar to country audiences beginning with her first number one hit, 1982's "Can't Even Get the Blues" and continuing unabated through her song "Somebody" in 2004, a span that saw an impressive body of thirty-three number one songs – such as "You Lie", "Somebody Should Leave," "Rumor Has It," "I'm A Survivor", "The Greatest Man I Never Knew" and "And Still" – twenty-nine albums, numerous awards and performances.
She is the first country female artist since Patsy Cline did so in the 1950s to sell five million copies of a single album, and she has sold more than 49 million albums in her career. McEntire recently released "Reba #1's," 35-song compilation of her number one singles. She has collected and impressive array of honors, including fifteen American Music Awards, twelve Academy of Country Music awards, seven Country Music Association Awards and two Grammy Awards.
McEntire is also a multiple-award winner in the world of acting. Her critically acclaimed Broadway debut in 2001's "Annie Get Your Gun" received both the Drama Desk and Outer Critics awards. Now in its fifth season, her eponymous TV show "Reba" earned the country diva a Golden Globe nomination and a People's Choice Award.

THOMAS HADEN CHURCH (Brooks) earned Academy Award®, Golden Globe and Screen Actors Guild (SAG) Award nominations for his work in Alexander Payne's award-winning independent film "Sideways." For his portrayal of Jack, the philandering groom-to-be taking a last road trip before his wedding, Church also won an Independent Spirit Award, as well as Best Supporting Actor Awards from a number of critics groups, including the Broadcast Film Critics, the Los Angeles Film Critics, the National Board of Review, the National Society of Film Critics, and the Boston, San Francisco and Chicago Film Critics, among others. Additionally, he shared in winning a SAG Award for Outstanding Motion Picture Cast with fellow "Sideways" stars Paul Giamatti, Virginia Madsen and Sandra Oh.
Church was most recently heard voicing a role in DreamWorks Animation's summer hit, "Over the Hedge." He recently wrapped filming the role of Spider-Man's new archenemy, Sandman, in the much-anticipated third installment of the "Spider-Man" franchise, set for release in 2007. In addition, he recently starred opposite Robert Duvall in the Western epic "Broken Trail," directed by Walter Hill, which premieres June 24 on television's American Movie Classics channel.
His previous feature film credits include "3000 Miles to Graceland," with Kurt Russell and Kevin Costner; the hit comedy "George of the Jungle," starring Brendan Fraser in the title role; the cable movie "Free Money," with the legendary Marlon Brando, Donald Sutherland and Martin Sheen; and the acclaimed Western "Tombstone," in which Church made his feature film debut.
Church first became best known to television audiences when he landed the series regular role of Lowell Mather, the idiot savant airplane mechanic, on the long-running NBC comedy series "Wings." He went on to play the title role of the self-righteous Ned Dorsey on the Fox comedy series "Ned and Stacey," in which he starred opposite Debra Messing.
In addition to his acting work, Church is also the co-screenwriter and director of the film "Rolling Kansas," which premiered as an official selection at the 2003 Sundance Film Festival.

ANDRÉ BENJAMIN (Elwyn) is best known for his work as half of the world-renowned, pioneering, Grammy® Award-winning duo OutKast. Their album "Speakerboxxx/The Love Below" sold over 10 million copies, propelled by Benjamin's number-one single "Hey Ya!" For their distinguished body of work spanning over a decade, OutKast has received multiple Grammy® Awards, including Album of the Year for "Speakerboxxx/The Love Below" in 2004. OutKast's most recent project was "Idlewild," a musical film in which Benjamin starred with Antwan A. Patton, the other half of the group. OutKast also released an album of the same name.
Fueled by his artistic passion, Benjamin now has turned his attention to other creative outlets and is making an indelible mark on the film and television world. He has lent his voice to the animé feature "Whasango" and now does the same for the Cartoon Network animated series "Class of 3000," which he co-created and serves as Executive Producer. Benjamin is currently shooting the feature film "Battle in Seattle" co-starring Charlize Theron and Woody Harrelson.
Benjamin received rave reviews for his portrayal of an adopted brother, opposite Mark Wahlberg, in director John Singleton's drama "Four Brothers." He also co-starred with John Travolta, Uma Thurman, Vince Vaughn and Cedric the Entertainer in "Be Cool," the sequel to the smash-hit comedy "Get Shorty," and appeared on an episode of the critically acclaimed F/X dramatic series "The Shield."
Benjamin is an accomplished painter and clothing designer, further solidifying his role as a true multimedia artist and entrepreneur. Among his many accolades, Benjamin has been named the "World's Best Dressed Man" by Esquire magazine and was named as one of Premiere magazine's "New Power Players."

Ten-year-old DOMINIC SCOTT KAY (Wilbur) has twenty films to his credit, including Steven Spielberg's "Minority Report," where he played Tom Cruise's son. That film not only represented Kay's first screen role, but his first audition, which he made at the tender age of four.
One of Dominic's most memorable film experiences was "Loverboy," directed by Kevin Bacon. At the young age of seven, Dominic was given the opportunity and challenge to carry the lead role as Kyra Sedgwick's son. He will next be seen in "The Dukes," in which he plays Robert Davi's son.
Dominic's dream to become a director/writer came true last year when he shot his first short film, titled "Saving Angelo," at the age of nine. "Saving Angelo" was based on Dominic's real-life experience of nursing a Boxer puppy to recovery, and stars Kevin Bacon, Eric Close, Dana Barron, and Julie Gonzalo. All proceeds from his film will go to Adopt-A-Star Greyhound Agency, Crusades For Animals, Malibu Pet Companions, and Katrina Animals. "Saving Angelo" is the first of many films that Dominic plans on directing and writing.
With a strong musical talent, Dominic is already an accomplished musician, adept at playing piano and drums. He sings at charity events, benefits and in church. Dominic writes his own music and lyrics and loves to play with his father, Scott Kay, who has been The Commodores' drummer for fifteen years. Scott Kay has scored three of his son's films, including "Saving Angelo," "They Call Him Sasquatch," starring Neal McDonough and Garry Marshall, and "Guarding Eddy," which won the Indie Spirit Best Picture Award at the 2004 Boston Film Festival.
Passionate about animals, Dominic is the spokesperson for Adopt-A-Star Greyhound Rescue, which is a non-profit organization dedicated to preventing the unnecessary mistreatment and senseless killing of Greyhounds after they have retired from racing. He is accomplished in karate, and loves to bike, skateboard, surf and swim. He also plays soccer, baseball and basketball.