Fantastic Star, Fun Film
"That was awesome!"

So said my 8-year-old son and his friend as soon as the credits started to roll at the end of the new Fantastic Four sequel, Rise of the Silver Surfer.

What did we adults say? That is, my friend and I? "That was fun." That's exactly what Fantastic Four: Rise of the Silver Surfer is – summer fun for the family. And this was a film I was eager to see: a few months ago I talked with one of the stars, Ioan Gruffudd.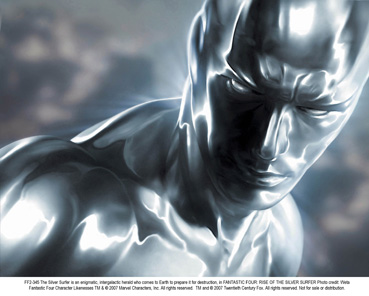 Now that we're well into June, there are plenty of so-called family films either already playing or about to be released over the next few weeks.
But unlike the third installments of Pirates of the Caribbean and Spiderman, which are rated PG-13, this second installment of Fantastic Four is rated PG and thus truly a family film. (The first Fantastic Four was PG-13.)

I noticed that the film's television ads continued to say "This film is not yet rated" until only about a week ago. Then they suddenly changed to the PG rating.
In discussing that with my son, who doesn't usually watch PG-13 movies, I wondered if the producers were trying to get a PG rating to pull in even younger crowds than Pirates and Spiderman, as a competitive edge. Sure enough, they managed it.

There's plenty of "superhero," larger-than-life, CG action, where the heroes save the day with lots of special effects. But there's also plenty of interpersonal interaction among the four superheroes and with the people they end up working with to, literally, save the planet.

One of the Fantastic Four is elastic superhero Reed Richards and the character is played by Ioan Gruffudd. I had the opportunity to meet with him in February, where our discussion centered on a very different and much smaller film, the historical Amazing Grace. However, we also talked about the Fantastic Four movies.

Gruffudd, who is from Wales and has done a lot of work in Britain, acknowledged that he jumped at the chance to do both kinds of films. The opportunity to do "those great big movies that are just guaranteed hits" is something he wants as he seeks more and better roles in the U.S.

As Gruffudd and Amazing Grace's director, Michael Apted, confirmed, Fantastic Four enabled Gruffudd to be considered for the intensely emotional lead in Amazing Grace. Gruffudd said, "Had it not been for the success of Fantastic Four, I don't believe I would have been cast in this part. It's all about numbers and figures next to your name."

What will those numbers and figures be like for Rise of the Silver Surfer? Judging from audience reaction at the screening – where the theater was filled and they had to turn away a lot of people – there was not only anticipation for this summer sequel but approval of it when the lights came up.

My son was immediately eager for a third film. The way the film ends, with a shot of the Silver Surfer after a couple of initial credits, not surprisingly leads you to believe that there may be another one. My son wondered, "Will there be another Fantastic Four?"

Well, since I had talked directly with Ioan Gruffudd… "I hope to goodness that Fantastic Four is a great success again and that I'll know I'll be doing another Fantastic Four." When I asked Gruffudd if another one is actually planned, he replied, "We hope – if this one is successful. Then I hope there will be another one and therefore I'll know I can go off and do projects like Amazing Grace. To satisfy the soul."

That doesn't mean doing the Fantastic Four movies isn't fun and rewarding for Gruffudd beyond his goals of greater name recognition and more acting opportunities. Gruffudd clarified, "I mean obviously Fantastic Four is a great experience, but it is something different."

On theater screens and in studio pipelines, Rise of the Silver Surfer is, of course, not so different. It's yet another big-budget action-adventure film. But unlike so many of those films today, it does offer the PG rating as a truer family film. And it certainly is a fun experience.
2007 Film Entertainment Magazine / EMOL.org. All rights reserved
Film Entertainment Magazine
Fantastic Four - The Complete Animated Series (1994)
Starring: Quinton Flynn, Stan Lee Director: Tom Tataranowicz
the longest-running Marvel series in history arrives for the first time on DVD in this spectacular four-disc set, featuring all 26 episodes of the heralded 1990's animated series. Learn the origin of the Fantastic Four, and be there as Mr. Fantastic, The Invisible Woman, Human Torch, and The Thing save the world from the dastardly Doctor Doom and his legion of villains. Now you can relive every action-packed episode, complete with exclusive introductions by Stan Lee. It's a fantastic DVD collection you'll want to experience over and over again.
The entire adventures of Marvel Comic's greatest superhero team. When Reed Richards, Sue and Johnny Storm and pilot Ben Grimm take a premature space flight on a new shuttle, they find themselves massively bombarded with cosmic radiation. Barely managing to re-enter and land safely, the quartet find themselves forever transformed with superpowers. Deciding to use these new powers to help people, they form the Fantastic Four, a superhero team dedicated to the protection of Earth from menaces like the Latverian King Dr. Doom and Galactus, the planet consumer.
• Format: Box set, Closed-captioned, Color, DVD-Video, Animated, NTSC
• Language: English
• Aspect Ratio: 1.33:1
• Number of discs: 4
• Studio: Buena Vista Home Entertainment
• DVD Release Date: July 5, 2005
• Run Time: 569 minutes
DVD Features:
• Available Audio Tracks: English (Dolby Digital 2.0 Surround)
• All 26 Episodes from the 1994-95 series
• Stan Lee's Soapbox
• Episode Introductions by Stan Lee