Entertainment Magazine: Film: Heartland Film Festival: 2012
Heartland Film Festival Lineup for 2012
Heartland Truly Moving Pictures screened 118 films selected at this year's Heartland Film Festival. The films once again demonstrate Heartland's commitment to bring inspiring films – and filmmakers - to Indianapolis for its 10-day festival.
This year's 21st Annual Heartland Film Festival was held October 18-27, 2012 with films showing at AMC Castleton Square 14 and AMC Showplace Traders Point 12, and special events happening at the Indianapolis Museum of Art.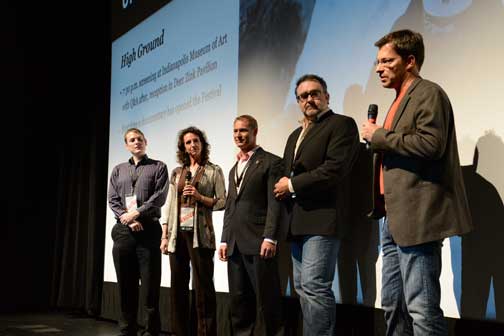 Photo: 2012 Heartland Film Festival Opening Night.
Each year, Heartland selects films that will inspire, educate and engage audiences. This year's Festival was certainly no different.
From injured veterans who climb a mountain in the Himalayas to a young man from Kansas who pursues his dream of becoming a mariachi player in Mexico; from a film that explores dyslexia and its impact on people's lives to a 19-year-old rock star who fights Lou Gehrig's disease; and from a film that features a local Indianapolis couple facing the difficulties of international adoption to a film that investigates the importance and necessity of historical preservation efforts in Muncie, Heartland continues to inspire filmmakers and audiences through the transformative power of film.
"Through this Festival we have the incredible privilege to introduce Indianapolis to the films and filmmakers who inspire audiences through their stories," explains Tim Irwin, Artistic Director for Heartland Truly Moving Pictures.
"We couldn't be more thrilled with this year's lineup, the filmmakers visiting Indianapolis and the impact each of these films will have on our audiences."

Heartland will award more than $135,000 in cash prizes to this year's winners, including the $100,000 Grand Prize Award for Best Narrative Feature, the $25,000 Award for Best Documentary Feature, the $10,000 Vision Award for Best Short Film and cash prizes to the High School filmmakers.

The five Festival Award-winning films in the Narrative Feature category are: A Bottle in the Gaza Sea; Cairo 678; Future Weather; Starry, Starry Night; and Valley of Saints. These films will compete for the $100,000 Grand Prize for Best Narrative Feature, which will be announced during the Awards Ceremony on October 20.

The five Festival Award-winning films in the Documentary Feature category are: All Me: The Life and Times of Winfred Rembert; Escape Fire: The Fight to Rescue American Healthcare; Jason Becker: Not Dead Yet; Rising from Ashes; and Trash Dance. These films will compete for the $25,000 Grand Prize for Best Documentary Feature.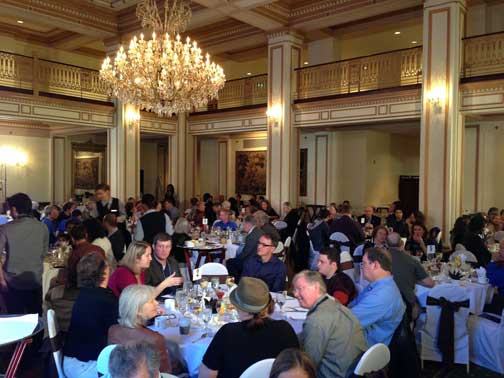 Photo: Filmmaker's Brunch at the 2012 Heartland Film Festival.
In addition to the Narrative and Documentary Feature categories, Heartland will present the $10,000 Vision Award for Best Short to one of these seven Festival Award-winning short films: Buzkashi Boys; Dva; Inocente; It's Such a Beautiful Day; Kipp Normand; Assemble; and Head Over Heels. Assemble and Head Over Heels are also recipients of the Jimmy Stewart Memorial Crystal Heart Awards, given each year to outstanding student films.

A record-breaking 1,240 films were submitted to the Heartland Film Festival – a 45 percent increase over last year. Across four categories (Narrative Features, Documentary Features, Short Films, High School Film Competition), 118 films have been chosen to screen this year. The films to be screened this year include:
Official Selections – Narrative Feature category: 3 Days of Normal; The Assignment; The Citizen; Death; Eliot & Me; Father's Chair; Free Samples; Gattu; Hayfever; I Am Not a Hipster; Mariachi Gringo; Not That Funny; Otelo Burning; re-Birthday; The Revolution of Juan Escopeta; Saints and Soldiers: Airborne Creed; and The Story of Luke.
Official Selections - Documentary Feature category: The Anderson Monarchs; The Atomic States of America; Awaken the Dragon; Besa: The Promise; The Big Picture: Rethinking Dyslexia; Caris' Peace; Dave; Erasing Hate; Nothing Like Chocolate; La Source; La Camioneta; Erasing Hate; From Nothing, Something; In Organic We Trust; Jealous of the Birds; Lemon; The Revolutionary; Somewhere Between; Stuck; A Whisper to a Roar; and Who Cares?
Official Selections – Short Films: Abandoned; Address is Approximate; Ailema; Ali 707; Asternauts; Blank Canvas; Caine's Arcade; Carbon for Water; Cross Court; Ejaz's Story; Elon + Emmanuelle; evolution; fairytale; Flawless Life; FOUR WALLS Sarajevo; Free Kick; Friend Request Pending; Good Karma $1; Hurdy Gurdy; It Ain't Over; Jack and the Dustbowl; L'equip Petit; Little Kyoya Neon Hood; Mr. Bellpond; One Split Second; Our World Insideout: Brazil; Past Their Prime; Picture.Perfect.; Restoring Sight in Bangladesh; Right to Play; Skyborn; Speakeasy Supper-Club; Stories and Legends: Historic Preservation in Muncie, Indiana; Stronger; The Girl Next Door; The Glowing Hours; The Hunter; The Last Race; The Lower 9: A Story of Home; The Magical Wishing Washing Machine; The Station Master; The Story About Rose; Tom Sadly; Tumbleweed!; Walk Tall; and What if, Like Me…
In addition to the films being screened during the 10-day Festival, Heartland will host several special events for film lovers of all ages and interests, including:
Opening Night Event: Thursday, October 18, The Toby, Indianapolis Museum of Art, featuring the film High Ground. For the first time in Heartland's history, a documentary will open the Festival. Don Hahn, past Heartland filmmaker and Academy Award-nominated producer of Disney's Beauty and the Beast, will bring his latest documentary to Heartland. The film tells the inspiring story of injured veterans who climb a mountain in the Himalayas. Heartland will partner with local veteran groups to celebrate our heroes in the Armed Forces. Don Hahn and some of the veterans featured in the film are scheduled to attend.
Awards Ceremony: Saturday, October 20, Old National Centre, Come experience the world of independent film as Heartland honors the filmmakers who make the Festival possible. The Grand Prizes in each category will be announced.
Filmmakers' Brunch: Reel Conversations: Sunday, October 21, Omni Severin Hotel, an opportunity to meet with Festival filmmakers.
Family Movie Event: Sunday, October 21, AMC Castleton Square 14, featuring the film 3-Day Test. Actor/director Corbin Bernsen will return to Heartland for the third year in a row with his new family comedy.
Closing Night Screening: Saturday, October 27, The Toby, Indianapolis Museum of Art, featuring Under African Skies. Celebrating the 25th anniversary of the release of Paul Simon's Graceland album, this documentary places the album in its tumultuous context both in South Africa and the United States. Enlightening and uplifting, the film will leave audiences ready to celebrate. The Closing Night Party will start immediately after the film at the Jazz Kitchen.
The complete 2012 Heartland Film Festival lineup and additional Festival information can be found online at HeartlandFilmFestival.org.
---
---
© 2007-2012 EMOL.org Film Entertainment Magazine / EMOL.org. All rights reserved.