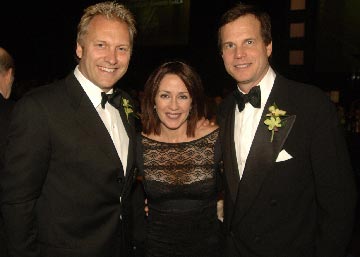 From the Heartland Film Festival: Director David Hunt, actress/producer Patricia Heaton and Director Bill Paxton at Heartland Film Festival's annual Crystal Heart Awards Ceremony. Hunt and Heaton received a Crystal Heart Award for their documentary film "The Bituminous Coal Queens of Pennsylvania" and Paxton received a Truly Moving Picture Award for "The Greatest Game Ever Played" Photo by Rob Banayote / Banayote Photography
Upwardly Mobile
By Madelyn Ritrosky-Winslow
[email protected]
Entertainment Magazine
The 14th annual Heartland Film Festival, held in Indianapolis October 13-21, 2005, helped establish more prominence at the national and industry levels.
Greg Paul, president of Castle Rock Entertainment and member of Heartland's Board of Governors, said awareness of the Heartland festival in Hollywood is fairly low, with the notable exception of Disney. To improve this, the festival, along with Lilly Endowment, announced this week that Lilly is giving Heartland a major $3.7 million grant.
Currently, Heartland hands out the Truly Moving Picture Award to theatrical films that "explore the human journey by artistically expressing hope and respect for the positive values of life."
The goal is to make the Truly Moving Picture Award logo a meaningful marketing symbol for audiences.
Also, festival entries compete for awards, including the top prize for best dramatic feature, Crystal Heart Awards, and Jimmy Stewart Memorial Crystal Heart Awards for the best student films.
Some of the grant money will go toward innovative combination programs that will not only help market films at a grass roots level, but will create new educational opportunities through youth organizations across the country.
Irv Katz, president of National Collaboration for Youth (an umbrella organization representing numerous groups such as the Boy Scouts and Girl Scouts), said programs being developed will encourage kids to watch films more analytically, with an eye toward hopeful messages and depictions, and to read the book or screenplay.
The grant will also allow Heartland president Jeffrey Sparks to promote the festival and awards as never before in Hollywood. Heartland is hoping to increase the number of theatrical films submitted for the Truly Moving Picture Award, which is done prior to a film's release so that more moviegoers can be aware of and support films with more optimistic outlooks on life.
The press conference, which was held in Indianapolis this week, heralds promotion of the upcoming festival.
On September 8, 2005, Heartland will announce the films scheduled for this year's event. Look for coverage of the festival in October here at Entertainment Magazine.