"Expiration Date"
Photo left: Robert Guthrie as Charlie Silver Cloud III. From Expiration Date.
Two more films on my screening list at the 2006 Heartland Film Festival were Expiration Date and The Ultimate Gift. Each film focuses on a young man following some sort of "list" of things he is compelled to do (for very different reasons), and along the way makes some realizations and, because of those realizations, also falls in love. The last shot of both films (before the end credits) is a kiss between the protagonist and his new girlfriend.

The similarities stop there. Expiration Date is, according to Heartland's press kit, "a romantic fable of sweetly odd proportions." And it is an offbeat tale, taking an absurd premise and running with it. The central character is Charlie Silver Cloud III (Robert Guthrie), a slightly goofy coffee shop worker extraordinaire (or at least his caffeine-addicted customers think so), who is now focusing on his own supposedly imminent death. It reminds me of the 1971 cult classic Harold and Maude, where quirky Harold is a young man preoccupied with death.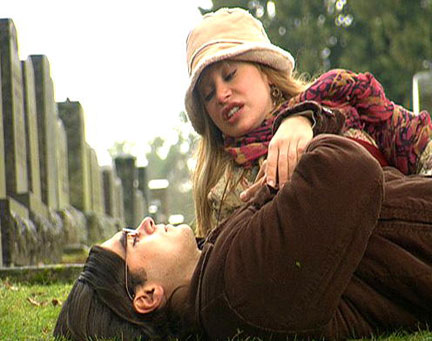 Photo left: Robert Guthrie as Charlie and Sascha Knopf as Besse in Expiration Date.
In Expiration Date, Charlie suspects his upcoming death because both his father and grandfather were killed by milk trucks on their 25th birthdays – and he meets his quarter-century mark in 8 days.
As he goes about taking care of last-minute preparations, he runs into some ostensible stumbling blocks, namely a seemingly goofy young woman named Besse (Sascha Knopf) and her dog, Roadkill. It appears that she may be headed for the pearly gates, too.

Of course, Expiration Date is really about learning to live by facing your fears. And Charlie's fear of sinister milk trucks comes right at him. The audience laughed numerous times at the absurdity of Charlie's situation and his perverse belief in the "curse." I liked how his Native American heritage is simply presented as part of who he is, where his ethnicity is not the lynchpin of the story or the primary facet of his identity yet it is integral to it. Charlie could be any guy – but he's Native American for a change. And he's the leading man. In a romantic comedy.
Writer-director-producer Rick Stevenson is a big supporter and promoter of the Seattle filmmaking community, and this film was shot and takes place in Seattle.
"Ultimate Gift"
Photo left: Abigail Breslin (left) as Emily and Ali Hillis as Alexia in The Ultimate Gift
Where Expiration Date makes you chuckle, The Ultimate Gift makes you cry. Jason Stevens (Drew Fuller) is a young man in need of a new lease on life. Through his death, his grandfather helps him accomplish it.

Jason is a lazy, cynical, self-centered, twenty-something guy who's never had to work or worry about money in his life. When self-made business tycoon Red Stevens (James Garner) dies, before the story opens, he leaves individual properties to his spoiled adult children and their spouses.

But to his eldest grandchild, Jason, he leaves a challenge – or more accurately, a series of challenges – for in Jason, Red saw the potential for something more. In undertaking those challenges, Jason encounters a number of unexpected ones, not least of which is meeting Alexia (Ali Hillis) and her young daughter, Emily (Abigail Breslin).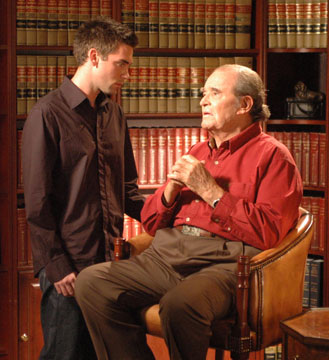 Photo left: Drew Fuller (left) as Jason Stevens and James Garner as Red Stevens in The Ultimate Gift
While Red Stevens may be dead, his presence is constant through the living will that he recorded for his grandson. His longtime friend, attorney, and business partner Ted Hamilton (Bill Cobbs) and his assistant, Miss Hastings (Lee Meriwether), guide Jason through this obstacle course. He must learn what it means to be a generous human being and appreciate the many intangible gifts of life.

The script by Cheryl McKay is based on the book by Jim Stovall, and Michael Sajbel directs. Producer Rick Eldridge was at the festival and accepted the film's Crystal Heart Award.

This film has already landed theatrical distribution, so look for The Ultimate Gift in theaters in March 2007.