Legendary Outlaws and Mysterious Caves –
Oh My!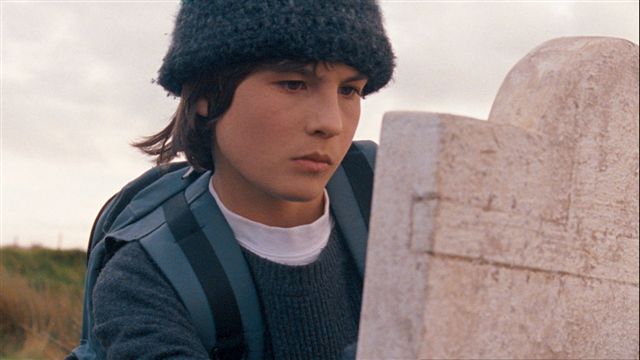 (Photo left) Kevin Novotny as Roy inspects a gravestone as part of his detective work. From Secret of the Cave.
There is something to be said for a little adventure. And a little mystery.

I'm always on the lookout now for films that are truly family films.
By that, I mean movies that can be fully enjoyed by parents as well as kids, where I can get into the film and so can my 7-year-old with less than 50 questions.

Delivering on adventure, mystery, and disparate audience expectations, Outlaw Trail and Secret of the Cave made their world premieres at the 2006 Heartland Film Festival. As the titles suggest, these are mystery adventures, and they do keep viewers guessing. What exactly are the young male protagonists going to find as they strive to unravel their respective mysteries? The answer is, of course, two-fold.

In each case, the revelation of the mystery is, not surprisingly, only part of the young hero's journey and the film's story. Exterior or physical journeys reflect, motivate, and crystallize interior journeys of self-discovery and self-determination.

Outlaw Trail is set in 1951 Utah, where 16-year-old Roy Parker (Ryan Kelly), the great-nephew of Leroy Parker – a.k.a. Butch Cassidy – is determined to use Cassidy's secret map to prove that while Butch Cassidy may have "died" in Bolivia, Leroy Parker may have come back to America and done some good with his stolen riches. Proving to himself and his cynical grandfather (Cassidy's younger brother) that there is something to be proud of in the Parker name, Roy is determined that there is good in everyone and people can change for the better.

The opening sequence of Outlaw Trail pays tribute to the classic Butch Cassidy and the Sundance Kid (1969). It was a reworking of the final scene of that film, where the outlaws, famously portrayed by Paul Newman and Robert Redford, are surrounded by Bolivian police and come out shooting, the film ending on a freeze-frame. The Outlaw Trail scene envisions another possible outcome to that shootout.

What makes the choice of Butch Cassidy as the film's fulcrum-in-the-shadows so interesting is that the filmmakers get double the mystique for their money. Cassidy is not just a legendary figure of the Old West, but a legendary representation of New Hollywood as it emerged from the old studio system during the 1960s.
The blend of irreverence, humor, male bonding, and violence signaled new directions for American cinema. Newman and Redford were the "new men" of a changing society.

Director-producer Ryan Little and producer Adam Abel revealed that the resemblance of their Sundance Kid to Robert Redford was very real – Redford's nephew (Michael Van Wagenen). Little and Abel, whose Go Films production company is based in Utah, are trying their hand at a variety of genres. Saints and Soldiers (2003), a war drama and their first feature together, earned them critical notice and 16 awards at the 16 film festivals in which it was entered. They have just completed a sports film titled Forever Strong, with the same writer, David Pliler, as Outlaw Trail. Abel said that film is about an American rugby team and stars Sean Astin.

Little said that Outlaw Trail came about because he and Abel wanted to do a "fun and light" film that their kids could watch. He said films like Raiders of the Lost Ark and Goonies were favorites of his as a child, and those adventures were inspirational for doing a film like Outlaw Trail.

The inspiration as well as production of Secret of the Cave is rather different, though the thematic similarity is clear. The film is adapted from the 1920 book of the same name, written by Arthur S. Maxwell. It's a children's story that is well-known in Adventist circles, and the filmmakers are faculty as well as students at Southern Adventist University.

Director-writer Zach Gray, producer-writer-cinematographer David George, producer Mark Thomas, and several other key production personnel are professionals, but there were 25 students among the crew. In front of the camera, professional actors, primarily from Ireland where most of the film was shot, bring the characters to life. Fourteen-year-old American actor Kevin Novotny plays the lead role of Roy Wallace, a boy from the U.S. dumped for the summer with relatives in a remote coastal village in Ireland by his father (Patrick Bergin).

Gray, whose background is in animation, put the film's theme in a nutshell: "By helping others, young Roy can better see his own life and needs." Although Roy is not happy to be dropped for the summer by his soon-to-be-divorced parents, he comes to learn that "you have to choose how you're going to deal with a situation," with selflessness offering its own rewards.

Secret of the Cave makes use of Hitchcockian suspense/thriller/classic horror techniques to keep the viewer guessing about what might lie in the forbidding cave and why unexplained good deeds and a mysterious symbol keep popping up.
(By the way, although the exterior of the cave was shot on location in Ireland, much of the interior was shot in a cave in Tennessee.)

I could fully enjoy the suspense, where an aura of possible supernatural influence pervades the story and visuals for most of the film – because I knew this was not a horror film or violent thriller. It's a thriller with a positive message.

Despite the theme of Secret of the Cave and its young protagonist (and two other young supporting characters), younger children will probably find this film a bit scary. My second-grader, who attended the screening with me, was drawn into the story but needed reassurances several times that all would turn out well.

Outlaw Trail and Secret of the Cave may show up in a theater or film festival near you, but regardless of what kind of distribution these independent films eventually get, look for them down the road on DVD when you're looking for fun, mysterious, adventurous family films that the entire family can enjoy.