Review by Madelyn Ritrosky
I'm a sucker for a good romance – and that's what The Illusionist is. But it's also more. It's a good mystery, set in Vienna a century ago in what was the Austro-Hungarian Empire prior to World War I.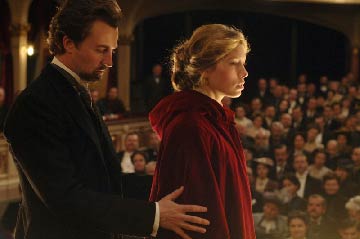 Forbidden romance... There's something ageless and alluring about that, and it is the driving force of The Illusionist – both for the plot and the central character.
Eisenheim is an illusionist, a magician and talented showman, played by Edward Norton. But he had the bad luck to be born a cabinetmaker's son, for the love of his life is Princess Sophie (Jessica Biel), the unattainable lover whose blueblood family would never allow a match with a peasant.
Well, she's not truly unattainable. In flashback, we learn that they enjoyed clandestine meetings as teenagers, becoming each other's first love. When the young lovers are about to be discovered and torn apart, she pleads for him to use his special talents and make them disappear. Of course, he cannot. But, first love turns out to be true love.
When they meet fifteen years later, Eisenheim is now an accomplished illusionist drawing large audiences and Sophie is about to be roped in as fiancé to nasty Prince Leopold (Rufus Sewell) – which means, of course, that Eisenheim and Sophie must tempt fate. Will they win? Or do things go horribly awry?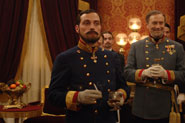 The other ingredient in the mystery mix is Chief Inspector Uhl, played by Paul Giamatti. The inspector straddles the line of royal henchman and public servant dedicated to justice, with Eisenheim constantly pushing him to take the high road – for his own personal reasons. Just as Uhl constantly both pushes and advises Eisenheim, for the prince wants nothing good for his woman's lover.
The Illusionist has a wonderful, turn-of-the-last-century feel, shot in Prague, and full of dark scenes with Eisenheim performing his magic. I particularly liked the opening credit sequence, with a sepia-toned overlay to rather fuzzy, slow-moving, sketch-type images that dissolve into quick long shots of people in the streets. It does capture the feel of very old film sequences from the time, prior to 1915, when simple street shots of moving people and vehicles were enough to engage film's earliest audiences.
And The Illusionist has enough romance, enough mystery, and enough historical elegance to engage audiences of today. The Illusionist opens in theaters on Friday, August 18, 2006.
Photo Credit: Glen Wilson
Running Time: 109 minutes
MPAA Rating: PG-13 Rating SOME SEXUAL AND VIOLENT CONTENT
Web Site: www.IllusionistTheFilm.com
Screenplay By/Directed By: Neil Burger
Based on the short story "Eisenheim The Illusionist" by Steven Millhauser.
Cast:
Edward Norton
Paul Giamatti
Jessica Biel
Rufus Sewell
Eddie Marsan
Jake Wood
Tom Fisher
Karl Johnson
Producers: Michael London,, Brian Koppelman, David Levien, Bob Yari, Cathy Schulman
Executive Producers: Jane Garnett, Tom Nunan, Ted Liebowitz, Joey Horvitz
CoProducers: Tom Karnowski, Matthew Stillman, David Minkowski
Director of Photography: Dick Pope BSC
Production Designer: Ondrej Nekvasil
Editor: Naomi Geraghty
Costume Designer: Ngila Dickson
Composer: Philip Glass
Casting: Deborah Aquila, CSA, Tricia Wood, CSA,
Nina Gold
A magician in turn-of-the-century Vienna who falls in love with a woman well above his social standing. When she becomes engaged to a prince, the magician uses his powers to win her back and undermine the stability of the royal house of Vienna. Production Company: Bull's Eye Entertainment, Contagious Entertainment, Michael London Productions, Stillking Films. Budget Estimate: $16 Million. Filming Locations: Prague, Czech Republic| Tábor, Czech Republic.