Kabbalah: Book of Creation: Golem
Words similar to golem
---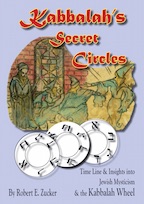 New book on the legends and history of Kabbalah and the Book of Creation, Kabbalah's Secret Circles! Read some of the chapters and download a free PDF sample of the book to preview. This page contains notes from the book.
---
GiLGuL; GIGIL NESHAMOT
The word Gilgulim means reincarnation, transmigration of the soul, metempsychosis. All souls must undergo transmigratio,n according to Zohar (ii 199b), and the souls of men revolve like a stone which is thrown from a sling, so many times before the final release. The souls which fulfilled and worked out spiritual restoration by adhering to the commandments are set aside in their holy places to await their remerging with the sould of Adam. They are not subject to GILGUL.
Rabbis, as with Platonic doctrine of soul, believed all souls exist prior to the existence of the body. (Ponce, 214)
"Blessed art thou, O Lord, who restoreth souls unto the dead." (Auth. Daily Prayer, Singer, p 16)
AyGL calve
This word refers to lust, lovemaking; round; wagon-cart; sad; round, be rounded, roll, a thing. nm calf (as rolling or gamboling. as [agalu], prob. As. [agalu] calves, calf. First centuries AD, "ha--Bore'im Agalim" was the "Creation of the Calves," attributed to R. Hanina & Oshia who created a calf using the Sefer Yetzirah's letter combination techniques
---
---
Learn more about Kabbalah
© 2001-2017 Robert Zucker. Entertainment Magazine EMOL.org All rights reserved.