Abulafia and "Life in the World to Come" Links
---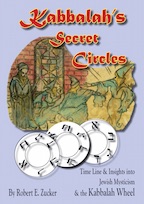 A new book on the legends and history of Kabbalah and the Book of Creation, Kabbalah's Secret Circles, has just published! Read some of the chapters and download a free PDF sample of the book to preview. This page is an excerpt from the book on Abraham Abulafia and his circles.
---
Chaye Ha Olam Ha Ba
"Life in the After Life or in the World To Come," Chaye Ha'Olam Ha Ba is a Jewish mystical study on the 72 Names of the Holy Angels. Chaye HaOlam HaBa / VeZot Li'Yehudah is Rabbi Avraham Abulafia's (1240-c.1291) opus work on Kabbalah.
Download Free Copy of Chaye Ha Ola Ha Ba:
Links on Abraham Abulafia
Books on Abraham Abulafia
These books are available on Amazon.com about Abraham Abulafia. So you don't lose your place, these links open in a new window.
If you have an interest in this book or would like to request a copy of "Kabbalah's Secret Circle," please email [email protected]. Robert Zucker, Arizona, USA.
---
Copyright by Robert Zucker © 2007-2017 No part may be copied, reproduced, republished or digitally stored without permission from author.