The "Book of the Angel Raziel" free download
By Robert Zucker, publisher
The Book of Raziel, also Reziel or Ratzial, is available for a free download. I have prepared a detailed section on the study of this important book in Kabbalah. Learn more about Sefer Raziel.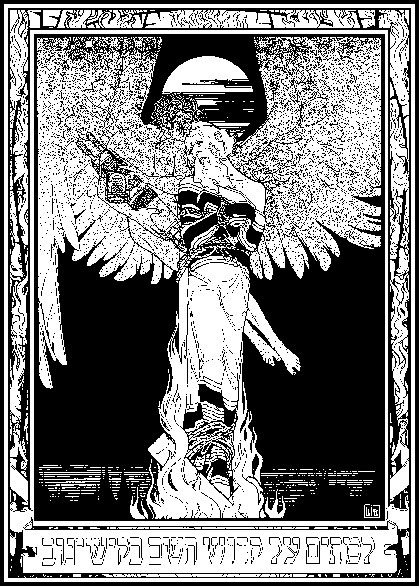 This ten page English translation, author unknown, is called The Book of the Great Reziel (also spelled as Raziel). This copy of the Book of Raziel is in the public domain and can be copied and distributed without cost as a PDF document.
The download link will open a new window for PDF file. Save the file to your computer hard drive.
The first English translation of the ancient Hebrew manuscript was printed in 1701 in Amsterdam. The English version includes an explanatory text on the holy names of God, the divisions of Heaven and Hell, and the names and hierarchy of the angels and spirits.
According to Hebrew legend, the Sepher Razial (Sepher is Hebrew for Book. Raziel is the "secret of God") was given to Adam in the Garden of Eden, by the hand of God. The legend suggests that this diverse compendium of ancient Hebrew lore was the first book ever written.
---
---
Selling Part of My Occult & Kabbalah Library
Robert Zucker's Library Collection of hard-to-find, discounted Occult & Kabbalah books are now for purchase available on Amazon.com. To downside my collection of thousands of some hard-to-find, rare, out of print and great condition books, copies are for sale on Amazon.com. These books date from the 1980s and earlier- usually in hard cover or early editions. Browse a selection of my available library on Qabalah, parapsychology, Hermetics and other occult topics. New books constantly added. See a sample from the Zucker Collection.
How to translate the Sefer Raziel free
The original Hebrew version of the Sefer Raziel is the most reliable. But, few people read ancient Hebrew well enough to understand the true translation. Today's translation technologies make this process easier. Get some tips about translating and transcribing the Hebrew into English, or other languages.
---
---
Top books about "Sefer Raziel"
Sefer Raziel haMalach
(Hebrew Edition)
This is an original Hebrew version book on the "Sefer Raziel" from Amazon. Paperback. This reprint is being made available at cost by Publish Your Sefer.com in partnership with Hebrew Books.org. 2012 edition, 98 pages. 7.8 x 0.2 x 9 inches.
Sepher Rezial Hemelach: The Book of the Angel Rezial
This is the first English translation from ancient Hebrew of the rare and complete 1701 Amsterdam edition by Steve Savedow. Includes an explanatory text on the holy names of God, the divisions of Heaven and Hell, and the names and hierarchy of the angels and spirits. Paperback: 320 pages. Publisher: Weiser Books (December, 2000). Language: English. Although it is comprehensive and has translations of the text, there has been controversy over Savedow's translations. It is a good starting point if you can't read Hebrew.
Sepher Raziel: A Sixteenth Century English Grimoire (Sourceworks of Ceremonial Magic Series)
This volume also includes a foreword which offers an overview of the Sepher Raziel manuscripts, which represent a number of independent traditions. It includes an essay on the literature of Solomonic magic in English, an introduction to the Sepher Raziel manuscript presented, an appendix on incense nomenclature as a supplement to Tractatus Thymiamatus, a list of printed notices and manuscript sources of Sepher Raziel, and a full bibliography of printed works on Solomonic magic and items of related interest. 296 pages. Publisher: Llewellyn Publications (September 8, 2010). This book is highly recommended as a reliable source of information.
---
---
Copyright by Robert Zucker 1995-2015. No part may be copied, reproduced, republished or digitally stored without permission from author.
Copyright by Robert Zucker © 1995-2015
No part may be copied, reproduced, republished or digitally stored without email permission from author