Entertainment Magazine: Free Movies: Cartoons
Watch and Download Free Felix the Cat Cartoons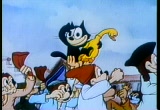 Felix the Cat was a cartoon character created during the silent-film era of the 1920s. Felix was the first cartoon character to become a large enough theatre draw just for himself.
Watch and download several free Felix the Cat cartoons in the public domain. These films can be streamed on most devices, or downloaded and played later. Find out more about watching and downloading Free Movies FAQ.
---
---
Free Felix the Cat Cartoons
These Felix the Cat movies, from archive.org, use a new code found in many browsers that provide quick streaming video without any special software.
To start free movie: After selecting a movies title, if you can see the movie screen, your browser supports the new <video> tag. To start the movie, click the triangle on the movie screen. Adjust sound with the sound bar to the right. To show the movie in a full window, click the rectangle on the lower right. Read more how to watch free movies online.
To download free movie: Select the streaming movie files link to download the movie files and images. These movies can also be transfered to mobile devices like iPads and smartphones. Find out more how to download movies.
The story of Felix the Cat
There is dispute to the origin of Felix the Cat, whether he was from the creation of Pat Sullivan, the owner of the Felix character, or American animator Otto Messmer, Sullivan's lead animator.
In the 1920's, the Felix character gained sudden popularity. Felix got his own comic strip, drawn by Messmer and merchandising Felix goods became hot. By the late 1920's, Felix popularity faded, just before the start of sound cartoons. In 1953, the Felix cartoons were airing on American TV with a redesigned character look.
These Felix the Cat free cartoons are from the original 1920's. Felix cartoons often contains ethnic stereotypes. Read more about Felix the Cat from wikipedia.
---
© 2009-2015 EMOL.org Free Movie Entertainment Magazin. This is a public domain archive. All rights reserved.