Entertainment Magazine: Free Movies: Cartoons: Popeye
Popeye in "Patriotic Popeye"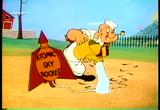 Popeye the Sailor is featured in "Patriotic Popeye," filmed in 1957.
In this cartoon episode, Popeye's nephews want to play with fireworks on July 4th, but Popeye tries to dissuade them. They manage to light some off and get into trouble. Popeye saves the day.
Animation by Tom Johnson and Frank Endres. Story by Caryl Meyer. Music by Winston Sharples.
Watch and Download "Patriotic Popeye"
This movie is in the public doman and is legal to stream online and download for free from archive.org
Links to a great selection of Popeye DVDs, soundtracks, games, toys, collectibles, Popeye and Brutus costumes and more!
---
Popeye the Sailor DVD Series
The plot lines in the animated cartoons tended to be simple. A villain, usually Bluto, makes a move on Popeye's "sweetie", Olive Oyl. The bad guy then clobbers Popeye until Popeye eats spinach, which gives him superhuman strength.
Popeye & Friends Volume One

Popeye the Sailor DVD: 1933-1938, Vol. 1
Popeye the Sailor DVD: 1938-1940
, Vol. 2
Popeye The Sailor: 1941-1943 Volume 3
Popeye: The Sailor Man (75th Anniversary Collectors Edition) restored.
© 2005-2015 All rights reserved. EMOL.org Entertainment Magazine. "Popeye" is a public domain archive.