Cher performs at the Colosseum at Caesars Palace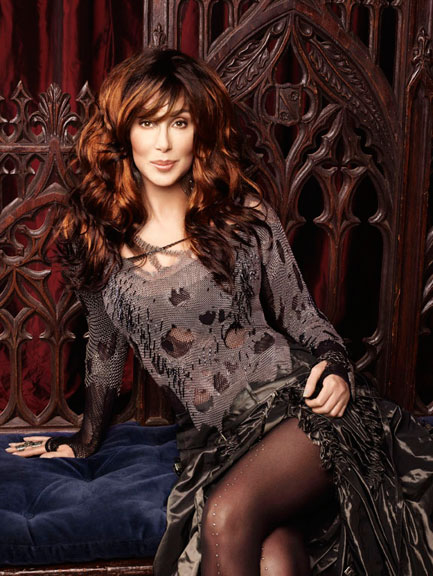 Showcasing her flamboyant spirit, legendary talent and ingenious creativity, Cher launched the first of her nearly 200 shows tonight in Las Vegas.
The extraordinary production, aptly titled "Cher," is a high-energy, concert-style show that features the artist's record-breaking hits, including "If I Could Turn Back Time," "Believe" and "Strong Enough."
With her infamous rock-and-roll attitude and theatrical affinity, the show treats guests to an intimate look back through Cher's iconic career, with vintage footage of rarely-seen "Sonny and Cher" clips and a marvelous stage that alters its scenery for every song and mood.
"If you thought my other shows were exciting, just wait until you see this one," exclaimed Cher. "This show is me ... but bigger. It takes some of my favorite elements from my touring shows and kicks them up a notch."
Designed exclusively for the 4,300-seat Colosseum at Caesars Palace, Cher boasts the talents of choreographer and director Doriana Sanchez, who brings Cher's vision to life using 18 dancers and aerialists, state-of-the-art video and special effects, and ambitious set designs. Not surprisingly, audience members can expect to be blown away by Cher's signature breathtaking costumes, which were designed by the world-renowned fashion icon Bob Mackie.
"We knew there was going to be a high demand for this show, but the response has been truly overwhelming," said John Meglen, co-CEO and president of AEG Live/Concerts West. "All of us at AEG Live thank the fans, our partners and the city of Las Vegas for the support of this project and congratulate Cher and her team on this well-deserved success."
"It is a true pleasure to welcome Cher back to Caesars Palace," said Gary Selesner, president of Caesars Palace. "Over the decades, Cher and Caesars Palace have both evolved as icons, yet remained fresh and relevant in the public eye. The staging, the costumes, the dancers and effects, combined with the talent and presence of the one and only Cher, make this our latest must-see show. Joining Bette Midler, Elton John and Jerry Seinfeld, Caesars Palace unquestionably hosts Las Vegas' best entertainment lineup." Cher will perform approximately 200 shows over the next three years.
AEG Live
AEG Live, the live-entertainment division of Los Angeles based AEG is dedicated to all aspects of live contemporary music performance, touring for a variety of programming and multi-media production.
One of the largest concert promotion and touring companies in the world, AEG Live is comprised of special event, broadcast and exhibition divisions, and operates and owns numerous state of the art venues nationwide. Recent AEG Live tours and productions include "Celine Dion A New Day ... ," which just ended a landmark five year run at The Colosseum at Caesars Palace and "Tutankhamun and the Golden Age of the Pharaohs," an international tour of the artifacts of King Tut. Recent and current promoted concert tours include Justin Timberlake, Christina Aguilera, Prince, Bon Jovi, Usher, Nickelback, Kenny Chesney, Rod Stewart, and Paul McCartney. AEG Live also co-produces the New Orleans Jazz & Heritage Festival. Goldenvoice, the company's southern California-based regional promotion division, created and operates the award winning annual Coachella Valley Music & Arts Festival.
About Caesars Palace
Caesars Palace is the world's best known resort-casino, celebrating the glory that was Greece and the grandeur that was Rome, in an 85-acre destination location that sets the standard for entertainment, dining and luxury. Reigning at the heart of the Las Vegas Strip, Caesars Palace ranks among the world's top luxury resorts known for their originality and beauty and features 3,348 hotel guest rooms and suites, 25 unique restaurants and cafes, 4.5-acre Garden of the Gods pools and gardens, 50,000 square foot Qua Baths & Spa and 240,000 square feet of premium meeting and convention space. The 4,300-seat Colosseum sits just steps from celebrity chef restaurants and the acclaimed Forum Shops at Caesars and spotlights world class entertainers such as Bette Midler, Elton John, Jerry Seinfeld and Cher.
Source: AEG Live
LAS VEGAS, May 7, 2008 /PRNewswire/ --