Sizzle, glitz and glam- Cher's Las Vegas show has it all and more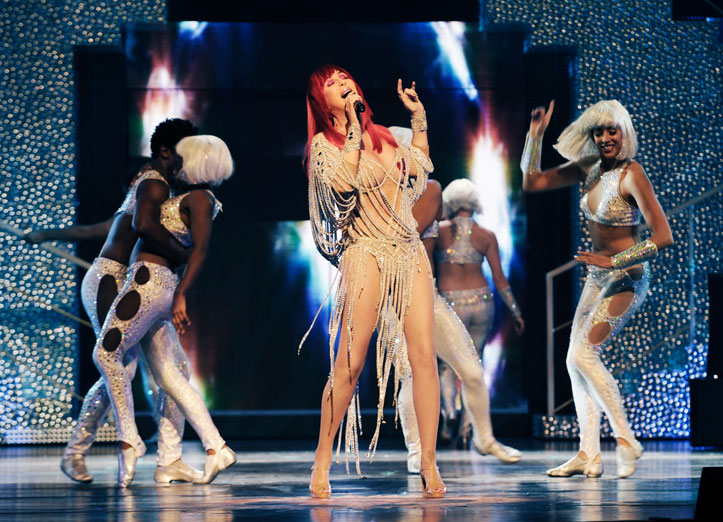 By Lynn Marie Squillace
It has all been said for the past 40 years. You either adore the queen bee or you don't, it's that simple.
The first thing you notice about Cher's headline act at Caesars' 4,296-seat Colosseum, is that it is as much as a production as a music concert.
It's a large-scale set piece that sets the tone for the rest of the show – an evening which is dominated by more than a dozen over the top staging and costume changes – ranging from cowgirl chic for Walking in Memphis to the iconic black leather and lace leotard/jacket combo for "If I Could Turn Back Time."
In addition the show features a collection of songs that pay tribute to old-time Hollywood style from the 1940's, complete with glamorous costumes and choreography. With her infamous rock-and-roll attitude and eye for theatrics, the show treats guests to an intimate look back through Cher's iconic career, with vintage footage of rarely-seen "Sonny and Cher" clips and an ever-changing state that adapts its scenery for each song and mood.
The staging, costumes and design for the sets are jazzy and brassy; but we would expect nothing less from the icon. Nothing compares to the first outfit as she enters the stage looking like a mix between something out of the galaxy and a Mayan princesss.
Her ability to bond with an audience and be herself while still engaging as a artistic phenomenon is what makes the performer stand out from any other today's chart-toppers. Perhaps that's why she has been able to extend a career of more than 40 years.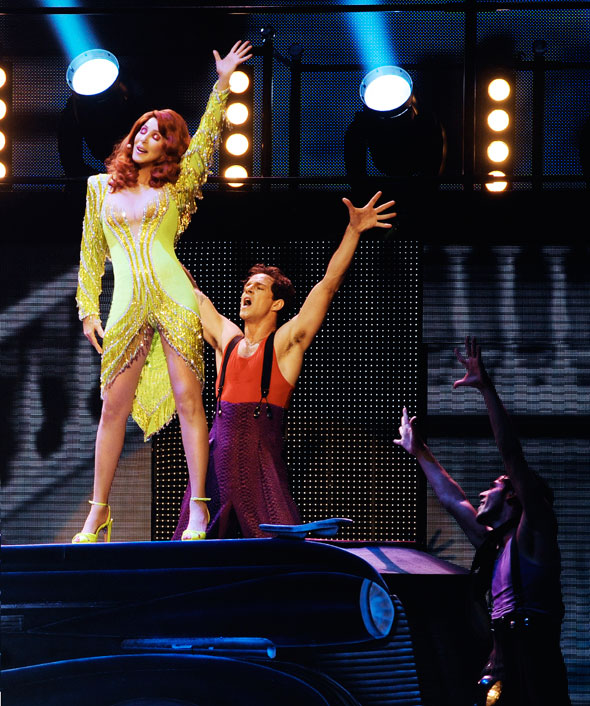 As Cher makes references to her attire and initiates a Teamsters joke trying to relate to some of her blue collar friends in the crowd, the key spot that solidifies her hold on the audience is when she looks up at the screen at herself from the back stating, "I look pretty good."
She also jokes about the men in the audience stating I know what you guys are saying, "I will take you to see the old naked bitch and then I'm gambling."
She goes on to explain that it's difficult to explain for someone who has never seen the Grand Canyon, "that's my closet with a lot of clothes in it, the diva explains." I don't think anything could top the finale of the show. The fearless lady makes a 40-foot descent out over the audience, landing on the stage in what she later calls her "Flying Wallenda, Evel Knievel death-mobile."
Cher won an Oscar for her work in Moonstruck. Her other film credits include Silkwood, Mask, and The Witches of Eastwick. In 1982, she made her Broadway debut in Come Back to the 5 & Dime Jimmy Dean, Jimmy Dean.
The pop icon will return to The Colosseum stage on September 4, 2010. The 90-minute show is presented at 7:30 p.m. four nights a week on Tuesday, Wednesday, Saturday and Sunday (dark Monday, Thursday and Friday) Tickets start at $95 dollars and can be purchased by calling 1-866-510-CHER or online at Ticketmaster.com.
Tickets may also be purchased in person at The Colosseum at Caesars Palace Box Office open daily from 10 a.m. to 10 p.m. For more information on Cher at The Colosseum at Caesars Palace visit cher.aeglive.com or www.caesarspalace.com or follow The Colosseum on Twitter. For more information on room and ticket packages, visit www.caesarspalace.com
Read more about Cher