VIRAL VIDEO: Bookmark, add to favorites, pass the URL on!
EMOL.org/music/artists/pavarotti/pavarotti.html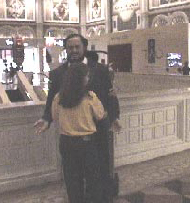 Filmed by R. Zucker
This amusing, unscripted, video clip was taken in September 2004 at the Venetian Hotel in Las Vegas, Nevada.
We are sure Luciano Pavarotti was not harmed during this incident and that it did not contribute to his current back condition.
This viral video is an example of being in the right spot at the right time with a video camera. Look for more Virals. These kinds of videos, and old classic films, have been on our web site for years!
To replay: click your refresh button.
This is a streaming MP3 video Quicktime file. It may not play on all computers. Quicktime movie player (free from Apple) needs to be installed in your computer for this video to play. Produced by Robert Zucker. All rights reserved. Information: [email protected]