"Cute Without the E"
Taking Back Sunday
Profile by Jessica Zucker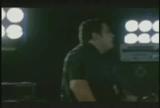 Group: Taking Back Sunday
Label: Warner Brothers Records, Victory Records
Song Highlights:
Their first release was a self-titled EP that didn't gain much publicity.
It wasn't until the single, "Cute Without the E" gained popularity among the punk rock, emo audience.
Playing with the bands, The Used and Brand New and the 2003 Vans Warped Tour, Taking Back Sunday finally made a hit to debut as #3 on the Billboard 200 albums chart with "Where You Want To Be."
Videos and photos courtesy: video.google.com