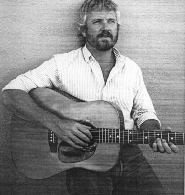 Gerry Glombecki is a songwriter and a poet whose composition credits include lyricist for "A Family Circus Easter," Cullen-Kasdan Productions NBC, animated special featuring the voice of the late Dizzy Gillespie.

More recently, Gerry placed first in the 6th Annual Arizona Anthem Poetry Contest for "The Ballad of George Hayduke," and graciously received a blessing to write it and collect other songs for potential use in the motion picture "The Monkey Wrench Gang" from none other than Edward Abbey, just before the author's death in 1989.

An engaging performer, Gerry songs move like a pendulum from the personal to the political from the serious to the whimsical.

Over the course of twenty some years of actively performing, he has worked with some of the finest such as Kris Kristofferson, Johnny Cash, Willie Nelson, Waylon Jennings and Travis Edmunson.

No stranger to motion pictures as commercials, Gerry was a stand-in and photo double in the movie made for television, "Stage Coach." Not long after that acting job, he earned his first speaking role in "The Young Riders" television series. Gerry is a card carrying member of the Screen Actors Guild.

Gerry has toured all over the country, including a winter at Lake Tahoe, spring at the Oregon coast, summer at the Grand Canyon National Park and fall in the state of New York. Gerry Glombecki is one of the founding fathers of the now annual Tucson Folk Festival.

He is available for festivals, concerts, nightclub, coffee house performances, children's songwriting classes and motion pictures.

Gerry has just released a new CD called "49 and Holding." Folk music of the All-American variety, Gerry presents original material in a simple setting of his own guitar and an occasional associate. The CD can be ordered through Lost Country Music, P.O. Box 44115, Tucson, Arizona, 85733-4115. The cost is $15 each, shipping paid. Read Tina Alvarez interview with Gerry.
Gerry Glombecki's Performance Schedule 1998
Last Territory at The Hilton Conquistador
10000 N. Oracle Tucson, Arizona 85737
544-1723
September 7 & 8, 14 & 15, 21 & 22, 28 & 29
6 until 9

Cuvee World Bistro
3352 E. Speedway Blvd.
Tucson, Arizona 85716
881-7577
September 10, 17, & 30
8 until 11

Shooters Steak House & Saloon
3115 E. Price Rd.
Tucson, Arizona 85705
322-0779
September 16
6 until 9

Tucson Racquet Club
4001 N. Country Club
Tucson, Arizona 85716
September 9
5:30 until 8:30
---
Entertainment Magazine Home Page

---
©1998-2005 Glombecki/EMOL.org