Entertainment Magazine:
New Mexico
A stay at Los Poblanos Historic Inn and Organic Farm during the Albquerque International Balloon Fiesta
By David Krell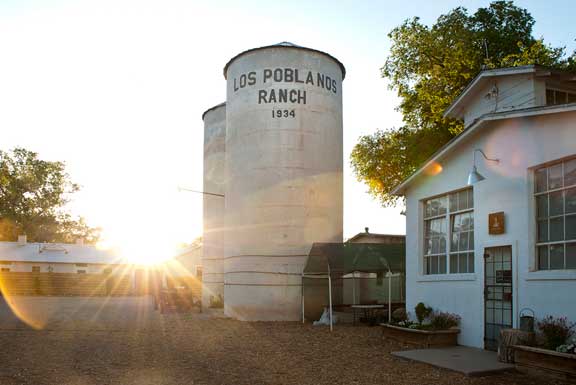 Staring out the window of our tiny airplane as we descended upon Albuquerque, I was amazed to see another plane flying so close to us.
At that moment, I felt like we were that much more vulnerable to disaster than I already put myself in denial of.
But before I could go in depth into the details as to how this could be happening without a collective gasp amongst the passengers or an inevitable lawsuit, I realized my purpose in Albuquerque: attending the largest gathering of hot-air balloons in the entire world. In other words, nearly 1000 hot-air balloons of all shapes, sizes and technological advancements lifting off within mere feet of each other while the public is meandering through every balloon's flight path.



Hypocrisy aside, I refocused my attention on another key component of my visit to Albuquerque- the relaxation and peace of Los Poblanos Historic Inn and Organic Farm.

I could go on and on about how wonderful the facilities are - such as the outdoor pool, organic farm, garden, and general beauty of the property-, but the best part about Los Poblanos are all the people involved in making it run day to day.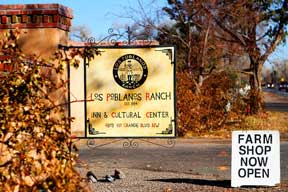 Artisan farmer, Sean, for example, literally walked me through their garden, letting me taste each and every crop available; most of which are on the menu at the Inn's restaurant.
The accessibility and welcome of activities at Los Poblanos are constantly evident, which catered to many interactions between guests. On more than a few occasions, a guest would mention how beautiful and relaxing it felt, which then led to other guests responding with similar admiration, ultimately leading to a conversation about what makes Los Poblanos so special.

Serving as a better-than-perfect accompaniment for my trip to the Albuquerque International Balloon Fiesta, Los Poblanos Historic Inn and Organic Farm not only provided Albuquerque with an ideal view from the ground, but a great setting for getting the best out of a visit as well. That's probably why Neil Patrick Harris, who has a house in Albuquerque, brought his family to stay there on multiple occasions.


As opposed to a view from the ground, the Albuquerque International Balloon Fiesta was far more dramatic.
Not only because it gave a view of and from the open sky, which at times could be seen over 75 miles deep, but because as I mentioned previously, the crowd is welcome to stand on the exact field where nearly 1000 hot-air balloons lift off from. I, myself, helped put two balloons into flight without even intending to.
Now add judges dressed in referee outfits running around like camp counselors lifting balloons off at a frenetic pace, while the crowd stands a few feet away. Or as I did, right next to the judge. Then what about half of those balloons lifting off right before sunset for a glow-in-the-dark mass ascension? It's as amazing as it sounds.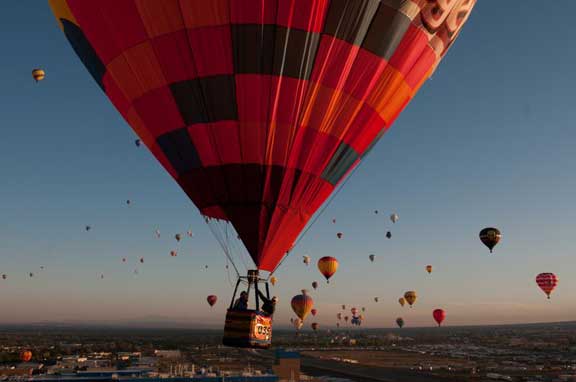 Top four photos courtesy Los Poblanos.
---
---
© 2006-2012 EMOL.org New Mexico Entertainment Magazine. All rights reserved.