Entertainment Magazine: New York: Block Island
Laid back Block Island
By David Krell
As I waited for the trucks to exit the ferry, I went back and forth between the awe of Block Island itself, and the shock of being forced to wait for food delivery trucks.

Not as pretentious and fussy as the Hamptons or Nantucket, but not even close to as middle America as the Poconos, Block Island treads the line between the two.
In the Hamptons, people become more exaggerated versions of the person they secretly dislike, yet crave, but on Block Island, they become the relaxed version of what they hope yoga will bring out of them. In other words, a relaxed person who is in no rush to do anything.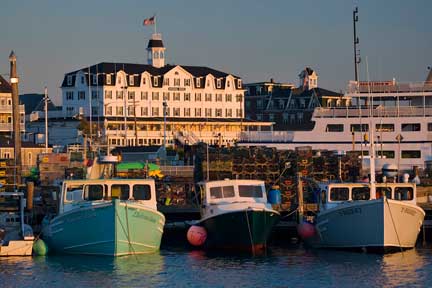 The same people frequent Block Island as do Nantucket and the Hamptons, but the manner in which those people enjoy themselves once on Block Island is far different.
There are no nightclubs, flashy restaurants or luxury hotels, and consequently, no place or person to dress up to impress. Not surprising though, considering the island is 7 miles long, 3 miles wide and the town hub is a mere one block long.
In fact, there is nothing to do on Block Island but relax, as it basically forces one into a relaxed state.

On afternoons, for example, the patio at the National Hotel is filled with people simply sitting and reading. Being the spontaneous and different visitor that I am, I looked for an alternative activity. I walked around the entire island, passing bluffs, dunes and beautiful scenery with not one bit of garbage seen anywhere.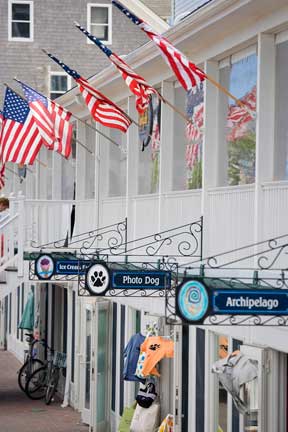 The terrain looked like a cross between the beaches of Cape Cod and the savannas of Africa, but far more subtle than both. I will admit that these subtle nuances forced me to appreciate the simplicity of the island and life in general.
Watching a seagull glide through the air across a stereotypically beautiful pond stopped me in my tracks, which, suffice it to say, seems silly as I write it now, for much of what I remember involves the silent vacancy of the island. When a car drove by, you really felt it. When the ferry comes in, everyone on the island knows.

And for the record, the best alternative activity I could find was sitting with a book on the beach, but eventually I just returned to the patio at the National, one of many who obviously learned the same thing I did.
So I guess the question you should ask yourself is whether the relaxed enjoyment of reading your favorite book on an outdoor patio is something you hope to achieve, because I certainly enjoyed it.
Promotional consideration was provided for this coverage.
Photos courtesy of Block Island Tourism Council.
---
© 2012. EMOL.org. New York Entertainment Magazine. All rights reserved
Travelocity to NY

New York Getaways, Fun Weekends in the Big City: 4-Day NY Getaways From $377
New York cities that participate with Restaurant.com
Dining out in New York City is cheaper when you use gift cards from the popular discount coupon dining site Restaurant.com for New York City coupons.
If you plan to visit New York, or live in the City, there are hundreds of NYC restaurants that accept Restaurant.com coupons. Save when you use the exclusive promotional code "EMOL" at checkout. No limit!! Use "EMOL" Promo Code on restaurant.com NYC coupons.
NYC Entertainment Book Coupons
The Entertainment Book
has hundreds of coupons to save on local dining, shopping, attractions and travel in New York City. Order an entertainment coupon book before you travel to have all of your offers available before you make plans. Browse the entertainment book web site for participating merchants, print out coupons online and obtain repeat coupons from the web.Print out NYC Restaurant.com Coupons
New York & Company
New York & Co.
is a specialty retailer of high quality, moderately priced women's fashion apparel, accessories, and bath & body. New York & Company operates over 550 retail stores across the United States.
New York Pass coupons
The New York Pass has admission to over 40 top attractions in New York City, including: Empire State Building, Statue of Liberty and Ellis Island, Museum of Modern Art, American Museum of Natural History, The Guggenheim, Madame Tussaud's Wax Museum, Brooklyn Museum of Art, NBC Studio Tour, Circleline Sightseeing, Radio City Music Hall Stage Door Tour, The United Nations Tour, Madison Square Garden All Access Tour, and much much more! Dozens of coupons all for one price! Find out about discounts offre3red with the New York CityPASS attractions pass.