Events Around Southern Arizona in April
Celebrate Easter at Avalon Organic Gardens at an all day on April 5. Avalon Gardens is one of North America's largest EcoVillages located on 220 acres of rich farmland just across the Santa Cruz River from the Tumacácori Mission.
Colossal Cave Mountain Park La Posta Quemada Ranch. Come and have breakfast with the Easter bunny on Saturday, April 4.
The 30th Annual Oracle Oaks Festival is held on Saturday, April 18, 2015 in the town of Oracle, Arizona north of Tucson and Oro Valley. The theme this year is . . . "Historical Oracle!" Meet local authors at the Oracle Community Center. "Treasures of the Santa Catalina Mountains" authors Robert Zucker and William Flint Carter will showcase their book on the history and legends of the mountains.
See all of the Tucson events happening in April 2015.
May 2015 Events
The month of May in Tucson spotlights the popular annual Tucson Folk Festival. The Annual Mt. Lemmon Hill Climb to the top of the Santa Catalina Mountains. Another mountain run is the Tucson Heart Group Cinco de Mayo 10K Fitness Fiesta, Tucson's largest and most scenic 10K event that winds through Starr Pass in the Tucson Mountains foothills. See all of May 2015 Tucson events.
Restaurant.com has special coupons offers for dozens of Tucson restaurants.
---
June 2015
June begins the hot summer season where temperatures are mainly over 100F. Late evening Meet Me Downtown 5K Night Run & Walk centers around Downtown. More things to do in June 2015.
July 2015
The Fourth of July fireworks shows at "A"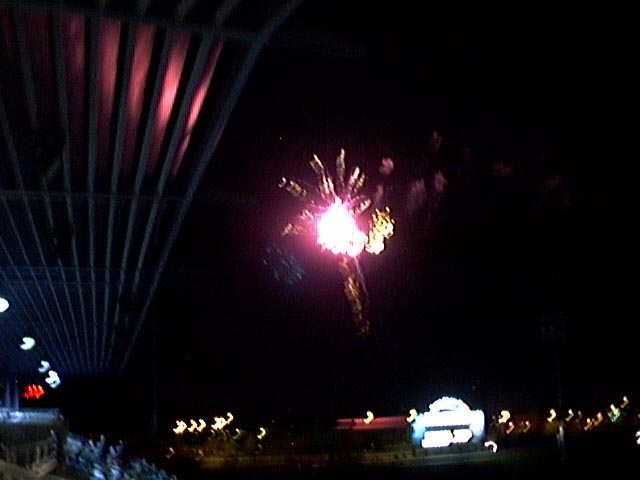 Mountain and various resorts and parks around Tucson.
See more upcoming events in July 2015.
August 2015
Tucson Birthday. Tucson celebrates its founding on August 23, 1775. La Fiesta de San Agustin is held downtown with community activities planned throughout August.
Los Changuitos Feos de Tucson, the original youth mariachi group, marks its 51th Anniversary in 2015 with a concert during a three-day period August 21-23, 2014. All events will take place in Tucson.
See more August 2015 Tucson daily events.
Authentic salsa from Tucson, Arizona's own El Charro Café. Have a piece of Tucson mailed to you. More products from El Charro Café.
Tucson October Highlights
As the weather cools in October, the city celebrates the annual Desert Thunder Pro Rodeo, Anza Days in Tubac, AZ), La Fiesta de los Chiles, Annual Desert Blue Grass Festival. See more October Tucson events.
The Arizona Opera begins it new Tucson season starting October 10 through April 10, 2016. The coming season will be an astounding collection of "firsts" for the company. Arizona Opera becomes the first North American Opera company to produce Emmerich Kálmán's Arizona Lady. The company also produces two other works never before seen in Arizona: Mexican composer Daniel Catán's Florencia en el Amazonas, and Giuseppe Verdi's riotous comedy Falstaff. Arizona Opera also presents productions of Bizet's Carmen and Mozart's Don Giovanni that are new to its statewide audiences.
Oracle State Park is open through October. Catalina State Park has special weekend ctivities and tours. Summerhaven is open with temperatures about 20 degrees cooler than Tucson.
Tucson's Oktoberfest events happening through October, including in Green Valley with a brass band, or the Bouncing Czechs, or Trail Dust Town.
Tucson has several popular community Halloween Events, including Old Tucson's NightFall and SlaughterHouse. Celebrate Halloween at Nightfall at Old Tucson Studios, Southern Arizona Food & Wine Festival, Halloween Trick-or-Treat parties and Tucson Meet Yourself (TMY).
See more October Tucson events.
---
Groupon for Tucson
Find Today's Daily Deal on the Best in Tucson!
Groupon features a daily deal on the best stuff to do, see, eat, and buy in a variety of cities across the United States, including Tucson.
---
November 2015
Nutcracker: The popular Tucson performance of A Southwest Nutcracker is held in November. Ballet Rincon 12th Annual production of Tchaikovsky's The Nutcracker.
Other major annual events include the Celtic Festival Scottish Highland Games, Annual Holiday Craft Market, the Celebrity Chefs Dinner, NamJam Bike Show and Poker Run. November is Native American Month with a traditional Pow Wow.
Tucson Holiday Doll Show & Sale is held in November at the Sabbar Shrine Center. Antique, Vintage, Modern & Art Dolls.
El Tour de Tucson Bicycle Race is Tucson's largest perimeter cycling event for all ages and abilities. El Tour draws thousands of bicyclists to ride the perimeter of the city. The ArtsFest makes another run in November in northwest Tucson at La Encantada Shopping Mall.
See more November Tucson events.
December Tucson Events
26th Annual Poinsettia Sale is partnering with Green Things to provide beautiful, locally-grown poinsettias.
Tucson events in December include the Winter West Fest at Old Tucson Studios, Ferias Navidenas & Nacimiento Tour, Luminaria Nights, and Winterhaven. Thunder in the Desert is the New Millennium First People World Fair & Pow Wow starting December 30th. See all of the Tucson winter events, Hannukah and Christmas activities and more December Tucson events.
Luminaria Nights at Tucson Botanical Gardens is a festive Tucson holiday tradition, now in its 29th year! New this year is an extra weekend of festivities.
Arizona Repertory Singers (ARS), Tucson's premier vocal choral group, celebrates 25 years under the leadership of Music Director Dr. Jeffry A. Jahn with a holiday concert season featuring his favorite songs in December.
Welcome the 2016 New Year with these New Year's Eve parties hosted by businesses and resports throughout Tucson. Two of the most popular holiday events in Tucson include the Fourth Avenue Winter Street Fair, Luminaria Nights and Winterhaven Festival of Lights. See dozens of Christmas and Hanukkah Tucson events for the holidays.
New Year's Eve parties and special events are held by several resorts and hotels to bring back the traditional feeling.
See more December events and end of the year entertainment for 2015.
Celebrating 20 Years Online!
The Tucson Entertainment Magazine has been online since January 17, 1995. Every day, thousands of people visit the EMOL.org web site from around the world.
Tucson Information
Tucson Attractions
Tucson Dining & Entertainment
Tucson Travel Accommodations
Tucson Businesses Sites
Arizona Chamber of Commerce & Convention Bureaus
Tucson, Arizona is one of the oldest settlements in the United States, ranking in age next after San Augustine, Florida, and Santa Fe, New Mexico. The Santa Catalina mountains has been experiencing a gold rush for hundreds of years.
A new book on the "Treasures of the Santa Catalina Mountains" reveals the legends and hidden history of the Catalina Mountains, north of Tucson. Discover how the Spanish, Mexican and American settlers became prospectors and then miners over hundreds of years. Spanish history in Tucson can be traced back to 1649, when a military station was established by the Spaniards to protect the Mission of San Xavier. The area was occupied by Native Americans for over 10,000 years before. Read and download several accounts about Tucson's early pioneer days and Tucson history.
Just below Mt. Lemmon's backside lies one of the great stories of the search for gold in the mountains, the lost city and the lost Iron Door mine.
Today, a quick drive to the Catalinas reveals that hidden treasures still do exist. Explore the historical records that account for that thousands of pounds of gold in quartz that has been extracted from the Catalina mountains. Read about Arizona's Gold Rush.
Read about the local Tucson entertainment scene from the 1950s through the early 2000s. Hundreds of pages of musician interviews, original photographs and stories. If you played in a band or went to a nightclub during those years, you'll be familiar with many of these people and places. Published by Entertainment Magazine. Now available at a discount on Amazon.com. Read sample pages Entertaining Tucson Across the Decades. Find your name or photo!
Legends of lost mines, lost cities and a lost mission have been passed down by word of mouth for generations. The Santa Catalina Mountains, north of Tucson, are filled with mysteries and rich history that has been forgotten over time. The most famous legend, the Iron Door Mine, helped launch the early American hunt for gold in the 1850s. Millions of dollars of quartz embedded gold has been extracted from the mountains by early prospectors. Some believe that there are still some lost Spanish treasures buried in the hills. Read more about the legends and history of the Treasures of the Santa Catalina Mountains.
---
Yelp in Tucson
Over 44 Million people use Yelp each month to connect with great local businesses. Yelp Deals is an exciting new daily deal offering showcasing a local Tucson business to Yelpers with a deep discount. Promote your Business on Yelp - Free
Tucson, Arizona Events Archives
2014 Tucson Events | 2013 | 2012 | 2011
2010: January | February | March | April | May | June | July | August | September | October | November | December
2009 Tucson Events December | January | February | March | April | May | June | July | August | September | October | November | December
2008 Tucson Events: November | December
European Hair Style by the Vasilé family. Serving Tucson for decades!
Call and Mention EMOL web site.
6923 E. Broadway Blvd.
520-298-4247
What's Happening in Tucson in 2016
January 2016 Tucson Events
The following are some of the highlighted Tucson events for January in Tucson. See all January 2016 listings.
Indian America New Year's Competition Pow Wow & Indian Craft Market is a collection of American Indian Art, arts and crafts, and food. 40 featured artists changing throughout the 14 days. The Pow Wow and Indian Craft Market is held the last Sunday of January through the Second Sunday of February each year. www.usaindianinfo.org
January 8: A Day of Kindness and Reflection; Remembering. Four years ago the Tucson community and the entire country were stunned by the events that unfolded on the corner just across the street. In the days that followed, Tohono Chul became a refuge and a place of healing for many. On this anniversary, join us in a day of reflection and remembrance and shared kindness. Several city-wide events held.
Tucson Jazz Festival 13-days of jazz music, food, and festival fun.Artists performances include musical showcases in downtown Tucson hotspots including the historic venues Club Congress, the Rialto and The Fox Tucson theatres with live music throughout the city every day of the week. A daylong free festival, the Downtown Jazz Fiesta will feature the best of Tucson in two outdoor stages all day on Martin Luther King Day.
4th Annual Desert Song Festival: Tucson Chamber Artists.
Saturday, January 31, 2015: The Official Tucson Gem, Mineral & Fossil Showcase 2015 opens through February 15.
More Tucson January 2016 events.
February 2015 Events
See all February 2015 events in Tucson.
Tucson Gem and Mineral Shows attract the world's best minerals, jewelry, lapidary and dealers from across the world to Tucson, Arizona. The Gem Shows runs through mid February 2015.
February 7-March 29, 2015: The Arizona Renaissance Festival returns with another year of entertainment.
The 2015 Rodeo Days Arts Celebration is held on Saturday, February 28th with Susan French with Mayor Bob Walkup; NAI Horizons, Tucson Musicians Museum.
Tucson Rodeo, La Fiesta de los Vaqueros - the Celebration of the Cowboys, and the Tucson Rodeo Parade is held the last week in February 2015.The Tucson Rodeo Museum opens in preparation for the annual Tucson Rodeo in February.
March 2015 Tucson Event Highlights
Tucson events in March start to gear up again after the end of the Gem Shows and Rodeo in February. Here's a sample of some of the featured events in March. See all Tucson March 2015 event listings.
The Gaslight Theatre in Tucson proudly presents "The Ballad of Two-Gun McGraw," a musical-western adventure through March 29, 2015.
Romeo and Juliet, Shakespeare's poetic masterpiece of jealousy, prejudice and betrayal, takes on a bold new theatricality under the ambitious and creative hand of award-winning director Kirsten Brandt and scenic, lighting and projection designer David Lee Cuthbert through March 21 at the Temple of Music and Art.
Tucson Festival of Books attracts hundreds of local authors and thousands of people to the UA from March 13-15, 2015.
Casas Adobes American Legion Auxiliary presents the Easter Holiday Bazaar. Three fun filled days at the beautiful Plaza Palomino on March 13-15.
Kartchner Caverns State Park's Star Party. NASA Ambassador Ted Forte to Speak on Saturday, March 14, 2015. After the program, there will be viewing through the telescopes.
Free Mini Senior Expo on March 16th from 1:00-3:30 p.m. for Senior citizens and their loved ones. Join the Neighborhood Connection Group at Fellowship Square and enjoy light refreshments while learning more about creating a personal legacy document, planning for intangibles as well as planning for tangibles and having meaningful legacy conversations with loved ones.
Fourth Annual Chalk Art Festival on March 28 & 29, 2015. Tthe festival is free to attend at Park Place Mall.
Poetry Contest. The Arizona State Poetry Society is supporting our newly reorganized Tucson chapter with a state poetry contest using our favorite theme, "The Southwest." Deadline mailed by June 1, 2015.
KARAOKE MAYHEM returns by popular demand as Special guest host Sister Mary Seamus of Retro Game Show Night fame invites you to her local "karaoke bar" for a night of performances by Musical Mayhem Cabaret on March 22.
Spring Boing Bash is a free community event that includes games, prizes, inflatables, food trucks, face painting, a photo op with the Easter Bunny and our rockin' live band at Vision Church.
Tohono Chul's 30th Anniversary Gala is on March 29, 2015, from 4-7pm. This springtime festival is set amidst blooming wildflowers features culinary delights and libations, dance performances, live music, and art-in-the garden with world-renowned artists.
The Tucson Botanical Gardens 3rd Annual Growdown! Garden Design Challenge from Wednesday, March 18 through Saturday, March 21 2015. Seeking competitors.
Tucson Museum of Art's most successful exhibition "The Figure Examined," extended through April 12, 2015.
Wild Wild West Steampunk Convention was held in early March. Read about the event.
More March 2015 Tucson events happening.
Events Around Southern Arizona in March
Arizona Archaeology and Heritage Awareness Month Events throughout Arizona, including in Tucson.
Arizona Renaissance Festival continues through Sunday, March 28.
Arizona State Museum Events, Exhibits, Culture Craft Activities. The Southwest Indian Art Fair on March 28 & 29. Southern Arizona's premier Indian art show and market!
Catalina State Park tour: Romero Ruins Adventure Walk, a multicomponent site that includes a Hohokam village dating approximately from AD 500 to 1450, as well as the remnants of the historic Francisco Romero Ranch. Sundays at 9:00am.
National Parks Store in Tucson events include Insider Tour: Tucson Presidio on Thursday, March 19.
Oracle State Park throughout the Winter and Enjoy a Stargazing Event, Hikes, Talks and Tour the Kannally Ranch House. Saturday, March 21: Going for the Gold Dark Sky Celebration.
Oro Valley Festival of the Arts, one of the largest community wide celebration of the arts, featuring up to 150 artisans at the base of the breathtaking Pusch View mountains in Oro Valley, AZ. February 28 through March 1.
Saguaro National Park West upcoming March events includes an Art Market, Michael Chiago Art Show and Sale, and a Mexican Art Show and Sale.
Re-Enactments of Southwest Civil War Skirmishes at Picacho Peak State Park at "Civil War in the Southwest" on March 21 & 22.
More March 2015 Tucson events happening.