---
In Shark Week 2011 Man vs. Fish with Matt Watson (Tiger Shark) Matt sets out on a mission in Australia's Great Barrier Reef to catch and tag the most indiscriminate killer of the deep sea - the tiger shark.
But to secure the cutting edge satellite tags, Matt must wrestle the tiger and drill holes into its dorsal fin.
Now, producer Jeff Kurr goes back to the scene to investigate the aerial attacks armed with state-of-the-art equipment in the one-hour special ULTIMATE AIR JAWS, kicking off cable's longest-running event - SHARK WEEK 2010 - on Sunday, August 1, 2011 at 9 PM ET/PT. Continue reading about Shark Week 2011.
Over 20 Years of Shark Week Highlights
1988: The first-ever SHARK WEEK featured 10 programs including Sharks: Predators or Prey, The Shark Takes a Siesta and Sharks of a Different Color. Ratings nearly doubled that week over Discovery Channel's primetime average.
1989: Due to phenomenal viewer response, Discovery Channel brought back SHARK WEEK for a second year. Programs included Shark: Maneater or Myth?, Shark Hunters of Achill Island and Sharks of San Francisco.
1990: Premieres in the third year of SHARK WEEK included Shark!: The World of Sharks and Barracuda and Sharks: Hunters of the Oceans.
1991: Billed as SHARK WEEK: The Revenge, premieres included Shark Shooters, Sea Lovers and Great Shark Hunt.
1992: SHARK WEEK: They're Back swam onto the scene with four premieres: The Man Who Loves Sharks, featuring Stan Waterman, Sharks of Polynesia, Great White Encounters and Great White! Parts 1 & 2.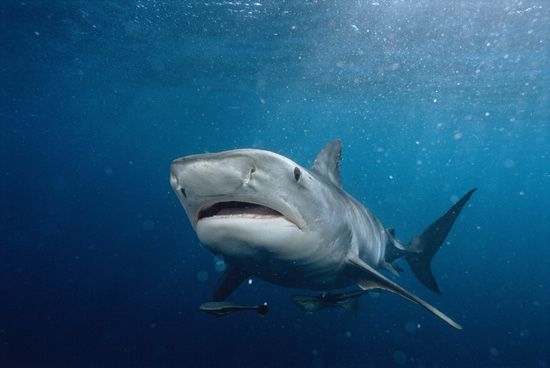 1993: SHARK WEEK: We Dare You to Watch featured five premiere programs: African Shark Safari, Sharks on the Brink of Extinction, Teeth of Death, Assignment Adventure and Sharks of Pirate Island.
1994: For the first time ever, SHARK WEEK 1994 was hosted. Jaws author Peter Benchley did the honors, just as his best-selling novel was celebrating its 20 year anniversary. The lineup included six premieres.
1995: Premieres in 1995 included Sharks of the Red Triangle, Rendezvous at Ningaloo and In Search of the Golden Hammerhead, which profiled an extremely rare shark that had never before been seen on television.
1996: Premieres in 1996 included The Ultimate Guide: Sharks, Danger Beach and Tales of the Tiger Shark, which remains one of the highest-rated SHARK WEEK programs ever.
1997: Shark Bites: A Decade of Shark Week, a two-hour retrospective of some of the most thrilling moments of shark filmmaking on Discovery Channel, kicked off the 10th Anniversary of SHARK WEEK.