Les Stroud hosts SHARK WEEK's 20th Anniversary on Discovery Channel, from July 29 to August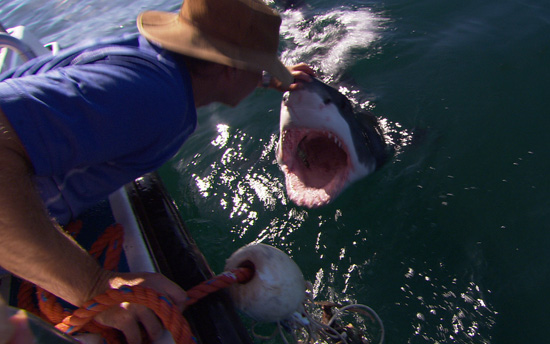 4, 2007.
Stroud is an outdoor adventurer and instructor in survival, kayaking, hiking, dog sledding and winter travel.
As host and producer of SURVIVORMAN on Discovery Channel and The Science Channel, Stroud travels to remote regions of the world, stranding himself without food, water or a camera crew, and little more than a pocket knife. During each episode, he not only needs to survive for a week, but also films his struggles to overcome seemingly insurmountable obstacles while dragging 50 pounds of camera gear and batteries.
For SHARK WEEK, Stroud demonstrates practical and possibly lifesaving tips on staying safe in the ocean in segments running during program breaks in the week's 9 PM premiere hour. Stroud also hosts one premiere special, Shark Feeding Frenzy, which examines the feeding habits of sharks to discover which shark has the strongest jaws, how often a shark needs to eat and why, and what senses incite a shark to attack.
Stroud began his film career in the 1980s as a music video producer for a Canadian music video channel. In 1987 he sought out his true passion and began traveling Canada as a canoe guide and wilderness instructor, eventually developing his own outdoor company. His years as a canoe guide and wilderness instructor honed his survival skills, as did his studies at Humber College in Ontario, Canada, and at Prairie Wolf College in Kansas.
Combining his love for the outdoors and his skills as a filmmaker, Stroud has appeared in and/or produced numerous television specials and interstitials, including Discovery Channel's I SHOULDN'T BE ALIVE: SCIENCE OF SURVIVAL and SURVIVING URBAN DISASTERS, as well as OLN Canada's Off the Grid with Les Stroud. His documentary film Snowshoes and Solitude, about the year he and his wife spent living in the remote Boreal Forest of northern Ontario, has won numerous independent awards.