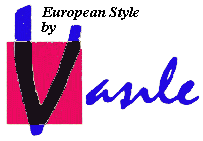 This is a selection of the many letters both Stand and Lydia have received over the decades for their dedication to their Tucson, Arizona customers and special out-of-town celebrity guests.
---
My name is Trudy and after an endless search throughout Tucson for a hair dresser who knows what he is doing. We are very fortunate that we have found Lydia and Stan Vasile and their miracle working European Hair Salon. They should be genetically (duplicated) just to give more people the experience of the highest possible standards. We highly recommend European Hair Salon to everyone! From Judy and Jens Witter, PhD, antiquepiano.com.
---
The Vasiles have been styling Tucson, Arizona's hair for the over 15 years at the same salon location, near Wilmot and Broadway. In 1998, the Vasile Hair Salon was named the Consumer Business Review's Award Winning Hair Salon Styling Artist in Arizona. In 1995, Vasile was chosen as the finest hair salon in America. The Vasiles have also won many European medals for top hair styling techniques.
---
To my wonderful hairdresser, Stan Vasile, who I took a flight to get my beautiful hair done (from Dallas, Texas). Driving all around Europe and the States, I only go to Vasile, because you work wonders with your computerized computer perm and colored highlights, giving my haircut and looks fabulous. Thanks, Ciao, Vivenne.
---
Stan is the "God" of Hair! He does great work and he has all of TMC (Tucson Medical Center) looking great! Thank you, Stan, Annabelle.
---
I met Lydia Vasile at the Broadway Southwest Salon and she gave me a wonderful hair cut and hair color. I just love the way she does my hair and when she moved here I followed her so she could do my hair. All of my family goes to Vasile Salon and they just love it. I would never trade her for anything. Signed, Lily H. Godoy, Tucson
---
Thanks to the advice of a co-worker, I started coming to the Vasile Salon about a year ago. I am a professional person and a single mom with a demanding schedule. I was in search of a hair-style and color which would fit this life-style and thanks to the work of the stylists at Vasile Salon, I have achieved this. I have had several perms and color treatments and also manicures. I have also used the products as advised by the stylists. I always leave the shop feeling good about myself and my hair. I would highly recommend the Vasile Salon to anyone. Signed, Deby Wiest
---
I have been a customer of the Vasile Hair Salon for over two years now. I have never been disappointed with the service. They always take me on time and "squeeze me in" to the hectic schedule. I would recommend them highly to anyone who asks. Signed, Robin Anyaej
---
I have been having my hair done by Lydia for about 4 years now and I can honestly say that her professionalism and expertise in hair toning is beyond reproach. This is why I come all the way from Sierra Vista (approximately 72 miles) to have my hair done by her. The atmosphere in the salon is quiet and relaxing, no people hanging around, making too much noise. It is my kind of place and from the above I am sure you can tell how I feel about Vasile's. Signed, Shirley Blumberg P.S. Lydia is so nice that I just adore her. She is sweet and kind. I have never heard her talk badly about anyone and she is a good person.
---
I have been coming to Vasile's Hair Salon for a little over a year. This is the only salon in Tucson (as far as I know) that has experience in using L'Oriel color products, and there are other products that work on my hair. Lydia also does a very good hair cut. Signed, Janet Rormtus
---
I have been coming to Vasile European Hair Salon for 3 years. I am very satisfied with the work. I have very curly hair and have difficulty finding a salon that can cut as great as Vasile. I can walk in and they always find the time. I am very satisfied. Signed, Mary Johannssen
Vasile European Hair Salon
6923 E. Broadway
Tucson, Arizona 85710
Call 520/298-4247
Stan & Lydia Vasile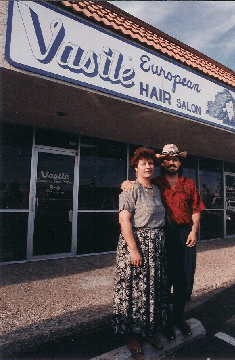 I've had my hair cut and styled by Stan Vasile for nearly 15 years, after a recommendation from my girlfriend who regularly visited the Vasile's. She was quite pleased with the way they were able to manage her hard-to-manage hair. Before going to Vasile, she went to a number of other stylists who could not match the Vasile touch. I have been very impressed with Stan's ability to style hair to the person's features, rather than the usual, bland hair cut many stylists perform. Stan's European training reflects on my results and has received many compliments. Both Stan and Lydia are exceptional people, with great concern for others. I would not go anywhere else to have anyone else touch my hair! Signed, Robert Zucker
---
Two weeks ago, I took my sister-in-law to Vasile's for a haircut for the first time. He did a wonderful hair cut and also made her feel like she really mattered. As I sat and watched him cut her hair, I asked him if there is anything he could do for my hair. So, February 2, 1995, I came to Vasile's for my hair cut! He did a wonderful job and I was feeling down about my hair and everything. By the time I am ready to leave, I feel wonderful, less stressed and like a thousand dollars! I thank you Vasile for everything. I'll be back! Signed, Mrs. Sanchez
---
I have been coming to Vasile Hair Salon for more than two years. I am pleased with the hair cuts I received as Vasile's and I find them to be a professional couple. I have recommended Vasile's to other people as well, as people have asked me where I get my hair cut. Signed, Janet Dodge
---
For the past ten years, I have been a very satisfied customer of Vasile Hair Salon. As a professional, managing an insurance agency, I especially appreciate the personal attention and expertise that I've come to and always from Vasile. My boyfriend, family and friends have also been very pleased. Vasile gets an A plus from me for service, style and value. Signed, Rose Dominquez
---
I have been going to Lydia Vasile for 5 years and have always been extremely satisfied. I first found Lydia at the Broadway Hair Salon. Lydia is truly a magician when it comes to my hair. I have followed her from the Broadway hair Salon to Vasile European Hair Salon. I come every week to have Lydia make me look like a brand new woman, and I have seen Lydia transform people to look absolutely glamorous and gorgeous! She has always given me a perfect haircut, easy to manage and very stylish, always makes me look ten years younger. I can't imagine going anywhere else ! Signed, Christine Wheeler
Lydia and Stan are great! I laugh the entire time I'm in the shop. It's a good break from my hectic daily routine. My hair- they make it beautiful! My job as a beauty consultant means I must present a classic, polished image. Lydia makes that happen every time. I just can't express enough the joy I experience with Stan and Lydia. Signed Kelly Hardy
---
My name is Trudy and after an endless search throughout Tucson for a hairdresser who knows what he is doing, we were very fortunate that we have found Lydia and Stan Vasile and their miracle working European Hair Salon. They should be genetically multiplicand just to give more people the experience of the highest possible standards. We highly recommend European Hair Salon to everyone! Signed Trudy and Jens Witter, PhD
---
For approximately 10 years I have been going to a hair dresser whom I considered to be the best in Tucson. However, after this hair dresser suffered a severe and incapacitating accident, I found myself going to other hair dressers, but not being satisfied with the work they did. I was told that I would not be able to continue perming and coloring my hair. I would have to choose one or the other to prevent damage. Luckily, my sister told me about Vasile's European Hair Salon. She had discovered this salon and she was very pleased with the results. I began going to Vasile's in August 1994. I got a wonderful color and, contrary to that I have been told, got a perm and highlights. My hair is very healthy, due to advanced techniques used. Furthermore, I have never been more pleased with the color, the haircut, or with the superb styling. Because I am involved in entertainment along with my professional career, looking good is extremely important. I am very pleased to have found a salon that gives me consistently exceptional results. I would recommend Vasile's European Hair Salon to everyone. I, along with several members of my family, are very satisfied customers. Signed, Jan Favela
---
I have been going to Vasile European Hair Salon for 8 years. During this period of time I have been more than pleased with the way Stan and Lydia Vasile have cut my hair, colored my hair and manicured my nails. My daughter and son-in-law also go to Vasile and have been pleased. The Vasile's have treated me with respect and always very professional. I won't go to anyone else. Signed, Ms. Debbie Telesco
---
I have been coming to Vasile Hair Salon for approximately 6 months. I just came in to purchase hair products- was impressed with what I saw and came back for their styling services. I have had haircuts, hair color and manicures and have been extremely happy with services rendered. I have very fine and curly hair and have had difficulties finding a salon that can consistently give good cuts. Vasile has done that for me; I am always satisfied with the results! I would, and have, recommended Vasile Hair Salon to others. Signed, Gail M. Sinterkor
---
I am a relatively new customer of Lydia's but I have been very satisfied with her work. It is hard to find a stylist that is consistently good from time to time, but I find Lydia does get good and constant results with my hair. There are stylists who have not gotten good results with my hair and I have been disappointed because it is very fine hair, but Lydia knows how to work with fine hair. I work full-time and have a busy schedule and so I don't have time for uneven results. But, I am very happy with Lydia. I also like the family orientation of her shop. I like her personally. Signed, B. Elwood