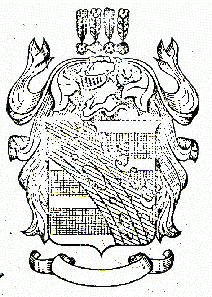 The Zucker Coat of Arms (illustrated left) was drawn by a heraldic artist from information officially recorded in ancient heraldic archives.
Documentation for the Zucker Coat of Arms design can be found in "Rietstap Amorial General." Heraldic artists of old developed their own unique language to describe an Individual Coat of Arms. In their language, the Arms (shield) is a follows:
"D'arg, a trio fasces de sa.;
au crancelin de sin., br. en bande sur le tout."
When translated the Arms description is:
"Silver, three black bands, a green Crown of Rue."
Above the shield and helmet is the Crest which is described as:
"Un chaplet de roses d'arg. et de sa., chaque rose sommee d'une pl. d'aut de l'autre email."
A translation of the Crest description is:
"A crown of roses, silver and black, each rose with an ostrich feather of silver and black."
Family mottos are believed to have originated as battle cries in midieval times. A Motto was not recorded with the Zucker Coat of Arms.
Individual surnames originated for the purpose of more specific identification. The four primary sources for secondary names were: occupation, location, father's name and personal characteristics.
The Zucker surname appears to be occupational in origin, and is believed to be associated with the German meaning of "one who dealt in sugar."
Different spellings of the same original surname are a common occurance. Dictionaries with the Zucker surname indicate probable spelling variations- Zuckerman, Zuckermans, Zuckermann, Zuker and Zuckers, among others.
Census records in the 1970's indicate there were approximately 850 heads of housholds in the United States with the Zucker name.
Information provided by Halberts, Bath, Ohio.
Other Zucker surname notes:
The name Zucker means "sugar" in German. But, a Yiddish-speaking family from Ukraine (at that time) had the surname of Zucker. Variations of pronuciation includes: Tsuker, Tzuker, Zukir and Tusker.
Another explanation reaches back to the German language spoken in the middle ages and says it comes from "zücken" or "zucken" which means to draw a knife or sword, "someone who is quickly enraged and willing to fight."
© 2008-2011. Entertainment Magazine All rights reserved.
Ancestry.com

Ancestry.com connects families across distance and time. A premium membership provides access to over 27,000 record collections covering billions of people across the US, Canada, United Kingdom, Germany, France, Italy and Sweden. Try a new Ancestry.com Membership!
The Zucker Name in History is a customized book offering a unique blend of fascinating facts, statistics and commentary about the Zucker name. The book is just one of an entire series of family name books in the Our Name in History collection. Each book in the collection is printed on demand and is compiled from hundreds of millions of records from the world's largest online resource of family history, Ancestry.com. This particular book follows the Zucker family name through history and makes the perfect gift for your family members and anyone interested in the Zucker name. In the book you'll find out about where people with the Zucker last name originated. You may discover the countries and ports they left behind, the ships they sailed and more. You'll get a better idea of where people sharing the Zucker name settled and where they may reside today in the United States, Canada, England and other countries. You'll get all this information and much more in your Zucker family name book. If your last name is not Zucker, then check out our collection of nearly 300,000 family name books to find other available names in the series. Paperback: 96 pages. Publisher: Ancestry.com (June 13, 2007)
Starring: Hannelore Elsner, Andreas Herder
• Format: Color, DVD-Video, Subtitled, Widescreen, NTSC
• Language: German
• Region: Region 1 (U.S. and Canada only.
• Number of discs: 1
• Studio: First Run Features
• DVD Release Date: September 19, 2006
• Run Time: 91 minutes