---
Now Available on Amazon:
Searching for Arizona's Buried Treasures
---
This is an excerpt from Ron Quinn's discovery of 82 pounds of gold bullion in the Southern Arizona Tumacacori Mountains from his book "Searching for Arizona's Buried Treasures."
"My brother Chuck and I had always been avid outdoorsmen, interested in what might lie beyond the next mountain range.
At that time, the early 1950s, we lived with our parents on Vashon Island, located between Seattle and Tacoma, Washington.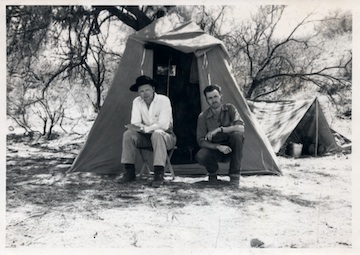 (Photo left: Ron Quinn (right), and brother Chuck at our Clifford Well base camp soon after their arrival in Southern Arizona in 1956.)
On weekends and summer vacations, both of us could be found with our older friends, Don and Jean Schuette, exploring, camping, gold panning and enjoying the beauty of the towering Cascade Mountains of this picturesque state. The Schuette's were close friends of the family, and these adventurous excursions continued until I entered the Army in 1953.

While stationed in Germany, Chuck would occasionally write. In one letter he mentioned purchasing a book on buried treasures. It was entitled, Lost Mines and Buried Treasures Along the Old Frontier, by noted author, John D. Mitchell.

Mitchell was also a writer for Desert Magazine. Fascinated by the tales within its pages Chuck proposed, if I was interested, that we should seriously consider taking a trip in search of these legendary treasures supposedly hidden by the Spanish padres that once occupied the Southwest. This ignited my adventurous spirit and plans were made.

Upon my release from the service we both worked and saved for almost a year. Chuck already was employed and had saved a considerable amount.

My mustering out pay, plus savings was used to purchase a 1950 Willys 4 x 4 Jeep Wagon. Other essential equipment needed to maintain such a lengthy adventure, were also obtained during the year. A 9 x 9 foot tent, sleeping bags, cots, stove, etc. The list seemed endless.

Of course our parents opposed the idea of us roaming the desolate regions of Arizona, especially Mom, as she feared for our safety. However, we were a hearty bunch and the stories we read of Arizona's harsh environment didn't frighten us. We were aware of the sudden flash floods, violent thunder storms which ravish the deserts, dancing dust devils, extreme summer heat, and the dangerous deserts that patiently wait for us to enter their kingdom and make a mistake. We both were well versed in the art of survival and these tales didn't alarm us.

At that time I was 23, Chuck 26. Neither of us was married so why not embark on such a journey? Youth is only given to us once. Enough capital was saved to sustain a two year trip. That is, if we didn't experience any major problems with our vehicle.

Jason searched for the Golden Fleece. Our odyssey would almost parallel his voyage, minus flying harpies and other strange creatures. He sought a fleece of gold, traveled to hidden lands, encountered mysterious people, fought savage seas and returned with haunting tales of his journey.

Chuck and I would seek Spanish gold, explore hidden places, and climb mysterious mountains seldom visited by modern man. We'd meet fascinating people, fight the desert elements and discover many hidden things. We also would return with stories of our odyssey across the wilds of Arizona.

Many diehard prospectors still search the barren wastes in their quest for these elusive lost mines, hoping to discover the golden wealth that may lie within. Historical evidence proves many of these treasures are factual. But one should not be too gullible when it comes to all these tales, as not all are true. One must know how to separate fact from fiction. Chuck and I soon would enter this exclusive club of "rainbow chasers," as we're often called. We realized our chances of finding anything were quite remote. But like they say, "nothing ventured, nothing gained."

Our final destination would be the desert community of Arivaca in Pima County, AZ. This small village lays some thirty-odd miles north of the Mexican border and near the heart of the mysterious Tumacacori Mountains where the majority of these treasures are supposedly hidden.

The next few years would become the most adventurous in our entire lives, living and traveling the rugged land, searching for treasures and meeting some of the most colorful characters imaginable. We would discover secret places high among the craggy peaks and hear tales which border on the Twilight Zone and most of all, discover a freedom few have had the privilege to experience.

We would also find two lifelong friends and partners, Roy Purdie and Walt Fisher, perhaps the greatest treasure of all."
---