The Entertainment Magazine: Film: Ann Miller
Introducing Ann Miller– a bitter, sweet story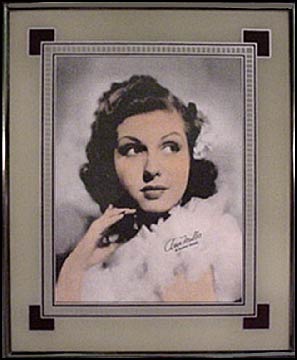 Early photo of Lucille Ann Collier, under the stage name of Ann Miller.
Before long, Lucille Ann Collier, acting under the stage name Ann Miller was netting unbilled extra roles in the films Anne of Green Gables (1934) and The Good Fairy (1935), and she got to dance in Devil On Horseback (1936).
The next year the thirteen-year-old future musical star was dancing for a four-month run in a show at the popular Bal Tabarin nightclub in San Francisco. There, she was discovered by comedian Benny Rubin and future comedian, actress Lucille Ball.
Back in Hollywood, Ball introduced Miller to executives at RKO Studios. Pretending she was eighteen with the help of a fake birth certificate supplied by her father, Ann landed a seven-year contract and a role in the film New Faces of 1937 (1937).
Her first great part was in Stage Door (1937), in which she danced with Ginger Rogers and acted with Ball, Katharine Hepburn, Eve Arden, and a slew of Hollywood's most famous stars.
---
---
Other films in which Ann Miller appeared include Radio City Revels (1937), the Best Picture winner You Can't Take It With You (1938) with Jean Arthur and James Stewart, and Room Service (1938) with the Marx Brothers.
Miller introduced Lucille Ball to Desi Arnaz, and, some years later, the famous couple bought RKO and re-named it DesiLu. Ann's last film at the studio was Too Many Girls (1940), in which she co-starred with friends Lucy and Desi. She then appeared on Broadway in George White's Scandals in 1939 and 1940, for which she won rave reviews.
In 1940 Miller moved to Republic Pictures, where she enlivened many otherwise dreary films, such as Melody Ranch (1940) with Gene Autrey in his first musical film, and Hit Parade of 1941 (1941). Other films followed, many aimed at promoting the war effort, which include True To The Army (1942), Priorities On Parade (1942), Reveille With Beverly (1943), What's Buzzin' Cousin? (1943), Hey Rookie (1944), and Jam Session (1944).
In 1945, Ann briefly dated powerful MGM boss Louis B. Mayer. When the much older mogul asked Ann to marry him, she turned him down. Moaning and groaning to her on the phone, the dramatic Mayer swallowed sleeping pills, and immediately sent his chauffeur to summon Ann to his death bed. An ambulance arrived first and he recovered.
Later, Ann married a recent boyfriend, Reese Milner, a rich steel heir, and they lived on the biggest ranch in California where they raised prized Hereford cattle. The marriage ended quickly after Reese threw Ann down the stairs of their home.
Pregnant Miller filed for divorce from her hospital bed, with her broken back in a steel harness. Her baby died a few hours after birth. Later, painfully returning to Mayer for a job, he told her, "If you'd married me, none of this would have happened."
Miller was still in a back brace when she feverishly danced to "Shakin' The Blues Away" in Easter Parade (1948), co-starring Fred Astaire and Judy Garland. She received fantastic reviews, and MGM gave Ann a seven-year contract.
Ann Miller then proceeded to make her most spectacular Technicolor musicals that include On The Town (1949), Small Town Girl (1952), Kiss Me Kate (1953) which was extravagantly filmed in 3-D, and Hit The Deck (1955). Her last musical was a remake of the 1939 film The Women, named The Opposite Sex (1956).
The glamorous, outgoing and articulate Ann was also hired as MGM's Good Will Ambassador. She travelled the world in gorgeous designer ensembles while representing her studio with personal appearances and speaking engagements.
---
---
When she flew to Morocco in July of 1957 to appear with Bob Hope on the Timex TV Hour, she entertained five thousand troops in 120 degree weather as she sang "Too Darn Hot," and soon set a record for the world's fastest tap-dancing at 500 taps a minute.
In 1958, Ann Miller married her second millionaire, Texas oil man Bill Moss who, she quipped, "...looked exactly like my first husband. Three months later, he broke my arm." A third marriage to another oilman, Arthur Cameron, was annulled within a year, though they remained friends.
---
Read more about Ann Miller. Books from Amazon.
Miller's High Life
by Ann Miller was released in 1972. It is her first autobiography, and tells the story of her life, personal and professional up till then. With many photographs, you can see and read much of the facts, and philosophy that made up Ann Miller's life. Ann Miller fans will like it the most.
Tapping into the Force
is the 1990 book by Ann Miller that updates her life story, and also includes her psychic experiences. It really makes you think about what she says. Keep an open mind and you can really enjoy this book by a fantastic star! Many great photographs also are shown. This relates Ann's tales about doing Sugar Babies with Mickey Rooney when she became the most famous. Ann Miller fans will like this book about her life the most.
---
---