The Entertainment Magazine: Film: Ann Miller
The tragic end to a tragic story of Ann Miller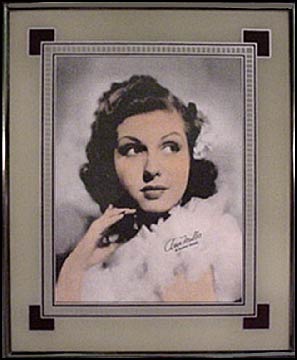 Early photo of Lucille Ann Collier, under the stage name of Ann Miller.
Ann believed deeply in the spirit world, and said she was often visited at night by the great MGM dancing star Eleanor Powell. Miller insisted that in a past life she was Hatshepsut, the first queen of Egypt, whom she believed was murdered, along with her sister, by their half-brother. Ann visited Egypt three times, where she cried incessantly.
On her last visit, a guard in a Cairo museum escorted her towards the sarcophagus of a female pharaoh. As Ann approached, she claimed she was bitten by an asp, just like Cleopatra was.
Although no asp had been seen in Egypt for thousands of years, Ann was flown out by helicopter, and spent three weeks in a hospital where she nearly died. She stated, "It was a warning. The spirits don't want me to return there." She also said. "I've been recycled many times, honey. My hand has so many lifelines, it looks like an old monkey's paw."
From 1966-1970, Ann became a hit on Broadway in Mame.. In 1970 she turned to television and starred in the fantastic, most elaborate commercial ever made for Great American Soups. Miller tap-danced on an eight foot can of soup surrounded by dozens of high-kicking chorus girls, 20-foot fountains, and a 24- piece orchestra. Then, tapping her way back into her kitchen, her husband cried, "Why must you make such a big production out of everything?"
---
---
In 1972, in St. Louis, on opening night of the musical show Anything Goes, Ann was knocked in the head by the steel beam of a fire curtain. Although as a consequence she was unable to walk for two years and suffered permanant vertigo, her life actually had been saved by her well-known, stiff, enormous, lacquered black wig.
In 1979, she made a comeback and a fortune in Sugar Babies with former teenage Hollywood acting schoolmate Mickey Rooney. The popular show ran for two years on Broadway and seven more years on the road. In 1998 she appeared in a successful revival of Stephen Sondheim's Follies at the Paper Mill Playhouse in New Jersey.
In 1972, Miller published her autobiography, Miller's High Life, and more memoirs in 1981 with Tops In Taps. In 1990 she published Tapping Into The Force, which recounted her psychic experiences. Her last screen appearance was in Mulholland Drive (2001).
Ann Miller was the recipient of dozens of awards that include The Best Legs Award from The Hall of Fame, The George M. Cohan award for Best Female Entertainer in 1980, The Golden Boot Award for her appearances in Western Films, and a Lifetime Achievement Award from the University of Southern California.
Suffering with osteoporosis, and regretting never having children or having found someone with whom to share her last years, the vivacious Ann said "No matter what you've achieved, honey, if you aren't loved, you ain't nothing but a hound dog.... I can still tap, but who wants to pay an old lady to tap sitting down?"
In 1999, a friend of Ann Miller located Mary's grave. After Ann died of lung cancer in Los Angeles, California on January 22, 2004, the baby was exhumed and her little coffin was laid on top of her mother's. They were buried together next to her mother Clara.
---
---
---
Read more about Ann Miller. Books from Amazon.
Miller's High Life
by Ann Miller was released in 1972. It is her first autobiography, and tells the story of her life, personal and professional up till then. With many photographs, you can see and read much of the facts, and philosophy that made up Ann Miller's life. Ann Miller fans will like it the most.
Tapping into the Force
is the 1990 book by Ann Miller that updates her life story, and also includes her psychic experiences. It really makes you think about what she says. Keep an open mind and you can really enjoy this book by a fantastic star! Many great photographs also are shown. This relates Ann's tales about doing Sugar Babies with Mickey Rooney when she became the most famous. Ann Miller fans will like this book about her life the most.
---
Ann Miller Sources:
They Had Faces Then by John Springer and Jack D. Hamilton
The Movie Stars Story Edited by Robyn Karney,
Steve Starr is the author of Picture Perfect-Art Deco Photo Frames 1926-1946, published by Rizzoli International Publications. A photographer, designer and an artist, he is the owner of Steve Starr Studios, specializing in original Art Deco photo frames, jewelry, and furnishings, and celebrating its 39th anniversary in 2006.
Photo of Steve Starr at the Whitehall Hotel, January 28, 2006, taken by NBC News Director Harold "Sandy" Whiteley. Web Editing by Maryellen Langhout.
---